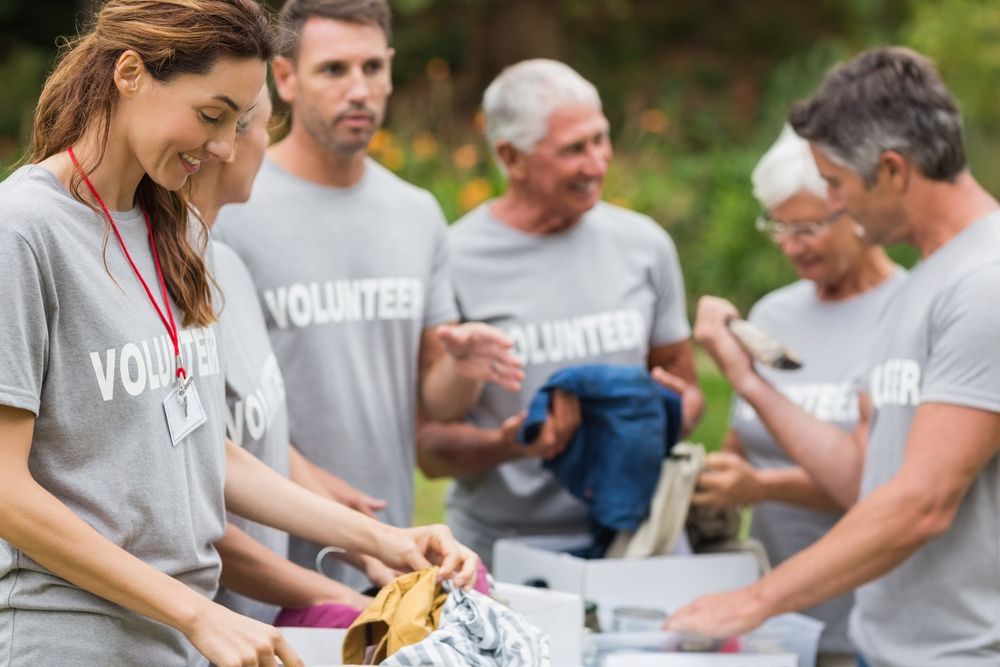 In a world where it can seem like unfairness and inequality run rampant, it's sometimes hard to find a glimmer of hope. Fortunately, there are good people and businesses out there working day and night to make the world a bit brighter and more hopeful for the rest of us. We're talking about leaders in the nonprofit space that are putting their mission before their profit.
While Botkeeper isn't a nonprofit, we like to think of ourselves as doing our part in that mission to make the world a brighter, better place. The way we see it, Botkeeper's human-assisted AI can help streamline some of the more tedious and unpleasant accounting tasks, which makes life easier for accountants and businesses.
Of course, there are some major challenges out there that Bots alone can't solve, even though we do our part and contribute to the greater good whenever we're able. We do, however, support some pretty amazing nonprofits that are mission-driven and dedicated to effecting positive change.
Here's a list of nonprofit friends we admire for the charitable and community-focused work they do, which is summarized under each logo. Show them some love by checking them out and spreading knowledge of their work and mission. After all, love is 100% free! Although, we wish it was tax-deductible, too.
Let's jump in!
---

Helping students from low-income families and preparing them for college success.
Sometimes Wall Street gets a bad rap. When people think of Wall Street professionals, they might think of some Hollywood villains like Gordon Gekko burning Benjamins in some greedy plot to take over the world. The truth is that Wall Street is like any other place with its share of kind-hearted people looking to make a difference in the world. Minds Matter is one example of something good coming from Wall Street.
Founded in 1991 by six Wall Street professionals who believed that low-income students were full of potential but lacked the resources to thrive, Minds Matter is a highly successful holistic academic program created to help low-income students realize their full potential. This 3-year academic program is designed to help young people from low-income backgrounds prepare for college and future success.
Minds Matter students attend weekly sessions where they receive tutoring, mentoring, and enrichment experiences designed to promote a culture of excellence and rigorous academic standards. When we say Minds Matter is highly successful, we mean it: they currently have a 100% college acceptance rate for their students, and 94% of their alumni 28 and older hold at least a bachelor's degree. Even Gordon Gekko could get behind numbers like those!
---
---

Free financial workshops for teens across New York City.
Think about what you were doing with your money when you were a teen. Were you buying mutual funds, stocks, or bonds? Maybe you were like Botkeeper CEO Enrico Palmerino, who as a teen was probably planning some amazing startup venture designed to change the world. If you're like the rest of us, you might have been spending what little money you had on the latest tech gadget or video game, and like most kids, you probably had no idea what an annuity was. In fact, over half of all teens know little to nothing about finance. Luckily Cents Ability is on a mission to change that.
Cents Ability is an organization "dedicated to empowering high school students to achieve their goals through prudent personal financial management." For the last 15 years, Cents Ability has been hosting free financial literacy workshops across New York to teach high school students finance in an innovative and interactive setting.
With over 3,000 students taught and over 500 classes held, this organization is making sure teens are making smart financial decisions at an early age to prepare them for a future of smart investment decisions. Our two cents? The more financially literate teenagers there are in the world, the better!
---

Providing comprehensive youth development services in a diverse and caring environment.
During the summer of 1970, the Center for Integrative Studies formed a unique task force. Now, the words "task force" might hearken the idea of a military operation or political think tank, but this task force was designed to tackle some of the biggest challenges facing New York's adolescent population.
The Center's task force ultimately came up with an innovative model for providing comprehensive integrated services designed to tackle everything from drug abuse, poverty, and crime to high school dropouts rates. A small group of dedicated young professionals from the fields of medicine, law, psychiatry, education, and the arts came together in 1972 to create The Door.
This nonprofit has grown to over 200 people working tirelessly to offer a range of comprehensive youth development services to young people in New York City. What makes The Door stand out is the sheer scope and range of services they offer. They provide everything from mental health counseling and crisis assistance to college prep and job training. They can even provide GED and ESOL classes, and they offer legal assistance to those who need it. Oh, and by the way—they provide all these services free and with the promise of confidentiality for more than 11,000 young people each year. Talk about helping young people create opportunities and find their access points for success!
---

Using entrepreneurship to empower youth from under-resourced communities.
Speaking of creating opportunities for success—young people are full of great ideas to help make the world a better place. We already mentioned Botkeeper's CEO who founded multiple startups before he turned 30, and while he took advantage of his own innovation, he was also assisted along the way by some great minds and mentors. The nonprofit Build seeks to be a similar, comprehensive resource for young minds like Enrico's, regardless of their economic background or education.
Build has been providing support to low-income entrepreneurs since 1999 through the power of experiential learning. By teaching young entrepreneurs essential skills like learning and memory strategies, organization, research, and time management, Build has established an impressive track record.
Operating through partnerships in over 30 schools across 5 major cities, Build has helped over 750 youth businesses. And they have a pretty impressive success rate, too—96% of Build students complete high school, and 98% of them go on to post-secondary schools. There's no doubt that one of the best ways to make the world a better place is through entrepreneurial innovation, and Build has found a way to do exactly that.
---
---

Advancing innovative, entrepreneurial, market-based solutions to provide access to safe water.
Did you know that there's an app to help remind busy people to drink water? As busy tech company with engineers and accountants providing 24/7 support to more than 1,000 clients on the regular, sometimes we need that reminder.
But we're lucky—we have access to clean water whenever we're reminded to drink it. Unfortunately, not everyone has safe, clean drinking water available to them. That's where the Safe Water Network comes in. With over 2 billion people in the world lacking access to clean drinking water, the good people at Safe Water Network employ an innovative, market-based solution to providing safe drinking water to communities in India and Ghana.
Rather than viewing these under-resourced communities as beneficiaries, they're viewed as small businesses in need of a solution. Locals are given the tools, education, and training to build safe water enterprises (SWEs). By engaging in knowledge-sharing initiatives with other similar organizations, Safe Water Network has been able to increase its efficiency and standardize its practices, making its SWE model very scalable. To date, Safe Water Network has provided over a million people with safe, clean drinking water every day. We'll raise a glass to that (and not take it for granted!).
---

Creating a safe environment for lesbian, gay, bisexual, transgender, and questioning (LGBTQ) youth between the ages of 13 and 24 and their families.
One of the things that makes working at a young company like Botkeeper so special is how diverse and dedicated our team is. We're from all backgrounds and walks of life, working together to maintain the best automated bookkeeping solution available. We understand that in order to allow people to realize their full potential, they need to feel safe and supported in their environments. This is especially true for young professionals.
The Hetrick-Martin Institute also understands the importance of creating safe and supportive environments to make sure young people can achieve their full potential.
For the last 40 years, HMI has provided LGBTQ youth between the ages of 13 and 24 with a safe and supportive place to learn and develop through art and culture, job training, as well as health and wellness counseling. In fact, HMI is the nation's oldest and largest organization dedicated to helping LGBTQ youth and their families. For helping over 2,000 youths a year across 38 states, and serving more than 11,000 hot meals annually, the Hetrick-Martin Institute is truly making a difference in the lives of LGBTQ youths across the country.
---

Providing environmental programs that transform New York and secure a clean and healthy environment for future generations.
Fellow number nerds like us can appreciate a good, juicy stat like this: according to Grow New York, 3 million New Yorkers participate in their clean and healthy programs each year. Since the 1970s, Grow NYC has been on a mission to make New York City a cleaner, healthier, and more livable place. By treating every day like it's Earth Day, Grow NYC has taken its environmental renewal programs across the 5 boroughs in order to make the city greener block by block and neighborhood by neighborhood.
Through its education initiatives, Grow NYC teaches over 70,000 students each year ways to be more environmentally conscious, and by establishing its garden initiative, Grow has helped plant more than 100 new gardens across the city, adding a burst of nature to the concrete jungle.
They even have a network of local farmers' markets to make sure that people in the Big Apple can enjoy freshly grown produce like, you know…apples. As awesome as New Yorkers are, they aren't exactly known for their green thumbs. Grow NYC is out to change that, and by the look of things, they're well on their way. You know an organization is impressive if it can get 3 million New Yorkers to agree on something other than how much they hate the Red Sox! (That's a statement we'll never agree to, though!)
---

Bringing health and dignity to women and children living in poverty.
Transparency isn't just a commonly used buzzword, but an actual best practice that's more important now than ever, especially in the nonprofit sector. Donors want to know where they're dollars are going, clients want to know what services or help they're receiving, and board members want to know that the whole operation is being run like a well-oiled machine. The Catholic Medical Mission Board (CMMB) knows all about how to run a transparent organization, and that's how they got on our radar.
The CMMB is a faith-based NGO that has been working to deliver medical services to women and children around the world for over 100 years. The CMMB has established a series of programs and initiatives designed to distribute medicine and medical supplies across three continents.
NGOs and charities have the added responsibility of making sure that they're efficient and transparent with the funds they use since they come from donations. That's where CMMB really shines. The Catholic Medical Mission Board has earned Charity Navigator's 4-star charity rating for 8 consecutive years in a row. 8 consecutive years! They're kinda like the New England Patriots of charities...just winning a title over and over and over again (Can you tell we're a Boston-based company?). But their commitment to transparency is only one of their impressive qualities—the work they do for impoverished families is nothing short of remarkable, and we're excited to see how they continue to contribute to the common good.
---

Helping students of color and from low-income families access success through powerful communities and networking.
Since we're not business or professional coaches, we won't dwell on how important networking is; you're probably already aware of that! Truly, networking skills are some of the most important skills business leaders can develop, which is why it's so important for young people to get used to networking and incorporate it into their normal lives. (And no, we don't just mean posting to Instagram and Snapchat after a wild Friday night.)
That's where The Opportunity Network comes into play—they believe networking can be used to close the opportunity gap. And if you think about it, it makes sense.
The Opportunity Network was founded over 15 years ago with the purpose of "reimagining networks as sources of power to catalyze opportunity and access." By focusing on career awareness and exposure and teaching foundational and professional workplace skills to young people from under-resourced communities, they hope to improve access to college and career success, regardless of where you're from. What makes The Opportunity Network stand out is the focus they place on teaching young people the importance of social capital and strong networks towards achieving future success.
We've learned from the Opportunity Network and have focused on creating our own network of accountants and affiliates who help businesses of all sizes scale with great speed and confidence. Needless to say, we've seen the power of a strong network for making connections and solving problems, and we're all for it! Thanks to the Opportunity Network, we hope to keep growing our list of connections and help even more businesses in the future. #greatminds
---
As always with our company roundup posts, this list is far from exhaustive. It is, however, a good sampling of companies doing work to benefit the greater good. We're happy to support them and help promote them, and full disclosure: we're also happy to be able to help some of them achieve greater cost savings with their complex nonprofit bookkeeping.
At the end of the day, we're all working toward similar goals of growing, becoming better people and organizations, and finding a little happiness whenever we're able. We think the nonprofits included here are doing good work, and we want to see them continue to thrive.
For more info on how your nonprofit can get a better handle on its finances and ultimately save time and money on tedious accounting tasks, click below to schedule a free, individual assessment!