We recently had the pleasure of sitting down with Steve Hooper, Co-founder and CEO of Kigo Kitchen. Steve was kind enough to share a bit of his experience on bringing a new level of AI and automation into the organization by using Botkeeper.
About Kigo Kitchen
Kigo Asian Kitchen is a chain of fast-casual, Asian-inspired restaurants specializing in quick, fresh, and authentic wok-fired rice and noodle bowls, freshly made salads, savory sandwiches, and gourmet beverages which are crafted-to-order from only the finest ingredients.
They combine their passion for high-quality food and innovation to create an exceptional experience for their customers and communities. They do things off the beaten path. They play with tradition and heat up the quick-serve experience. Their customers will leave changed, fueled, and fired up. By combining the exotic soul and culture of Asian street food, with American style and innovation, they create something curious, dynamic and flavorful.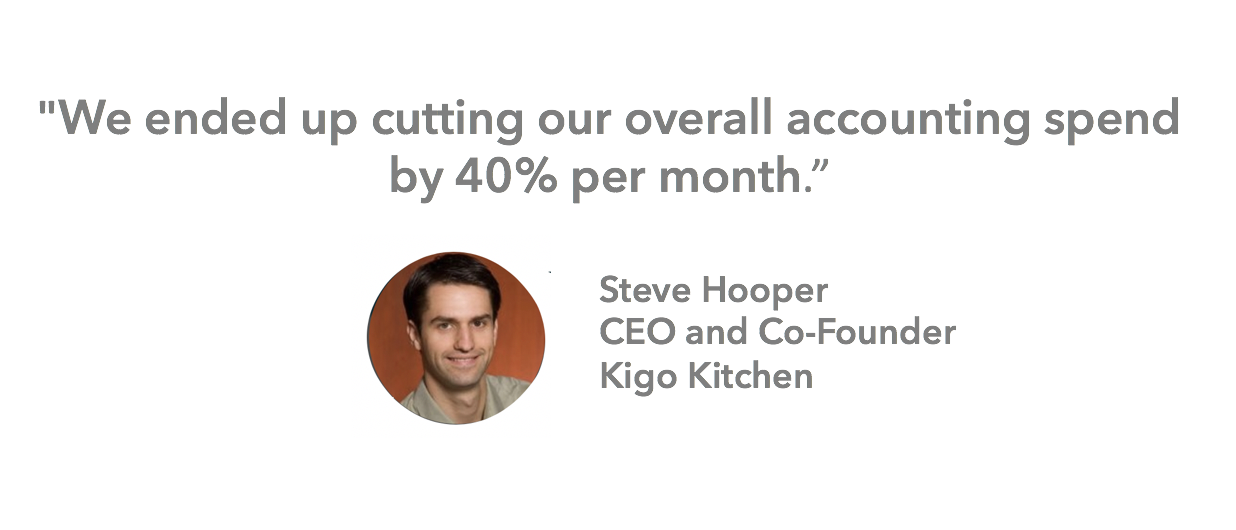 Seeking a platform for better bookkeeping
Founded in 2013, Kigo Asian Kitchen has become a success story in the restaurant industry. Expansion of the Kigo brand was a priority for CEO Steve Hooper early on, and having a reliable accounting department was an important part of his plan since day one. However, by 2017 Kigo experienced some challenges within the accounting team. Kigo had been managing their bookkeeping operations internally when their lead accountant unexpectedly transitioned out of the business.
"They had been holding everything together for us." explained CEO Steve Hooper. "This person was ultimately the cornerstone to our bookkeeping and accounting. They had been managing the day-to-day tasks, all the way up through our higher level financial reporting".
With the sudden change in the accounting department, Steve and his team realized they needed to find a high-quality solution as soon as possible to avoid operations coming to a complete halt.
"I heard from one of my investors and board members that there was this new and innovative bookkeeping solution out of Boston called Botkeeper a few months prior" Steve explained. "I had previously connected with Enrico Palmerino (Botkeeper's CEO), but hadn't felt there was a need to shift our strategy at the time. I was luckily able to pull up some old emails we'd exchanged, and we reconnected. The more I learned, the more I felt the idea of automation made a lot of sense for a business like ours" said Steve.

Prioritizing Consistency
The Kigo team began their Botkeeper evaluation with some key needs in mind; consistency, accuracy, and reliability.
"Consistency was one of the major areas we were evaluating, and we absolutely needed it in our financial reporting," said Steve. "We had experienced some problems with other firms revolving around consistency. It just wouldn't be there. We would see the same mistakes every single month. So having a solution that could truly "learn" our business sounded great. We had a lot of specific nuances to our financials that really needed to show up correctly".
Steve, also being a self-proclaimed technophile, really enjoyed the concept and promise of Botkeeper as a better, faster, and more consistent option.
"The idea of the automation just clicked in my head" Steve explained. "It's the logical place that bookkeeping should go. I started to get really intrigued, wondering if it would it live up to the details, and more importantly, would it work? The role of the artificial intelligence and bots just made a ton of sense to me. That's what got me excited. The idea of the rudimentary tasks getting offloaded to a system better suited for it."
Following an assessment and demo of the platform, Steve felt Botkeeper was the perfect fit for Kigo's bookkeeping needs. He no longer would have to worry about the pains associated with an internal hire such as overhead, turnover, or downtime.
Getting Back on Track
During the implementation period, there were some immediate benefits as Botkeeper started working. Due to the turnover Kigo experienced, there was some catch up work needed on their recent financials, which would ensure Kigo's books were accurate and up to date.
"Botkeeper was able to get all of the catchup and cleanup finished within a few weeks, and then we started to really hit a good cadence. We took Botkeeper's advice and migrated our accounting software over to Quickbooks Online, which has proved to save us more money. We had some distinct needs due to a few native integrations into our original accounting software, but what stood out right away was the Botkeeper team's willingness to work with us. The onboarding team worked really well with our operations and navigated through our approval process (which is a bit unique ). Overall, the attentiveness to detail during setup had a big impact for us."
Incredible results in under 12 months
According to Steve, implementing the Botkeeper platform has had a significant impact on Kigo's ability to grow and scale their business. "We ended up cutting our overall accounting spend by 40% per month. We also have been able to open another restaurant location, and our Botkeeper bill has stayed the same" explained Steve.

Additionally, Kigo has been able to avoid the typical growing pains on the operations side as they grow and add new locations.

"Typically, getting the bookkeeping processes in place for a new restaurant location is time-consuming and labor-intensive," explained Steve. "Our Botkeeper systems were already in place, so opening another restaurant simply meant adding a class to the profit and loss statement allowing us for seamless ramp up of the new location".

Steve went on to explain that Botkeeper not only saved on costs by cutting down his bookkeeping investment but also allowed for his executive team to get some of their valuable hours back. "Yes, we definitely saved money, but we also saved our COO a ton of time," Steve explained. "Our COO had been regularly editing, organizing and going back through our profit and loss statements. Now I know we're not going to miss a payment on anything, and I feel confident that there won't be any hiccups."

Scaling for the Future
When we asked Steve and his team how they saw themselves leveraging Botkeeper in the future, Steve went on to say "I really like how things are going, and I'd like to see more of the same from Botkeeper! Kigo will continue to grow, adding locations, and specifically launching new business lines such as our rapidly growing catering business. I'm really looking forward to continuing to scale our business together with Botkeeper."

Ready to learn how automated bookkeeping can help your business scale? Click below to schedule a demo!