Botkeeper named top 100 Award Winner!
Today it was announced that Botkeeper has been named a winner of Red Herring's Top 100 North America 2018 award, which highlights the continent's most exciting and innovative private technology companies!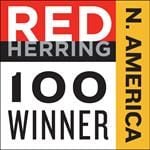 Botkeeper was recognized by Red Herring in the "Professional Services" category. Companies were judged by industry experts, insiders, and journalists on a wide variety of criteria including financial performance, innovation, business strategy, and market penetration. Winners ran the gamut of verticals markets, from fintech and marketing, to security, to IoT, and many more.
We at Botkeeper are working to redefine modern accounting best practices. Utilizing a blend of dedicated machine learning (ML), artificial intelligence (AI), and human assistance, Botkeeper eliminates what historically has been a highly-manual, error-prone, and expensive back office process. Our clients benefit not only from bookkeeping automation, significant cost savings, and 99.97% accuracy, but also from fully-customizable dashboards and reporting which give a 360-degree view of their business.
"The Botkeeper team has always believed that it was building a solution that would change bookkeeping and the accounting industry forever. To be recognized by Red Herring as doing just that is truly an amazing feeling for all of us," said Enrico Palmerino, Botkeeper CEO. "We are honored to receive this award, especially in light of the incredible companies throughout North America that also competed. Our congratulations to them for the innovative products and services they are bringing to the marketplace."
Red Herring's editors have been evaluating the world's leading startups and tech companies for over two decades. It gives them the ability to see through the industry's hype and to pick firms that will continue to achieve success. Brands such as Alibaba, Google, Kakao, Skype, Spotify, Twitter, and YouTube have all been singled out in Red Herring's storied history.
"2018's crop of Top 100 winners has been among our most intriguing yet," said Red Herring chairman Alex Vieux. "North America has led the way in tech for so many years, and to see such unique, pioneering entrepreneurs and companies here in California, which is in many ways the heartland of the industry, has been a thrilling experience.
"What has excited me most is to see so many people forging niches in high-tech and cutting-edge sectors," added Vieux. "Some of the technical wizardry and first-rate business models on display here at the conference have been fantastic to learn about. We believe Botkeeper embodies the drive, skill, and passion on which tech thrives. Botkeeper should be proud of its achievement: the competition was incredibly strong."
The Red Herring recognition follows Botkeeper's recent selection as the Gold Stevie® Award winner as "Tech Start-up Company of the Year" at the 16th Annual American Business Awards®. In January, the Company announced a $4.5-million Seed funding round led by Ignition Partners and which also included investment by 500 Startups partner Matthew Johnson; Talla founder Rob May, an early Botkeeper client; and New York Jets starting offensive tackle Kelvin Beachum
About Red Herring Top 100 Awards
The Top 100 North America forum celebrates the top private companies in the North America region. Red Herring's editorial team analyzes hundreds of cutting edge companies and technologies and select those who are positioned to grow at an explosive rate. This is a rare opportunity to meet the founders, investors, and CEOs of these disruptive companies all under one roof. Red Herring North America, featuring the CEOs and founders of the award winning companies, is the perfect occasion to celebrate the exceptional accomplishment of technology companies and entrepreneurs. Check out more about Red Herring HERE!
Wondering what Botkeeper can do for your business?