Here at Botkeeper, we are seeing a lot of professional/technological shifts at the moment, which reposition leadership responsibilities. We had Gretchen Pisano of pLink Leadership walk us through some changes in the field and even point out some...dare we say it…positives…? Let's not jinx it!
"if you've been dragging your feet on [going virtual], now's the time! And the great news is, you don't have to launch a task force to do this!"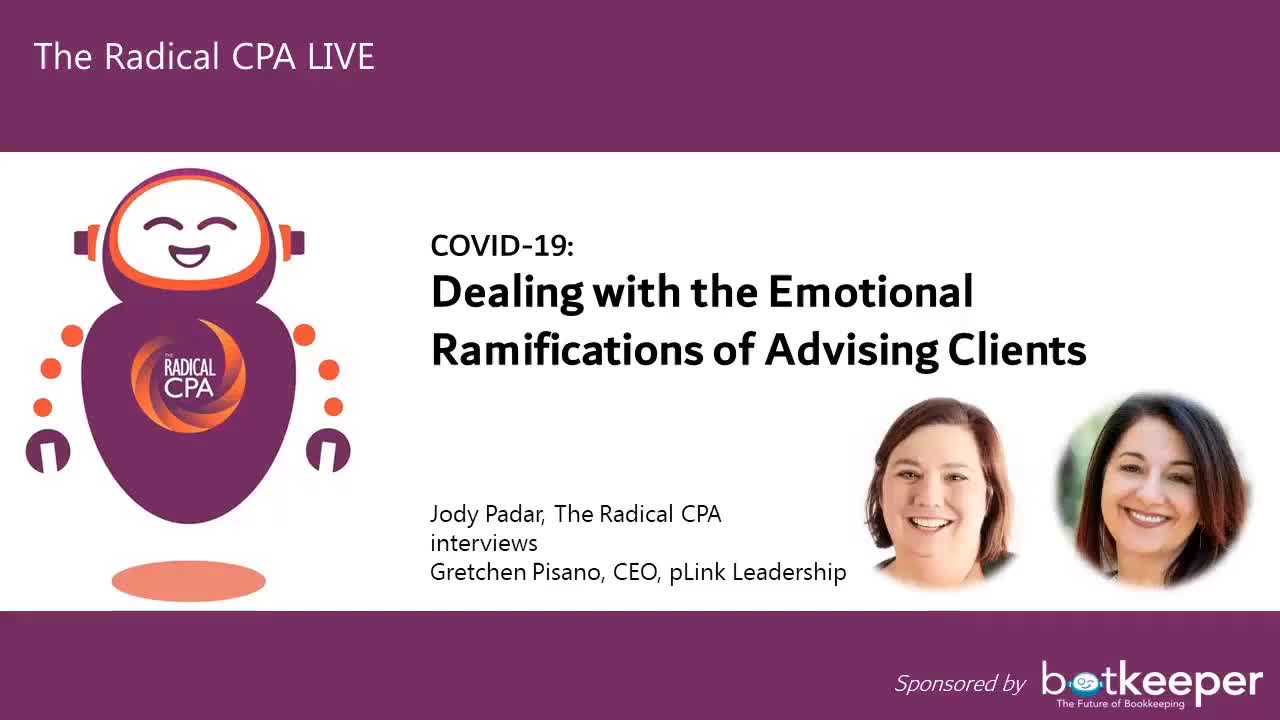 Going virtual
Much like Botkeeper, Gretchen Pisano's company has been 100% virtual since its founding day. As a virtual entity with cloud-based technology, those of us at Botkeeper can't help but be buoyed that many, if not all, financial institutions are moving to a virtual environment. Gretchen points out that "if you've been dragging your feet on that, now's the time. And the great news is, you don't have to launch a task force to do this. There's a handful of platforms out there…pick one and go for it." Botkeeper seconds this motion! In the past, there was risk associated with pushing a client toward going cloud-based and embracing technology, but they're going to be way more receptive today.
With virtual as the new normal, how do we as leaders manage our teams?
According to Gretchen, as you manage a virtual team right now, "there needs to be a lot of grace extended." The conditions of running a business have shifted so dramatically and quickly, and as a result, we must focus on the importance of empathy in leadership. As the realities of working remotely settle in, it's important to pay attention to cultural norms that have been upended. Leaders have to negotiate the space between managing for the outcome and being sensitive to the virtual hour, which will adjust as we all settle into this new paradigm.
Trust and team building are integral to the new virtual environment. "And you know what the number one trust builder is? The number one trust builder is being willing to ask for help. And that includes leaders." In chaotic circumstances like these, the impact may vary from individual to individual, but no one is immune. So, as a leader, Gretchen encourages you to say to your directs, "I have taken so much on my plate in an effort to lead well through this that I find myself overwhelmed. Can you help me in these ways?" Asking for help in specific ways will result in a more cohesive team.
Generational shifts are inevitable
Look at pretty much any office, and you will find a managerial staff that came of age pre-technology, and everyone else has known how to operate a screen from the cradle. This is the moment when you tap into that innate, in-house, technical knowhow.
Additionally, now's the time because you don't have the option to wait. Tap into those younger folks, and rely on them to educate you on the readily available virtual infrastructure out there! Gretchen encourages "thinking holistically. Meaning for the whole community, the whole organization—I think of organizations as communities of people. And bringing in ideas from everywhere, allowing people to participate, help, and teach, and support from everywhere—doesn't matter what your title is." This is an opportunity to empower your juniors, join the technological present, and reap all the benefits of being present and agile in the new COVID-19 reality.
New professional behavioral norms
With rampant stress and anxiety, bad behavior happens. Now is the time to really hold yourself and others accountable for behavior and not just results. This is where clear and grounded leadership is extremely important; lead by example, admit your fears, and do not take them out on others. And if you do, own it! Hold yourself and your directs to this standard. If someone on your team is taking their stress out on someone else, then they have to be held accountable for crossing that line. It's okay to feel all the feelings, but not okay to take them out on others.
What other infrastructural shifts are you facing? Drop your comments below!