Featured in this week's client spotlight is Nate Wolfson, founder of Cultivate, who has dedicated his career to helping entrepreneurs get the most out of their business. As a Certified EOS (Entrepreneurial Operating System) Implementer and lifelong, successful entrepreneur, Nate is "one of only 100 carefully selected, continually trained Professional EOS Implementers around the world—and just the second in New England". Get to know him and Cultivate better with the following Q&A!
What motivated you to transition from building and selling companies to coaching other business owners?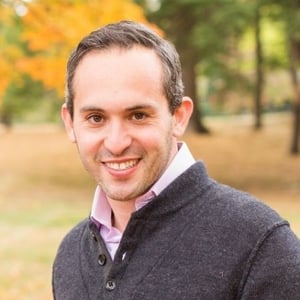 In my last company, I started mentoring entrepreneurs on a volunteer basis. Three other entrepreneurs and I would meet once a month for 6 months. One of them at the end of the rotation asked if he could hire me to coach him. At first I was confused so I asked him, "Wait, you want to pay me to have coffee with you twice a month? I could totally do that!".
When I started coaching him I discovered I absolutely loved it...about six months in, I had an epiphany and realized that I loved doing the coaching more than running my core business. So, I decided to sell my business and get certified on the Entrepreneurial Operating System (EOS), which I had successfully implemented in my own business. EOS was instrumental in our growth into one of Inc. Magazine's "5,000 Fastest Growing Companies in America" three years in a row.
What is EOS? How does it work?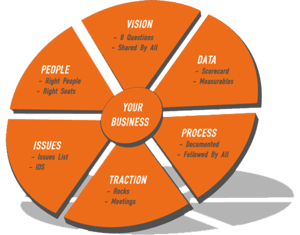 EOS is a complete system with really simple tools that helps business owners and leadership teams get everything that they want from their business. Invented by fellow lifelong entrepreneur Gino Wickman, EOS has been successfully implemented in thousands of companies across the world by over 150 carefully selected, continuously trained EOS Implementers like myself. I personally have helped the leadership teams of more than 30 Boston-area companies to implement EOS...their results have been amazing!
If any of your clients are interested, have them check out my website or order the best-selling book Traction to learn more.
Do you see Cultivate expanding in the future?
No. It's just not that type of business. I have been fortunate to have built and sold two companies and this is really my way of going out and helping people. What I love about what I do is that I can go and contribute to their success. I have two kids and we have a third one on the way and it fits my work/life balance really well. There are a few people that do what I do and have taken a crack at bringing people on to work underneath them. I haven't seen it work yet - I'm not seeing people cling to it. But, I'm not going to because it just doesn't really interest me.
I think in any coaching type of relationship, it is so important for you to be engaged with the person you are working with. The companies that I love to work with are the ones that are already doing well but are always looking for ways that they can become the absolute best at what they do. Those are my favorite because I feel like I am able to help them really achieve new heights and new levels of success as an organization that they wouldn't have been able to otherwise.
In what ways have you benefited from working with us?
To be honest, as someone who has a business that doesn't plan to have a lot of staff, one of the big things about Botkeeper is having a team that I can really count on. One of the things I really value is the combination of the day to day team and my dedicated accountant, Andy, really overseeing it and providing more of that strategic element. I think that's something that a lot of companies don't necessarily have. I want to stay really small and nimble, and outsource everything except for my focus on the business. I think Botkeeper is a huge part of my ability to do that because I look at them as not just doing the books but really being in charge of my finances, my finance function.
What makes us stand out against our competitors?
The combination of the automation, the team, and the personal touch. For me, I find it to be really valuable that the bot team does their work overnight. It is really efficient. I really like that I have Andy, my dedicated accountant, as an escalation point. It doesn't come up often but just knowing that he is overseeing things, that he is there, is important. I feel like I get the combination of the bookkeeper, controller, and probably a CFO if I wanted it or needed it, all in one package. I'm not sure if that is unique amongst your competition but I think it is definitely uncommon and for me, it is working really well.
I think you are in the kind of business, like my first business, where it is more about the quality of execution than it is necessarily about having a "special sauce". It is one of those businesses where I think you have some cool back-end technology but, as a customer, that is really opaque to me. I don't have visibility into it so my focus isn't on how its made but that it is there. I appreciate that it reliably gets done, there's almost never mistakes, and if I have a question you guys are extremely responsive. So, from my perspective, those are really the three things I care about for my finance function. You guys are doing an awesome job on all three of them so I am extremely happy.
Honestly, I think the personality of the team is important too! Everyone at Botkeeper is nice; good people, high energy, they actually care and have good personalities. They are not your typical "finance" people in terms of being all about 1's and 0's, and super cut and dry. It is a relief knowing that, on a personal level, everything is going to be taken care of.
How likely would you recommend Botkeeper?
In terms of how likely I would recommend you, it would be a 10 out of 10. I'm a really big fan. I have definitely recommended you guys to any clients that have mentioned anything about finance. I recommend Botkeeper to my clients because I am confident if you guys are there, their finance function is going to run better.
Nate will be giving a presentation about EOS on 2/16 from 7:30-9:30am at Edelstein and Company, 160 Federal Street, 9th Floor, Boston 02110. EOS (Entrepreneurial Operating System) is a comprehensive business system with real, simple, practical tools. This presentation helps participants learn to implement a simple "way of operating" that helps leadership teams clarify, simplify and achieve their vision. Leaders looking for a silver bullet or the next "flavor of the month" need not attend. In this value-packed workshop, attendees learn to see their businesses in a whole new light and to achieve better results through strengthening the Six Key ComponentsTM of a truly great organization. The outcome creates alignment and synchronizes all the pieces of your business to produce the results you want. If you're interested in attending, please RSVP to Casey Blake,cblake@edelsteincpa.com.