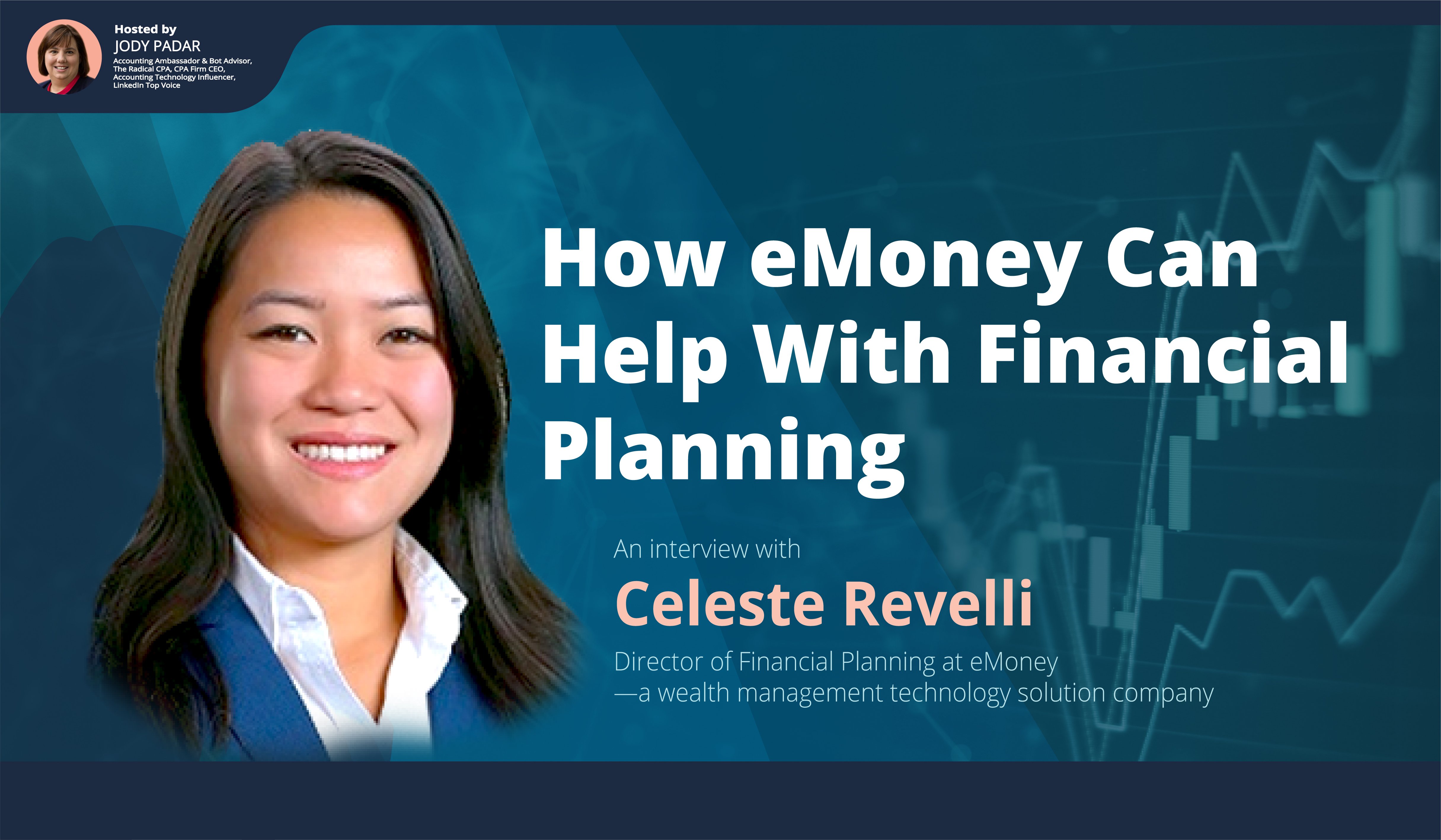 Financial planning can be intimidating. But it doesn't have to be, and that's what the Radical CPA Jody Padar covered in her final CPA Insights interview at the AICPA Engage 2019. Her guest was Celeste Revelli, director of financial planning at eMoney Advisors, an online financial planning service.
Padar and Revelli chatted about all the different features eMoney Advisors has to offer accountants who are starting to dip their toes into financial planning. What lots of accountants don't know is that you don't need to be a certified Financial Advisor to start having those types of conversations with your clients. You need the right tools!
That's where eMoney steps in as a tool that helps CPAs see exactly where their clients are spending money so they can better advise them on saving and how to accomplish long-term goals. Padar even uses it in her firm to better serve her clients.Listen to the full interview here or check out the edited transcript below.
Jody Padar: Welcome back. I'm Jody Padar, the Radical CPA, and you're listening to Let's Get Radical. Our next guest is Celeste Revelli, and she was a guest last year, so it's awesome to have her back. She's really trying to get CPAs engaged in financial planning. So, Celeste, why don't you go ahead and introduce yourself.
Celeste Revelli: Thanks for having me again, Jody, and for inviting eMoney Advisor to your show. It's always a pleasure to be here at ENGAGE, there's so much energy. There's a lot of sessions, and it's all really interesting. So I'm Celeste Revelli. I work for eMoney Advisor as a director of financial planning. For those of you who aren't familiar with eMoney Advisor, we're a wealth management technology solution company that provides technology for financial planners, financial professionals, and financial services firms helping clients talk about money and the financial planning conversation. We have solutions for interactive tools that advisors can use to deliver plans and also a client portal to engage a client in the financial planning conversation and develop that relationship.
Padar: And what I like about the eMoney tools, is that it's all in the cloud, right? So that's pretty cool. And it has a really unique onboarding process.
Revelli: Yes. So you can actually select the level of depth that you want for the fact-finding process, the onboarding process, so you can go high level and allow the client to put in some very simple data—even just their age, their income—all the way through to how much they save. And what are their goals? So you can dig deeper and even get into details such as how much they are spending, getting into their budgets, and really getting a sense of what their true cash flow is. So then you can have a base to generate that financial plan.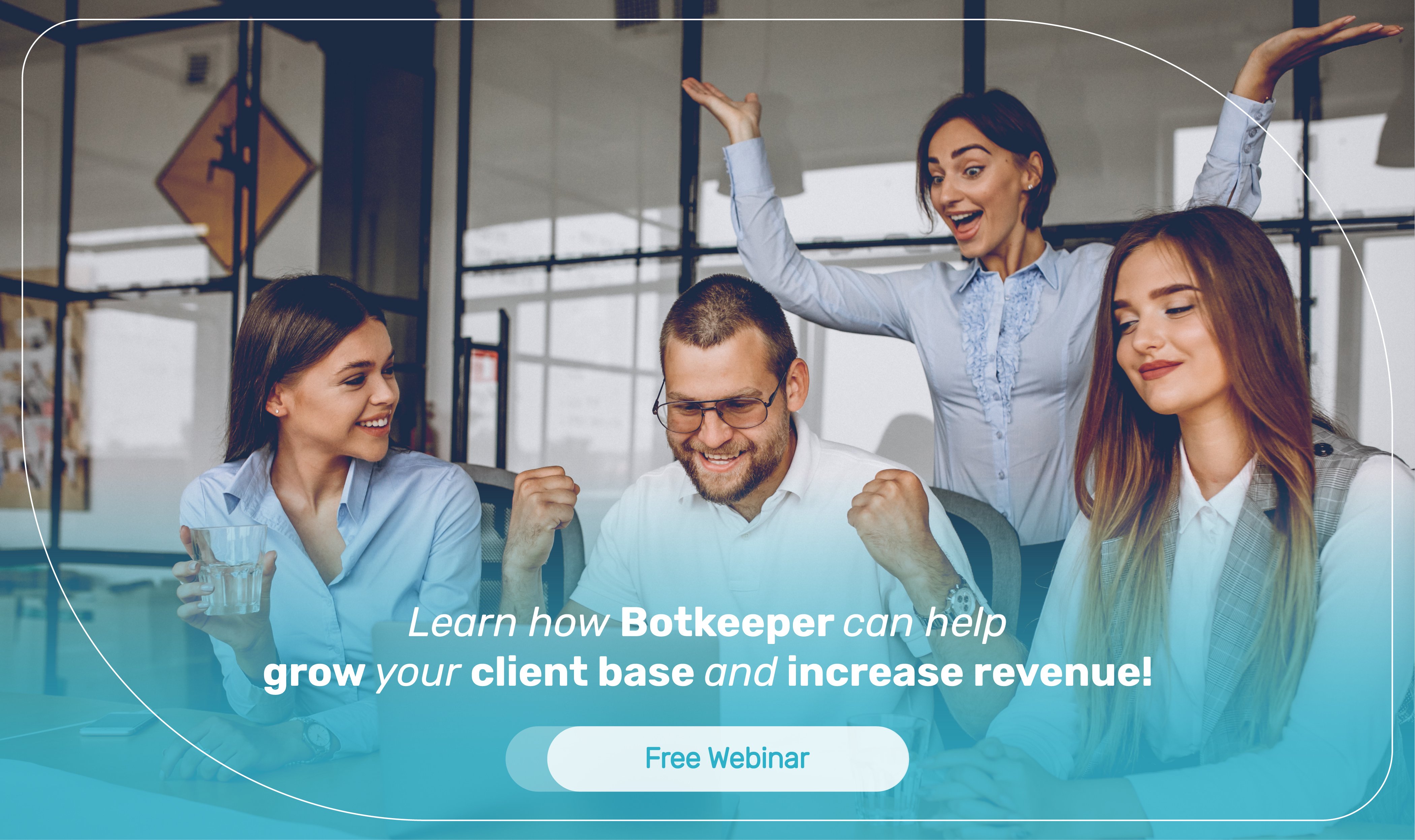 Padar: And now you're doing a session tomorrow? Can you tell me a little bit about the session you're doing?
Revelli: We're talking about the trend of CPAs finding additional value, providing additional value for their clients through financial planning. So this push to financial planning and how those conversations that CPAs already have in a tax session can really launch them into a financial planning engagement and relationship with their client.
They can help them more than just taxes, like retirement, how to invest and maximize savings, estate planning, insurance. And I know that Jody, with your firm, you made that switch a couple of years ago, from the tax service to full-blown financial planner.
Padar:
I think sometimes CPAs think that they have to be licensed financial planners to use a solution like eMoney. And you don't have to be. So there's an opportunity there, that even if you're licensed, that's great. And you can have assets under management, and you can use eMoney for that. Or if you're not licensed, you can still use a tool like eMoney and provide really good financial planning without having assets under management. And that allows you not to necessarily have to take all those exams, which I think is important for some CPAs.
---
---
Revelli: That's a great point. I think that a lot of CPAs, when they hear financial planning, they kind of curl up and they say, "Well, how do I even start? Do I have to get certain licenses registered?" And yes, you do. You have to get registered if you're going to provide investment management, investment advice like you and your firm. But, having conversations about Social Security strategies or saving and cash flow—those are already conversations that you can have without necessarily having the Series 7 or 63
Padar: And the eMoney tool makes it really easy because they kind of guide you along those conversations.
Revelli: Exactly. So we actually came out with a new financial planning experience called "Foundational Planning" this past year. We're continuing to add to the experience, but we've always been rooted in advanced cash flow, really detailed cash flow. We can dig into every single year for the clients' outlook throughout their lifetime. But for those who are starting financial planning, how do you get started?
What kind of data do you need about the client? What's the financial planning process and the workflow? What are the steps to follow? And so foundational planning is really a tool to streamline the financial planning process, take you step by step, help you uncover goals that the client has and start those conversations with the client. Easy onboarding, easy inputs to put in goals, track progress towards goals, develop different scenarios.
So it's really great for those who are serving clients that have less complex needs and then allows them to scale in one platform that, as the client develops, accumulates wealth and has more complex needs that they can scale them into more cash flow planning.
Padar: So I think this is really important because everyone keeps saying that, as you utilize more technology, you have to increase your advisory skills. And that was one of the things that we saw as we increased technology in our own firm. We started to realize, OK, so now what are these people going to do? Are these people—I'll say, one person—what is she going to evolve to do? As, we're automating a lot of the day-to-day stuff. And so I think advisory and using a tool like eMoney is the perfect transition to really help you facilitate that advisory skillset.
The other thing I guess I'd like to ask you about is this whole idea of behavioral financial planning and how that works with a tool like eMoney, because to me, I think a lot of CPAs are caught in the asset management piece of financial planning. Yet financial planning is so much more than asset management. So how do you see your users using eMoney to really help with behavioral financial planning?

Revelli: So during the onboarding process, really uncovering what are the clients personal goals? When you think about financial planning, it's deeply personal. The client has connections to goals that they have in the short-term and long-term future and also for their family. So start the conversation not with how much money they have, but what are their financial goals?
What do they want to accomplish? And let's talk about what their priorities are. Is it saving for retirement, or is it sending their child to college? And I think starting with that in the onboarding process before you get into anything else, then the advisor understands: what kind of services can I provide this client in addition to investment management?
Padar: And I think one of my favorite parts of the money tool is the cash piece because at the end of the day, I think a lot of our clients could use help just making some behavior changes. And that gives them the opportunity to step on the scale and really see where they're spending their money as opposed to just, "Oh, I spend so much on rent, and I spend so much here."
I guarantee that once you start using those tools, they start looking at what they're actually spending and they realize that they're probably wasting a lot more money than they thought because now they're looking at it.
Revelli: That's a great point. I think that visuals and interactive tools like our budgeting and spending app on the client site really helps with transparency, helping clients see exactly what they're spending. So rather than the financial advisors saying, hey, it looks like you're spending too much.
They can actually see what they're spending money on and track their spending and make those decisions on their own to lower their expenses and make some changes. So, to your point, I think tracking those behaviors through technology and having those visuals and where they can interact and see what if they spent less money and then seeing that output and that benefit.
Padar: Your background is as a CFP, correct? How did that evolve? Because I think it's a pretty interesting story as to how you became a CFP.
Revelli: I actually studied advertising and communications because I really like the intersection of art and business, being creative. Right. And through internships throughout college, I realized that was not what I wanted to do. I knew I wanted to help people and provide value in some way. And my parents, being immigrants to the US, didn't know much about finance financial planning I didn't even know what financial planning was, but I realized the benefit of it when I got out of college.
I was stuck with all these student loans. I didn't know what I was getting into. Neither did my parents. So it was a big wake up call about how much debt I had. And through networking, I found an opportunity to work for a broker-dealer, providing financial services to clients. I had my own clients, but I realized that I felt like I needed to learn more.
---
---
I felt like I wasn't doing the best thing for the client by not knowing all the intricacies of comprehensive financial planning, etc. So there was an opportunity at eMoney Advisor, and I knew I wanted to get my CFP and learn more and increase my competency and my knowledge of financial planning before I felt comfortable servicing clients.
So now, I've been with eMoney for almost eight years, and it's been such a great experience where I can take what I learned through my CFP studies and go through the exams and everything like that, seeing it in practice and helping advisors with a lot of different financial planning techniques. eMoney serves a broad array of advisors, those who are serving wealth accumulators and want to have goals-focused conversations to clients who are high net worth and have complex estate planning needs.
So seeing all of that, I think, is a really unique experience where if I worked at a single financial planning firm, I would only know planning the way that they do it. Where I'm learning from professionals like you and their practices and their clients and what some of the new planning techniques are that we should support. And really, I never realized I'd be in technology, but I think it's really neat to see technology's role in financial planning. And financial planning itself is growing. And so it's a really great opportunity.
Padar: I think what I found really exciting about eMoney is we know financial planning and we know what the end result should be. But a lot of times when you're using a tool, you don't necessarily know the box to check or how to get there. And what I love about eMoney is the support team—most of the support team are financial planners, as well.
So they really help you along that journey and realize what sort of variables you should be picking as you look at these plans and you create them. I think that eMoney does a phenomenal job at really helping your advisors advise and giving them the tool as well as kind of opportunities that maybe they didn't even think about themselves.
Revelli: Yeah, our service and support are really important to us. We find that first being able to speak the advisor language and understand the financial planning process—what are these different terms to be able to support, the questions that you have, and maximize the use of eMoney because you only have so much time in your day.

Your time should be spent with your clients, developing those relationships, deepening those relationships, rather than worrying about where do I put in this IRA? That's what we're there for. Our customer service team has won the Stevie Awards, which is a really prestigious award for service and support. So we're really proud of our team and the support that they're able to give advisors like you.
Padar: So what's on your agenda for the rest of ENGAGE? Aside from speaking tomorrow, what else are you looking forward to here?
Revelli: ENGAGE is a really awesome conference where it's interesting to see what the new technology that's coming out that CPAs are using and how they're getting into financial planning. So just sitting in sessions and understanding, through the lens of the CPA and what it's like and there are a lot of planning, heavy, very complex sessions, too. So I'm hoping to understand what are some planning techniques that are trending and how can we support it in our system.
But also, just speaking with our clients who are using eMoney, finding out how they like it. What are some things that we could be doing better? What can we add? What are some efficiencies, such as how can we make the onboarding process easier? Like taking a tax form? And we know that the jump from tax planning to financial planning can start with that tax form. So just uncovering a little bit more about that.
---
---
---
What can we automate? So just understanding what are the main software providers that people are using, and how can we make that more of a seamless transition? Through integrations, as our documents storage or tax prep or tax planning software that the advisors here typically use. Can we partner with them to make it an all-in-one technology platform, which is our ultimate goal. To be able to create efficiencies.
Have the advisors practice in a digital environment that also allow them to provide planning for a lot of different types of clients, like clients who are wealth accumulators, have high net worth, different life stages. So really trying to understand more about those trends. Speak with people at the AICPA, see how we can support them through our technology.
---
Padar can speak to the value of how the right tools can be the difference between surviving and succeeding. That's one reason Botkeeper was created—to serve clients in a more efficient manner and help them scale effectively. Learn more about how Botkeeper can help your business scale by scheduling a free assessment below. It only takes five minutes, and it can lead to major success!