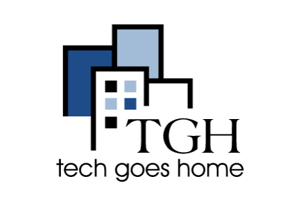 We recently had the pleasure of sitting down with Theodora Higginson Hanna, Co-Executive Director of Tech Goes Home out of Boston. Theodora (Theo) was kind enough to share a bit of her experience with bringing a new level of AI and automation into the organization by using Botkeeper.
About Tech Goes Home
Tech Goes Home (TGH), founded in 2000, is a national award-winning initiative, empowering communities to access and use digital tools to overcome barriers and advance lives. With the support and backing of the City of Boston, TGH prioritizes low-income and underserved populations, including people from challenged neighborhoods, those without technology at home, the unemployed and underemployed, people who do not speak English, and individuals with disabilities.
Most TGH households have incomes under $20,000 per year. Of the population TGH serves, 90% are people of color, 40% are English learners. About 45% of TGH School courses support students with special needs. TGH is focused on tackling the entrenched barriers to technology adoption and Internet access. More than 90% of survey respondents subscribe to Internet access in their homes long after program completion. More than 25,000 participants have completed TGH, and partnership programs have run in Tennessee, New York, New Mexico, Connecticut, and Louisiana.
A Company in Search of Better Bookkeeping
The team over at Tech Goes Home knew that they needed a solution that was going to be nimble, provide the financial reports and grant updates they needed, and that worked with their often remote schedule. The existing solution was costing too much time and money that could go towards their digital equity programs.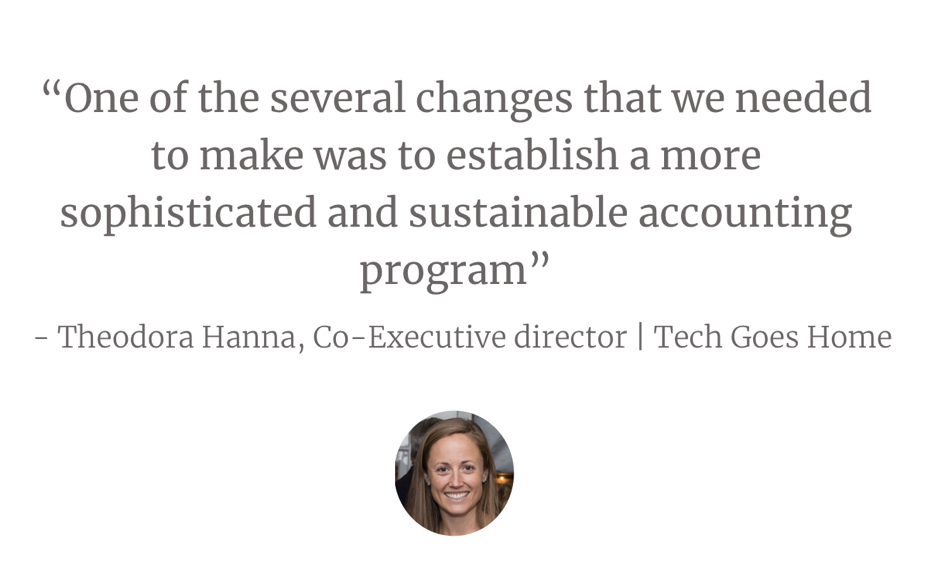 The Challenge of Traditional Bookkeeping Options
Theodora and the team were working on several plans and processes to grow the organization. The team realized that there was a massive need that they wanted to meet, and to have a bigger impact as an organization, they had to strengthen their internal processes. One of the several changes that they needed to make was to "establish a more sophisticated and sustainable accounting program".
As a non-profit organization, TGH was tasked with following a very specific set of guidelines and regulations when it came to managing their books. Some of the biggest priorities were grant reporting, budgeting, tax specifics, and of course being ready for an audit. Having a traditional outsourced bookkeeping structure was presenting some challenges- the team had been doing a lot of work by hand, resulting in manual and time consuming labor, such as hand-writing numerous checks when it came to paying bills.
Ultimately, the TGH team was spending a good portion of their own time trying to cobble together the necessary reports and financial data they needed, which was taking precious time away from the day-to-day operations that were essential to growing the organization. Overall these challenges resulted in the loss of time, money, and peace of mind.

The Solution: Automation with Botkeeper
TGH required a solution that would help to grow the organization; this eliminated many other traditional options when combined with their desire for something that was easy to manage, and remotely accessible. Acting upon a board member's referral, they decided to explore Botkeeper.
At the same time, TGH looked at several traditional options, which came with a lot of the same traditional challenges. "Botkeeper was definitely the only one of its kind we found. The collaboration of bots, AI, and our own designated accountant was really appealing. We loved that we could get one solution and work with one partner that could differentiate how to do the work based on the level of sophistication needed, all while saving us time and money. The innovative Botkeeper model just made a lot of sense."
A big piece of the decision making process revolved around setup. Moving the management of the books can be a tricky process, and can often reveal a lot of clean up work needed. However, TGH was quickly and pleasantly surprised; "The implementation really took us by surprise as well. It was so much smoother and faster than we expected. It was easy to roll out to the team, and I was amazed at the flexibility Botkeeper showed right from the start. They co-created a system with us and made adjustments to our collaborative process as needed."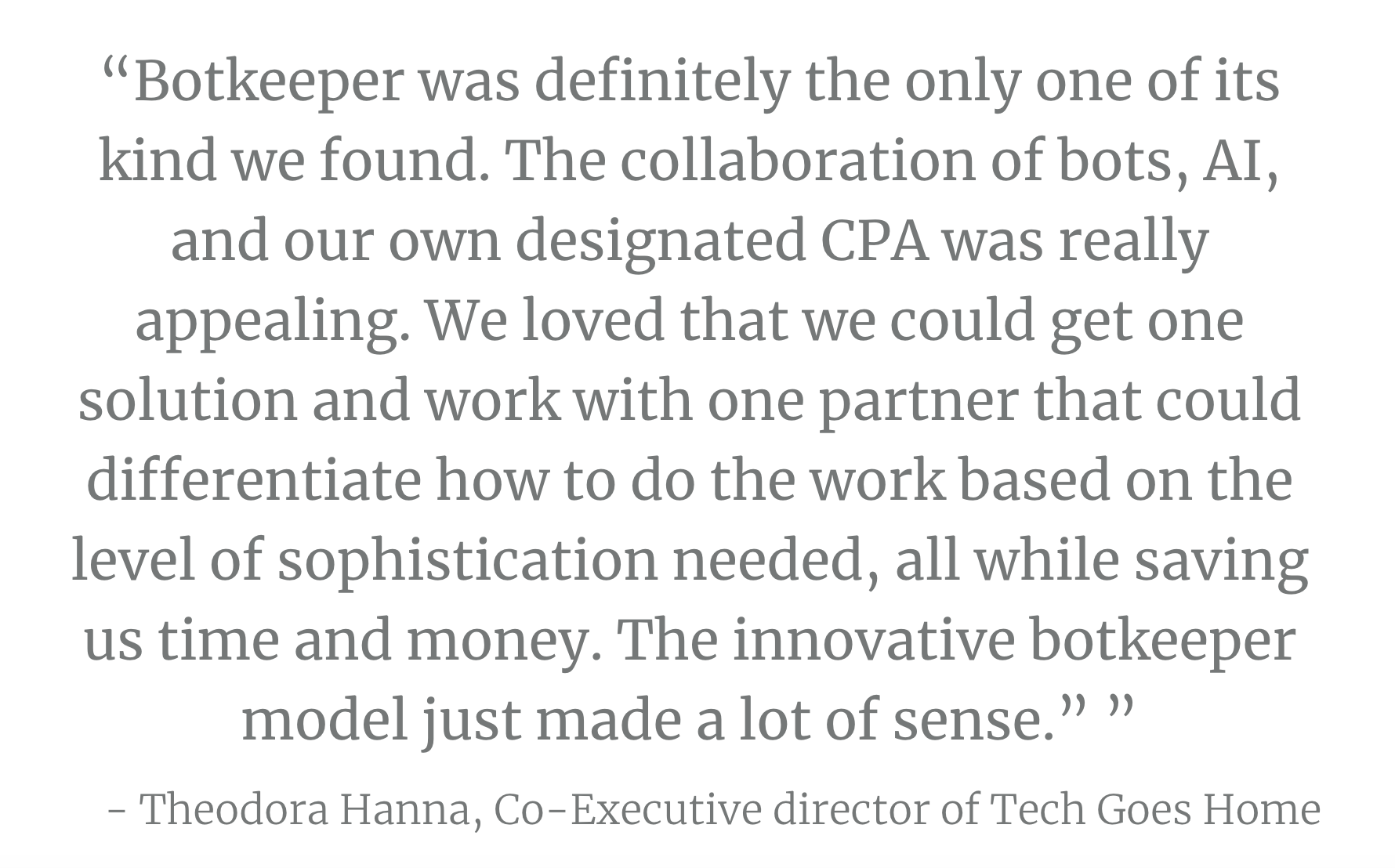 Easy Setup and Ongoing Support
As an Executive Director, Theo fully comprehended the value of her and her team's time. "We knew every minute we put into manual processes, writing out checks, going through the books, etc... was time we could be running our programs." Having gotten that time back, the team has been able to focus more on the work and expansion of their organization. Since implementing Botkeeper, TGH has been able to reduce their monthly accounting and bookkeeping costs by 50%, and they have gained hours of their own time back.
Given the landscape of the nonprofit industry, being able to have real time insight into the financials was something TGH was happy to see Botkeeper deliver. Their organization wanted to be able to keep a finger on the pulse of their programs and financials, and use that information to adjust their course and pursue new goals. "Something we're really impressed by is Botkeeper's responsiveness - both turnaround time and their ability to meet our many varying needs."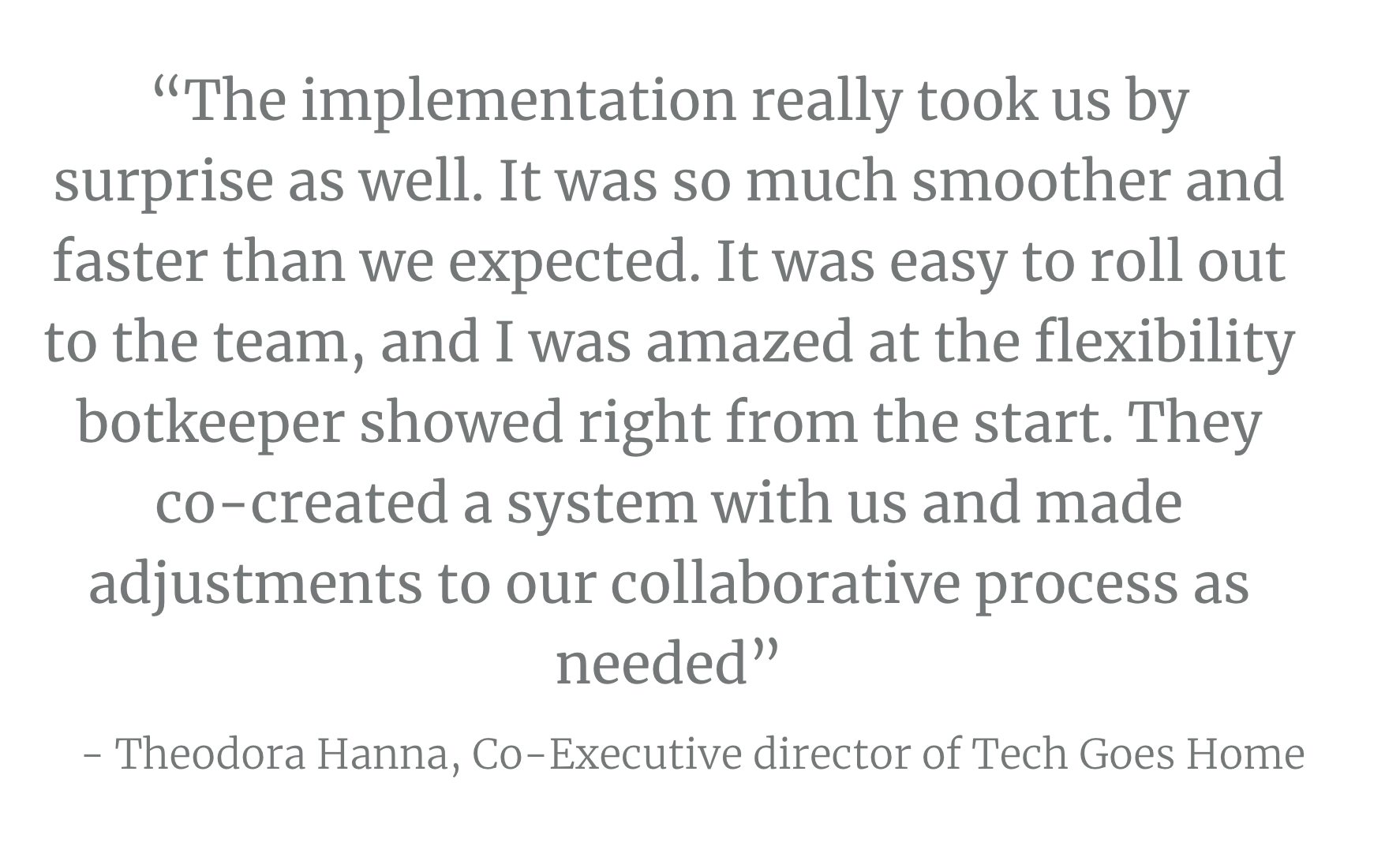 TGH is an amazing organization with a really great mission- check out their site at techgoeshome.org.
And if you're ready to learn how to reduce your bookkeeping spend by 50% or more, click below!