Imputed pay, exempt or non-exempt, off-cycle, pre-tax deductions, not to mention FICA, ACA, EIN, and FUTA...
You shouldn't need to hold a PhD in economics to understand small business payroll!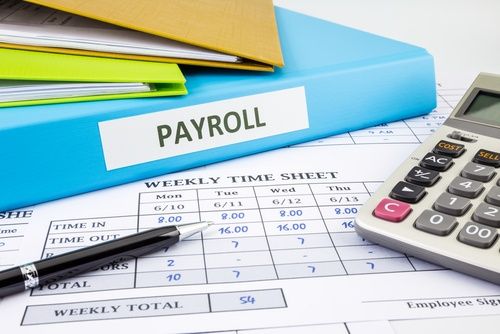 There is of course an upside to finding out you need to learn the ins and outs of payroll. It probably means your business is growing. You're adding employees and going from mom and pop to extended family. Great stuff!
A Not-so-Boring Introduction to Small Business Payroll
Let's face it, keeping track of earnings, expenses, and "maintaining the books" is pretty boring stuff. But as tedious as it may be, working the numbers is an important part of success. We've pulled together a short primer on just what it takes to set up and maintain an accurate small business payroll plan.
You need to get the bureaucratic ball rolling by obtaining an EIN (employer identification number), an EFTPS (electronic federal tax payment system), workers' compensation coverage, applicable state tax accounts, and a new hire reporting account.
New employees fill out and sign W-4 forms for state and/or federal tax withholding.
Within the first 3 days of employment you must obtain a signed I-9 form verifying the employee is eligible to work in the U.S. Within 20 days you must register the employee in the New Hire Reporting Program.
After that, it's time to get down to the business of running payroll. Here are the most general terms and processes you need to know:
Pick a pay period: bi-monthly, every two weeks, or weekly are the most common. Base yours on factors specific to your business such as cash flow and state requirements. Now's also the time to decide if you'll use a paper or digital timesheet.
Payments to independent contractors or one-time bonuses are known as off-cycle payroll.
A typical paystub reports gross earnings, pre-tax deductions and contributions such as a 401k, post-tax deductions, and net pay. It may also show imputed pay, otherwise known as a fringe benefit, reimbursements, overtime, commissions, and bonuses.
Finally, there are three major taxes that can influence payroll. FICA contributions, state and federal income taxes, and the ACA, or Affordable Care Act.
Small businesses that don't have the resources to do payroll in-house have several options available to them including software, hiring an accountant, or outsourcing to a dedicated, responsive service that leaves you free to do what you do best—grow your business.
---
Ready to learn how automated bookkeeping can change your business for the better? Click here to get started with a Botkeeper rep.
Not yet ready to get started? You can also click below to download a free ebook on handling small business expenses!