For this installment of our Startup Spotlight series, we're checking in with our friend Luke Seavers. As the founder of the Charleston, SC-based branding and web design company One Nine Pro, Seavers is an expert in music production, graphic design, branding, web development, and publishing consulting.
How did you get into these industries?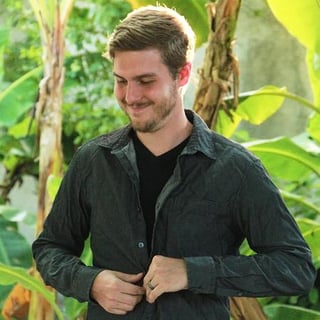 I originally started the company as a music production business. Music has always been a huge passion of mine, but I quickly learned how difficult it was to make money from it. Back then, I was doing my own graphic design work, and I built my website. Eventually, I started getting requests to design logos and websites for other people. It wasn't long before I decided to make design my main focus.
That's Impressive! Are there any advantages or challenges to being self-taught?
It has been an unexpected advantage for me to be self-taught in graphic design. Many people who go to design school learn the fundamentals of aesthetics, as well as how to use design software; but they aren't taught about business. This is crazy to me because this industry is really about marketing and creating a good customer experience for the clients we serve.
Being thrown right into business as a graphic designer has forced me to learn these things much quicker, which has allowed me to serve our clients more effectively.
What's your favorite part about working with businesses?
I'm passionate about empowering other business owners to reflect success in their brand and position their business to grow. I really enjoy what I do; as an entrepreneur myself, it's exciting to help other entrepreneurs pursue their dreams too!
Sites like Wix and Wordpress make it easy to build a free website, but are there advantages to hiring a consultant?
This is a very good question! Wix and these other do-it-yourself website platforms do have their merit. When entrepreneurs are just starting out and have very little capital to invest in the business, these platforms provide a lean solution to get them a presence on the web.
However, the business owners we work with are often at a stage where they are ready to take their marketing to the next level. They want to position themselves for growth and find a way to outshine their competitors. I really believe that your website should be much more than a "glorified business card" – it should be used to help meet your business goals (whether that be collecting leads, getting found on Google, etc.).
What does your client process look like?
I sit down with a business owner and I ask a lot of questions. I work to understand their business and exactly what they need to accomplish. I believe a web designer's job should be less about producing something and more about finding solutions to problems.
When designing a website, we focus in on three important aspects. The first is providing a beautiful aesthetic design that is consistent with the company's branding. Second, we help craft the business's messaging so that it is clear and grabs the attention of their target audience. And third is designing a strong "User Experience" so that website visitors can browse the site seamlessly and take the desired action.
Whether we're designing your logo, building a website, or creating some sort of marketing campaign, it's important to us to create a professional product that supports your goals.
How do you make sure that you meet the goals of your clients?
Again, asking the right questions and listening goes a long way. The better we can understand the needs of the client, the easier it is to deliver. From there, it is about walking them through our design process that we have developed over time. This process allows us to frequently check in with the client throughout the project to make sure we are on the right track.
Does One Nine Pro have any new services or business news to share?
Yes. I'm excited about something we've implemented into our design process recently. I find that I am able to serve my clients better when I devote dedicated time to them, rather than juggling several projects at the same time. I also know that business owners would prefer to get a quality result faster.
That is why we have begun blocking out dates to work with each client, where we determine the best timeframe to work together. I like to tell them, "you are my only client!" during our project dates. I give them some simple homework to complete in the weeks leading up to the project. When it comes time for the project to start, the client receives my full attention and a faster turnaround time: usually 1-3 weeks, depending on what the project entails.
(Anyone interested in booking a project with us can do so at oneninepro.com.)
What does the future look like for One Nine Pro?
This year, I'm hoping to grow my team more and continue to build brand awareness.
I'm also hoping to narrow our focus to work with companies and industries I can get excited about. We've worked with several start-ups, and I hope to continue working with them, especially in the tech realm. I'm also a foodie, and I love the restaurant scene here in Charleston! I would love to work more with restaurants – I feel like we could add a lot of value there.
What are some pain points you are experiencing in this industry?
I would say it is knowing where our time and marketing dollars are best spent. This year, I'm trying to cut out what has not been working, focus on what is working, and even try some new things.
We've worked with a variety of different industries up until this point, and I think that narrowing our specialty to one or two industries will allow us to focus in the right direction and reach those who need our services.
Do you have any advice for fellow entrepreneurs/startups?
There is a quote by Mark Twain that says, "twenty years from now you will be more disappointed by the things that you didn't do than by the ones you did do." If you are thinking about becoming an entrepreneur, there are always a hundred reasons not to, but I would encourage you to go for it!
I would also tell you to never stop learning and never stop refining as you go. Be flexible and open to change. In a world where technology is constantly changing, this will be your competitive edge.
Are you ready to see how automated bookkeeping can help your business save time—and money? Click below to get started today.