When Your Needs Outgrow Your Tools
Ovia Health is doing big things for women and families, and they need support that enables them the ability to grow at any pace, anytime. As a health and tech company, Ovia Health is committed to transforming the way employers support working women and families along their parenthood journey, improving outcomes by providing daily personalized engagement, proactively identifying potential health risks, and supporting a successful return to work.
But in 2018, the small finance team at Ovia Health needed an upgrade. They were dealing with some common accounting shortcomings related to their accounting software, in particular limited automation capabilities. This meant that they were still having to do a lot of manual bookkeeping on a regular basis, leading to human errors and inconsistencies.
We chatted with Jon Medeiros, then director of finance and operations at Ovia Health, to hear more about his struggles and how he found a solution with Botkeeper.


Challenges Affecting Ovia Health's Success
"We are a small finance team. When I first connected with Botkeeper, I had one junior associate working for me," Medeiros said. "Our biggest pain points at first revolved around accounts payable and needing to establish a more efficient process with better internal controls."
After enlisting Botkeeper to help support the AP side of things, Medeiros and Ovia Health eventually decided to review their entire accounting setup. "We went through a 'phase two' assessment with Botkeeper, looking at them to take on the entirety of our bookkeeping operations, which, in essence, replaced the need for a whole department. Originally, I had a hard time wrapping my head around the concept of Botkeeper taking over so much work. This being said, I'm so glad we made the change. We now rely on Botkeeper so much, and I completely see the value. We're paying a fraction of what we would have been paying for the full-time people needed."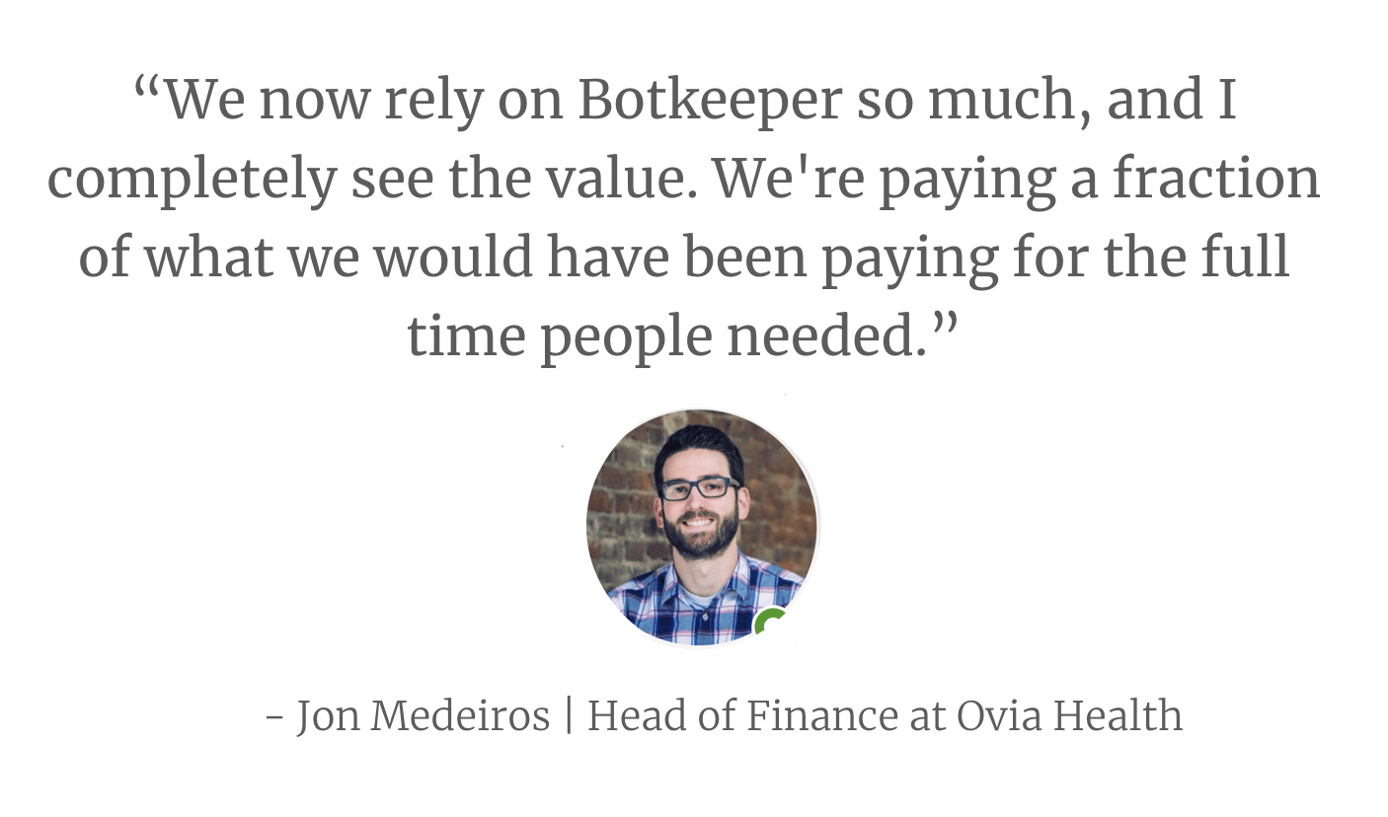 The Solution Ovia Health Needed
Ovia Health was already using QuickBooks as their accounting platform, yet it wasn't a be all and end all solution; it had shortcomings that Medeiros needed to address. Among them:
The provided reports were not very sophisticated or powerful.
Lack of budgeting or financial planning and analysis tool—everything had to be uploaded and analyzed manually.
Inability to have multiple legal entities and consolidation.
Limited internal control capabilities.
Limited automation, requiring multiple hours of manual effort each month.


Medeiros was also focused on finding a high-quality, user-friendly, and cost-effective solution. Enter Botkeeper.
"Botkeeper most certainly stood out in its ability to leverage technology as well as human capital—at a very attractive price point—to accomplish a number of accounting processes," Medeiros said. "The Botkeeper feature that was most appealing was the combination of cutting-edge technology coupled with the human element. I love still having the human element involved, in that Ovia has a very experienced, dedicated accountant who is always there when I need help. This aspect on top of the technology that Botkeeper built is a winning combination. Things get done so efficiently now—we've drastically cut down the risk of human error."
Learn how automated bookkeeping by Botkeeper can help your accounting firm get to the next level by
clicking here.
How Ovia Health Implemented Botkeeper
The first thing Ovia Health did was to roll out a solution for their Accounts Payable process, which consisted of setting up a Bill.com account with Botkeeper and creating the integrations with QuickBooks. From there, Ovia Health's dedicated Botkeeper took over all invoice processing. During the onboarding process, Ovia Health's dedicated accountant who would step in and help answer questions as needed.
"There was also some training involved for both Bill.com and the Botkeeper portal," Medeiros said. "The Botkeeper team was extremely helpful during the implementation process, specifically around training and integrations. I had not previously used Bill.com before bringing on Botkeeper, so having this training was very beneficial. I also received a lot of great support from our dedicated accountant as we were setting up the integrations with all the tools we use and ensuring those went smoothly."

How Botkeeper Helped Ovia Health
"There are too many ways to count. Our accounts payable process is seamless. We now use Botkeeper to perform essentially the entire monthly close, as well as our accounts receivable process and other areas like commission calculations," Medeiros said. "Botkeeper also worked with me to create slick dashboards for key metrics we want to track as a business, all of which reside in our Botkeeper portal.


Decision: Stay With QuickBooks? Or Find Another Solution?
Additionally, Ovia Health had been looking into whether or not they needed more advanced reporting, and whether Quickbooks was the right solution, or if another higher-end accounting software would be a better fit.
"We consulted with Botkeeper and had some great conversations about our needs," Medeiros said. "We provided some pain points with QuickBooks, and Botkeeper acted as an expert advisor. Basically, they said, 'Great, we hear your points, and when you're ready to move onto another platform, we'll be there to work with you. BUT here is how we can more effectively utilize your Botkeeper portal for all of those pain points you mentioned.'"
With Botkeeper, Ovia Health was able to create custom reports they'd been wishing for, bridging the gap for their organization. "The new accounting software investment would have been around $50,000 for the first year alone," Medeiros said. "We also would still have needed another bookkeeper to manage it. Botkeeper's expertise and flexibility helped us avoid—or at least postpone—a significant cash outlay."


Ovia Health Saved Money and Became More Productive
"Ovia has saved a lot of money over the 12 months we've been using Botkeeper versus the alternatives of hiring full time employees or outsourcing to another company that doesn't utilize technology the way Botkeeper does," Medeiros said.
He went on to comment on how this created a snowball effect, positively impacting strategy, financial modeling, analytics, pricing, and sales operations. "They've all increased tremendously now that I'm spending less time on the day-to-day accounting work that Botkeeper can handle for me," Medeiros said.
Each month, Ovia Health processes and codes several hundred credit card transactions, pays more than 25 vendor bills, sends 40 to 50 invoices, calculates commissions for nearly 20 employees, and records semi-monthly detailed payroll entries, as well as a number of monthly close entries.
"Botkeeper touches all of these areas and has saved me hundreds of hours of work. Additionally, Botkeeper helps with our collections process by regularly following up on outstanding receivables," Medeiros said. "I've seen our days sales outstanding decrease from well over 60 days to about 55 days on average since we started leveraging Botkeeper for this activity. Now that we're using Botkeeper for almost the entire monthly close, I'm able to spend more time working with product, sales, customer success, and business development to ensure we are providing the best experience with our modernized maternity benefits solution."

Value Add: Botkeeper's Human Touch
"Without a doubt I'm most impressed by the human capital at Botkeeper," Medeiros said. "The technology is top-notch, and many of the features like dashboards are impressive. But to me what makes Botkeeper a best-in-class solution is their ability to couple the technology component with truly amazing accountants. I fully expect to continue using Botkeeper into the foreseeable future. Even if the day comes when we want to upgrade from QuickBooks to another solution and/or hire a full time employee, I would love to still be able to partner with Botkeeper and take advantage of their solutions in some way, shape, or form."
---
Ready to see what automated bookkeeping could do for your business? Click below to chat with a Botkeeper rep today.