With an ever-changing landscape, the accounting industry has seen drastic disruption over the past few years. Accounting is a profession with many nuances—working long hours, keeping up with evolving tax laws, managing complex client relationships, etc.—how does a firm manage to stay competitive when new obstacles seem to emerge every day?
Of course, accountants are no strangers to facing and solving problems, dating back to the days when bartering was the foundation of an economy.
But what are the greatest obstacles facing accountants today?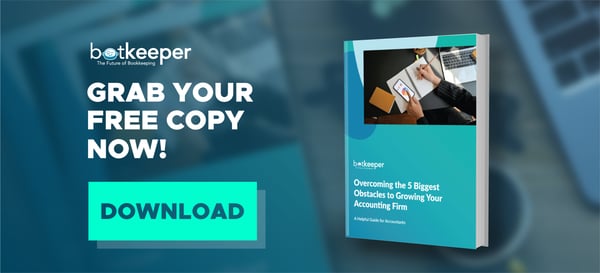 To get a better understanding of what obstacles impact modern accountants, we surveyed more than 2,000 professionals working directly in the accounting and bookkeeping space. These professionals helped us to identify five major obstacles that they feel their firms are facing today:
Diversifying skill set and offering to clients
Creating bandwidth to take on more clients
Competing with venture-backed cloud accounting firms
Retaining bookkeeping staff
Shifting to a virtual environment/adopting technology
In this white paper, we'll dive into each of these obstacles and assess how accountants—and their firms—can overcome them.
Get the full white paper by clicking below, and start your journey toward facing these obstacles head-on...and defeating them!