Featured in this week's startup spotlight is SoFriendly, a group of entrepreneurs that build one-of-a-kind apps. Justin Mitchell (Creative Director and Product Maker) and Jordan Walker (Marketing Director) have become close friends of Botkeeper and shared the story of SoFriendly. Check it out in the below Q&A with Justin.
Tell me how SoFriendly got started!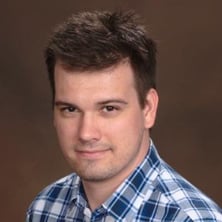 SoFriendly started out as my personal consulting company, designing mobile apps for small startups and local businesses around Florida. A lot of the clients started looking into getting their applications developed so I started actually developing the apps I was designing. These were like 6 to 8-month development cycles and so it became obvious that to scale up, I'd need to build out an offshore development team. We were now able to do big mobile app builds for clients here in Florida as well as all over the US. That was my first business and I used that to fund one of my startups that actually ended up going public on the NASDAQ. I took that IPO as an opportunity to exit from my startup and decided that I would rather help build other startups instead of my own. With that background in consulting combined with my new experience running my own startup, I saw a common trend among founders. They loved to build things without looking into who is going to use this product, how are they going to use it, how we can make it the best experience possible. If I was going to build out a new agency, I knew it had to have one common goal in mind, and thus we built SoFriendly out of this desire to help early stage startups nail that user experience the first time. With a couple co-founders and employees from my old consulting business, we built SoFriendly.
Earlier this year one of our clients, Ona Dating, got featured in TechCrunch so that was exciting to see our work "in the wild". We did all of the design, development, and branding for that app. It's a dating app that focuses on matchmakers. Instead of singles talking to singles, you are actually hiring a matchmaker and the matchmaker finds you your date. It definitely invaded the space and pushed us to our limits in terms of the type of interactions that we had. It is not a tinder ripoff. It is unique in what it does and is definitely very neat.
So based on what we just explained SoFriendly's mission is focused on experience driven design: trying to focus exclusively on the users and make whatever we design for them to just be this awesome experience that they love and want to come back to. Once they download it (the app) they'll be in the app every day. It is focused on user retention and acquisition, business goals rather than just making something that looks really cool. That is kind of the mantra of SoFriendly. We also do a lot of internal projects (check them out here), one of which is GetSyrup (a website). GetSyrup was a fun little weekend project that we built out originally for startups to post deals on their products. However, it has now turned into an awesome community of people from all over the world. Any aspiring entrepreneur, startup, creator should definitely check it out.
What sets you aside from other app developers and designers?
There is a lot to be learned about customers, who you are building for, making sure you understand what they want and you are building the right features for the right people and not just adding features. Essentially, showing genuine care. So there is definitely a business case that a lot of UX designers don't have in terms of understanding that, at the end of the day, an app is a business and needs to make money or generate revenue in some other way; whether that means acquiring and keeping users or being something that just explodes in its space and everyone just flocks towards. At the end of the day, it is a business and it needs to be sustainable. It is not just about looking cool or having some really fun interactions. That interaction needs to be for the right users that are going to actually be using the product.
What is one of the most interesting apps that you have created?
The most interesting thing is that we have randomly gotten into the niche of designing Counter Strike: GO gambling sites for people online. There is a huge influx of people building these sites where they trade skins and other assets online. As you play the game you unlock skins, gear, guns, etc. and then people go online and trade/gamble them. We have done probably 8 - 12 of them.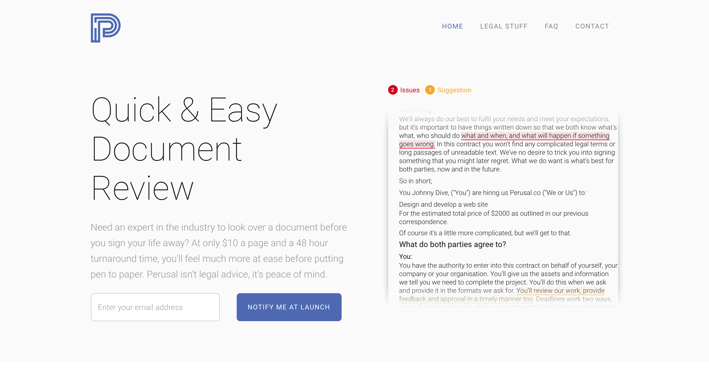 We have built out Perusal, which is an online bot interface for legal document reviews. It is a huge problem, especially for legal founders. I found that specifically when selling Paynote and they were sending me a ton of legal documents that were so complex. We built this service that actually will connect you with law students as well as law interns and they will just do quick document reviews, $10 a page, keeping it very cheap and very fast. It is not legal advice, it gives people a second set of eyes who may know a little bit more than you do.
What does the future of SoFriendly look like?
Keep doing what we're doing. Really focusing on that differentiating factor of being those people who are focusing on product design, but at the same time being a fun dev shop where we can put out our own ideas and products. Anytime anyone on the team comes up with an idea we have the bandwidth to actually build it, which is something that you don't see at companies that focus 100% on client work. We have the bandwidth, money, people and a team to actually put out some awesome stuff now instead of having to rely on external people.
What is one of the biggest pain points you have experienced in this industry?
In the industry, the biggest one has got to be the "I've got the next Facebook" guy. The guy that has the idea but doesn't have the execution and firmly believes that there is no one else doing this one thing. There usually is always someone else doing it, but it either hasn't been launched yet or there is a reason it doesn't exist. The one thing we always like to ask people when they come up with an idea is "What is your unfair advantage? What is the thing that makes you the right person to make this?". If you can't answer that question besides saying that no one else is doing it, there is a problem. What will prevent a competitor from doing the exact same thing? A lot of people don't think that there is that quick of a turnaround time in the startup space but there usually is. So, unless you have that unfair advantage, you're going to be taken over by either someone else in the industry or you just fall flat on your face because you didn't have what it took to actually follow through on it. You actually have to have that execution.
We help people think through this decision. We ask the right questions so that they can see it for themselves. Immediately saying no and turning them away tends to kill all of the creativity, future aspirations, or whatever they may have. Helping them think through it is beneficial for them and us.
What is a pointer or tip you would give to other aspiring entrepreneurs out there?
There is definitely a lack of understanding in terms of the hustle that it takes to start a business. Seriously. Don't be fooled by the smoke and mirrors, "I made 10M dollars without leaving my couch" attitude. It's almost just like all of the As Seen On TV ab workout equipment. It screams, "I got a six-pack without ever getting off the couch" which is so wrong. You have to work for whatever you want. It requires a lot of sacrifice which includes not "going out" every night, binge watching shows on Netflix, or playing insane amounts of video games. Instead we were (and still are) working really hard to build a sustainable business. It takes a specific type of person to understand the amount of hustle that it takes to build a product or company. It is a lot of hard work, late nights, no sleep, and the occasional emotional breakdown. A lot of people see the glamorous billionaire at the end of it, but the ramp up to that is extremely tough at times. However, it is very rewarding at the same time and wouldn't have it any other way. You have to absolutely love it.
Another piece of advice is to find your unfair advantage. If you don't have one in what you are currently doing, find it and go do that instead because you are going to be successful at the thing that you have the advantage in. That advantage might be that you are the most passionate individual on the earth about this one specific thing and no one is going to do it better than you. The guy that made Minecraft was asked once, "What are you going to do about all of these Minecraft clones that everyone is putting out there?". He said:
"To be honest, it really doesn't bother me because it is my idea, it is my passion and no one is going to build it better than me. They can build it all they want but it is not going to be the same product because it is not coming from me because I am the one with the passion, not them. They are in it for a quick buck, I am in it because it is amazing."
So to wrap it up, find what you love and run with it.