Having a garden is fun and relaxing. Whether it's a flower garden or vegetable garden, it brings beauty and peace to your world. The major pain point of having one, though, is tending to it - aka pulling weeds. Well, what if I said you didn't have to weed anymore?
Who is Rory MacKean?

Rory MacKean had a fascination in robotics at a young age. At age 12, Rory saw in a competition at MIT where you get a kit of parts and you have to build a machine to do a task. The desire to do that remained strong through studying mechanical engineering in undergrad and graduate school. While building mobile robots that navigate through buildings and others that move plants around commercial greenhouses, Rory realized there was something missing.
What did he do?
Up until now, agricultural robots have only been seen in commercial or large scale farms. Rory and founder Joe Jones started Franklin Robotics in October of 2015, a company that will build a robot to help people farm and grow food on a smaller scale. As a company of four, their goal is to start seeing people enjoy gardening, continue to enjoy it and bring the passion to others. Getting people connected with food and the world around them is important.
"There is a real appeal to self-sufficiency. You don't need to grow all your food, but you can appreciate where this comes from and can become a much better citizen of the world."
What did they create?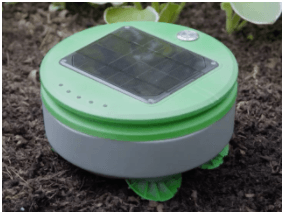 Franklin Robotics has developed Tertill, a robot that weeds your garden. Solar powered, chemical free, and waterproof, Tertill is the perfect personal gardener. It goes around patrolling for weeds with sensors that cause it to turn away from plants and avoid obstacles. When it finds short plants that aren't protected by plant collars, it uses its weed whacker to cut them down. With the use of proprietary algorithms, Tertill gets as many weeds as it can find and reach. And, because it is solar powered, there is never a need to charge it. Just put Tertill in your garden and sit back. Relax while your garden gets tamed. Your fingers will never look so great.
A tip for you!
"Go talk to people. As much fun as it is to jump into the tech industry and go crazy. designing tech before you figure out what to do with it is useless."
Before designing anything, you have to find a customer need and/or a customer pain point that you can focus on and help resolve.
They need your help!

They aren't asking for much. To constantly improve, Tertill needs as much experience in gardens as possible. With an infinite amount of variations in a garden, all these factors need to be considered and tested.
Franklin Robotics is going around and letting Tertill "play" in volunteered gardens. If you are willing to volunteer your garden to the improvement of this amazing technology, contact them! They would greatly appreciate any volunteers!
Click here to check out Franklin Robotics and Tertill.