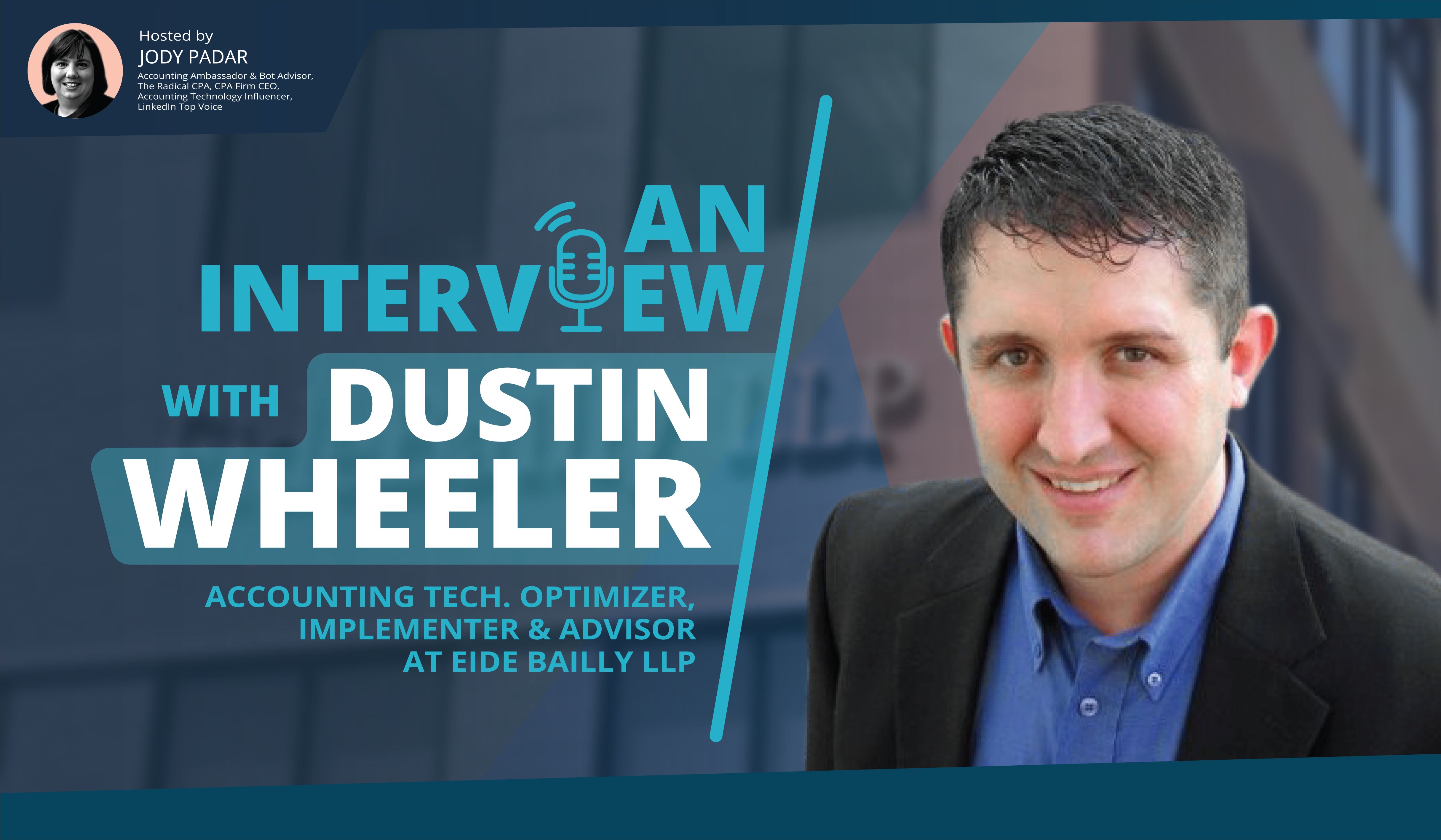 There's no time like the present, especially when your career and industry depend on your ability to adopt new tech and take advantage of its benefits. That's part of what Radical CPA Jody Padar and tech implementer and advisor Dustin Wheeler discussed at this year's AICPA Engage event.
Padar and Wheeler met on social media and have been friends for over a decade. Padar even admits Wheeler was one of the first Radical CPAs!
Padar asked why he enjoys sharing technology with others in his firm, and Wheeler described how he jumps right into technology to learn it, rather than waiting for someone to explain it to him. He prefers to just mess around with the software and figure it out himself, which is great advice for CPAs who might be apprehensive about getting into technology.
Check out the interview recording below, or read on for an edited version of the transcript.
Jody Padar: Welcome back. I'm Jody Padar, The Radical CPA, and you are listening to Let's Get Radical, and we are live at the AICPA Engage event. Today, I'm here with Dustin Wheeler and I'm going to let him introduce himself. But we've been going way back. I mean, we've been doing this show and meeting up at this show for how many years, Dustin? It's crazy to think that for 10 years we've been coming to this show and learning all this stuff.
Dustin Wheeler: I remember it well. And it was amazing.
Padar: Yeah. And so what is your favorite thing about Engage?
Wheeler: You know, I love hearing from so many tech experts. I sit in so many sessions where they talk about the new technology that's coming out, and I come out with such optimism for the future and about what the future holds for the accounting profession.
Padar: So tell us a little bit about yourself and your role at Eide Bailly? Yeah.
Wheeler: So, let me give you some background here. I actually started my career here in Las Vegas with a couple of firms. And I lived here in Las Vegas for close to 10 years. So coming here, I maybe don't have the allure of other activities. I come down, and I see my sister and stay with her. So it's a fun trip to see family and participate in the conference at the same time.
I worked here for a couple of firms and I started doing a lot of compliance, doing a lot of tax work. And after a few years, I started to get more into consulting, and I became a QuickBooks Pro Advisor, and I was helping some clients with getting on board to accounting software and improving their books. And then coming to this conference as well—I got more exposure to what people are doing. You know, I met people like you and other Radical CPAs, as I could call them, that really gave me a vision of how exciting it can be to be a CPA and what's possible.
So after about six years ago, my wife and I decided we had to move away from Las Vegas. We were starting a family, we had a couple of kids. And so we moved up to Utah, and I joined a firm there, a fairly large office. And it just merged with Eide Bailly about a year and a half ago. I've been with Eide Bailly that long, and the news of merging with a Top 20 firm made me a little apprehensive at first. I never wanted to work for a big, gigantic firm.
I thought I'd, you know, feel more like a number than a person. But the experience has actually been quite the opposite. It's given me a great opportunity to use my interests and follow my passions, not on a local office scale, but on a national scale. My role right now is called a technology implementer and advisor, a snazzy title that was made up by the Partner for Business Outsourcing and Strategy Department.
So, in my role, I am helping the rest of our firm and the rest of our offices implement new technology and find ways we can improve our accounting practice and be better advisors to our clients.
Padar: Oh, wow. So that's a recent role, right? So a new promotion. Correct?
Wheeler: Yeah, that's right. I've kind of unofficially been moving into that role for about a year, but it just became official this last month.
---
---
Padar: That's awesome. Congratulations. I think what's interesting about you, Dustin, is when we first met 10 years ago, you were one of the first people who had your own blog. And you were blogging and on social media. We actually met on social media. And so it's been interesting to me, too, to see how, I'll say the early radicals, the original group of disruptors, have evolved in their careers and now the really the big impact that they're having on the profession. I think that's really cool. And kudos to you for getting to be at a bigger firm, which you never thought about and being able to give them your technology savvy and teach other people. I think that's awesome because you're able to share that and especially because you've been sharing it for so long, just blogging about it, right?
Wheeler: Oh, yeah. That was maybe the best thing I've ever done is getting on social media and blogging. It really, really created an excitement in me for doing accounting that I hadn't had before. And so many people suddenly knew my name. I'd come to this conference and people would see my name and recognize who I was. So it led to a lot of good connections. And then you're right, using things like Twitter to just correspond with other people and getting so many ideas from other people on what new processes I should be doing or what software I should be using. It's just led to me being so much better in the way I do accounting and help our clients.
Padar: Tell us what you mean by client accounting service practice, or what does that look like at Eide Bailly?
Wheeler: Within Eide Bailly, we call it BOS. That's an acronym for a Business Outsourcing and Strategy. And so at Eide Bailly, we have about 160 people in this department across our 25 offices. And so this department does some compliance work like payroll. We not only do bookkeeping for our clients but a step above that. We do the advisory work of doing accounts payable automation. We do cash flow forecasting and, you know, advising our clients on the decisions that they make.
Padar: How is this different than a traditional firm or traditional work within a firm?
Wheeler: I've heard this quote—and I don't know who said it—but whoever owns the data owns the relationship. In client accounting, you have access to so much data in the client's operations. And so in that position, we're uniquely positioned to advise our clients on their day-to-day operations and see data in real-time. We can alert clients to problems as we see them happening.
Padar: And so that leads me to ask you, you're into data analytics now, right? Because I know we've had a couple of conversations. I took a data analytics class. Tell me about your journey into data analytics.
Wheeler: I decided to use dashboarding, specifically Microsoft Power BI. I decided to go that direction on an internal level first. We did a survey of our entire boss staff, and I took all that data and I put it into power BI, which was great because then other people in our department got to see how powerful that software really is and how when you have data visualized, how easy it is to tell a story from that data.
So that was the first project. My most recent project was actually for our tax department: with our antiquated software, sometimes it's hard to tell how much workload a person has or how work is flowing through the office. And so I took all that data and I've put it into a Power BI dashboard that we used to see how many tax returns does a person have? Or how many estimated hours? How many actual hours do these people have into these projects? And this has really revolutionized the way that our office has approached staff scheduling.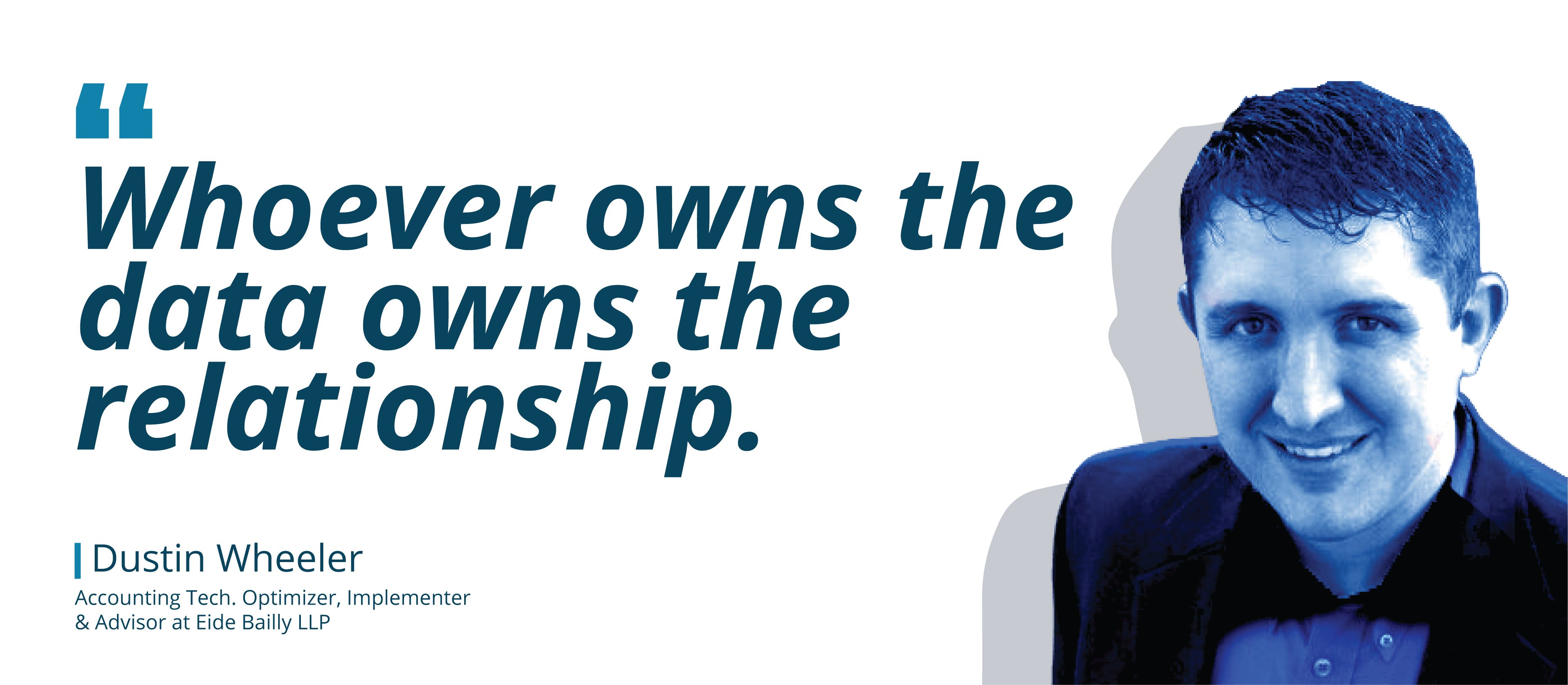 Padar: And did you figure that out yourself or did you have to engage programmers or anything?
Wheeler: I did it mostly myself. When I was a kid, when I was eight years old, I'd get a new Nintendo game. And I did the same with Power BI. I wouldn't read the instructions. I'd just get out in the game and start playing it and figure it out. I did the same with this. I decided, go in and see what I could do and play around in the software, which I actually enjoy doing. Some people think I'm a little crazy or, you know, kind of a mad scientist for doing that. But it's the way I enjoy learning.
Padar: That sounds awesome. What are some of the lessons that you've learned along the way with implementing this new way of doing client accounting with your BOS system, with using data analytics, as well as social media? If you could go back, what do you wish someone would have told you?
Wheeler: In some ways, I wish I would have done some of this earlier. I feel like even though I was an early adopter of some of this stuff, sometimes I wasn't always on the cutting edge. Sometimes I like to operate there and take risks and jump in and try to figure things out.
Padar: And I think that's what we have to do moving forward because I think we can't wait for best practices. We just have to go in and figure it out.
Wheeler: That's right. It was said yesterday in a meeting, "Don't let perfection get in the way of starting something good." And I love that quote because you're never going to have a perfect process or perfect software. You just need to jump in and make it as good as you can.
---
---
Padar: What's most exciting for you and the future of your new role and this new practice and all that stuff? What are you looking forward to in the next year?
Wheeler: Well, I'm really looking forward to going out to our offices, whether it's virtually or in-person and sharing the message of how we can improve our use of technology and our BOS services because, you know, a big firm with multiple offices—not every office is going to be the same. You're going to have some people, maybe some offices that are a little behind or not on the same track. And I'm looking forward to spreading that message.
Padar: A lot of that's cultural, right? That's not even the tech piece.
Wheeler: Oh, exactly.
Padar: And it's working with the different cultures and the different offices. That's really exciting.
I always end with, what did you do in Vegas last night? Now you were with family, so was it anything exciting?
Wheeler: My sister has a fire stick that she plugs into her TV. And boy, we just played for like an hour to the games where everyone had their phone. And you go in and answer trivia questions. I wish I could remember the name of the game off the top of my head. It was just full of laughs. We made up silly answers and tried to guess what was the real answer and what were other people making up?
Padar: Well, thank you for being a guest, Dustin. You did awesome.