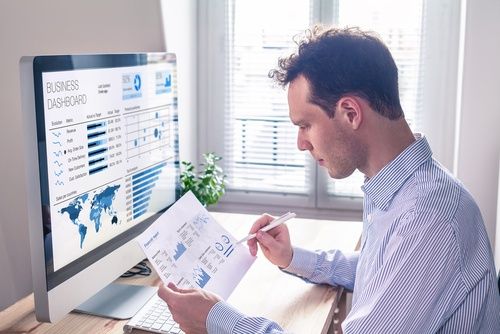 SaaS companies face a unique set of challenges compared to the typical business.
Amidst revenue recognition, navigating the frequently changing regulations set by the Financial Accounting Standards Board (FASB), and understanding how their own business models could be adapted to support growth, SaaS business owners have plenty of work to do.
As such, it's crucial to understand the metrics that matter. This isn't just about accurate reporting or financial forecasting (though these are important goals!) but also to ensure that the company has defensible financial records should it seek outside investment, acquisition, mergers, or even its own IPO.
Let's dig into our overview of the SaaS metrics that matter.
Start With Revenue Recognition
Understanding the basics of revenue recognition is an important first step for any SaaS enterprise.
Broadly, revenue recognition refers to the schedule by which revenue is recorded on a company's balance sheet. This is usually over the life of the service contract, though the reporting timetable will be unique to each company and each service arrangement. The reporting requirements for revenue recognition are determined by the FASB, meaning that companies that fail to correctly report this revenue will fall out of compliance and may be subject to penalties.
What is Deferred Revenue?
Recording revenue is simple enough, but how do companies track revenue that can't be recognized immediately?
This is deferred revenue. Companies assess this metric by taking the value of all current invoices over the total amount of recognized revenue on those invoices. In simplest terms, it's the total amount of revenue that companies have to wait to recognize. This metric is technically a balance sheet liability, as the deferred revenue hasn't been earned yet represents services owed to a customer.
The King of SaaS: Monthly Recurring Revenue
Monthly recurring revenue (MRR) is one of the most important metrics for SaaS companies to monitor. This metric offers a normalized assessment of all revenue that a company can expect to receive over a given month, based on the total recognized revenue from each contract.
This one is tricky; while it's a crucial SaaS metric often used as a measure of financial performance, there are no standards for how MRR should be reported. Each SaaS business must define its own terms based on the contracts signed and the services being offered.
Despite these complexities, there are a few standards that can provide a rough estimate of how MRR should be calculated. Assess these three specific revenue streams:
Total contract renewals each month

The total amount of new sales each month

Cost of upgrades/service additions each month
By combining these three sources of revenue, SaaS companies receive a broad overview of their month-to-month financial performance. (However, it's worth noting that specific line items, such as one-time fees, should not be assessed in MRR calculations. This is where third-party accounting professionals come in handy. Bookkeeping experts can help SaaS companies understand these considerations and create reports that provide an accurate snapshot of financial health.)
Revenue Backlog
What about contracted revenue that can't yet be invoiced?
This is the SaaS company's revenue backlog. In long-term service contracts (generally spanning multiple years), companies will have revenue totals that customers have agreed to pay yet can't be invoiced due to their long-term nature. This metric is important for revenue forecasting and financial projections for the coming years.
Revenue Projections
And speaking of financial projections…
Revenue projections involve taking stock of the SaaS company's projected revenue, based on their current contracts:
Existing customer contracts

Renewed contracts

New contract sales
Naturally, revenue projection is one of the primary metrics SaaS companies use to forecast their financial health over the coming years, and thus, has a big role in long-term strategy.
What About Churn?
Customer churn is a metric that measures loss. Churn metrics come in numerous forms, but SaaS companies should focus on the following three:
MRR churn

Client churn

Revenue churn
When applied to each aspect of the SaaS company's financials, churn measures how much income, how many customers, and how much total value is lost over a given time period.
Which Metrics Really Matter to Your Company?
The above is just an overview of the many metrics that SaaS companies can track. In truth, there's no right or wrong way to measure financial health—the specifics depend on the goals of each company.
Many SaaS providers opt to track more metrics than they need in the interest of covering their bases, but there's more to a quality SaaS financial strategy than tracking every metric under the sun. To really understand how to craft an effective reporting game plan, you'll need to understand how these metrics relate to one another and which will provide the best information for your financial decisions.
In short, your SaaS metric journey is just beginning! If you're interested in streamlining overall efficiency as a business owner, check out this post as well!
You can also get a FREE copy of our ebook, The Definitive Guide to Small Business Expenses by clicking below!