Unless you're a bookkeeper or accountant by trade, you probably don't spend your days thinking about the two (but hey, no shame if you do). Similarly, you probably don't know that there's a difference between the two.
That's because most people think of bookkeeping and accounting as one in the same—and they're not entirely wrong. It's true that bookkeeping and accounting are often confused with each other because of their relation to financial reporting. But while these two are related, interdependent, and essential business functions, bookkeeping and accounting are distinct from one another, too. In this article, we explore bookkeeping vs. accounting, including the differences between the two, how they overlap, and how each is evolving thanks to accounting automation software. Let's go!
WANT TO LISTEN ON THE GO? CLICK BELOW TO LISTEN TO AN AUDIO RECORDING OF THIS BLOG!
Overview of Bookkeeping
Not sure what bookkeeping is all about? Put simply, bookkeeping is defined as the process of recording day-to-day financial transactions in a consistent manner. A day in the life of a bookkeeper will look different depending on the size of the company they work for as well as what types of accounts they manage. But all bookkeepers work to make sure the financial data is accurately entered and processed.
On any given day, a bookkeeper can be found:
Preparing income statements, balance sheets, cash flow statements, and statements of total recognized gains and losses

Paying contractor and supplier invoices

Maintaining the annual budget

Reporting issues as they arise

Assisting accountants come tax season
All in all, bookkeeping is an important task for every business. Having a good bookkeeper touts many benefits like giving you peace of mind knowing your books are in top shape and helping you make better financial decisions for your business.
Overview of Accounting
One of the biggest differences between accounting vs. bookkeeping is that accounting comes with a broader set of responsibilities and refers to the process of financial reporting. A primary goal of accounting is to provide key financial information to business owners, managers, and investors so they can make informed, strategic business decisions. To do this, accountants thoroughly analyze and interpret financial information to create advanced reports on how the business is performing.
Think of accountants like doctors—they look at symptoms (or financial information) and prescribe something so businesses can improve their financial health.
On any given day, an accountant can be found:
Analyzing operations costs

Recording expenses that haven't been recorded by the bookkeepers

Completing income tax returns

Supervising bookkeepers' work to ensure that they accurately record and categorize transactions

Helping business owners understand the financial health of their business

Helping business owners make informed strategic business decisions

Setting controls for detecting and preventing fraud or embezzlement of funds
What Skills Are Required for Bookkeepers and Accountants?
A key difference between accounting and bookkeeping lies in the skill requirement for both. Sure, bookkeepers and accountants both need to be number-loving and data-driven, but there's more to it than that.
For bookkeepers, formal training isn't required, but bookkeeping requires more than simply inputting numbers into spreadsheets. The best bookkeepers have strong analytical abilities, are great communicators, are organized and accurate, and know the bookkeeping basics.
Accountants, on the other hand, typically must complete at least a bachelor's degree in accounting or economics. Most accountants choose between being an accountant or a Certified Public Account (CPA), which requires a college degree, passing the CPA exam, and working under a CPA for a specific number of hours.
The Differences Between Bookkeeping and Accounting
Although they may seem similar, there are many differences between bookkeeping and accounting. A high-level comparison of the two shows the main differences between objectives, key decision makers, financial statements, reporting, and required education.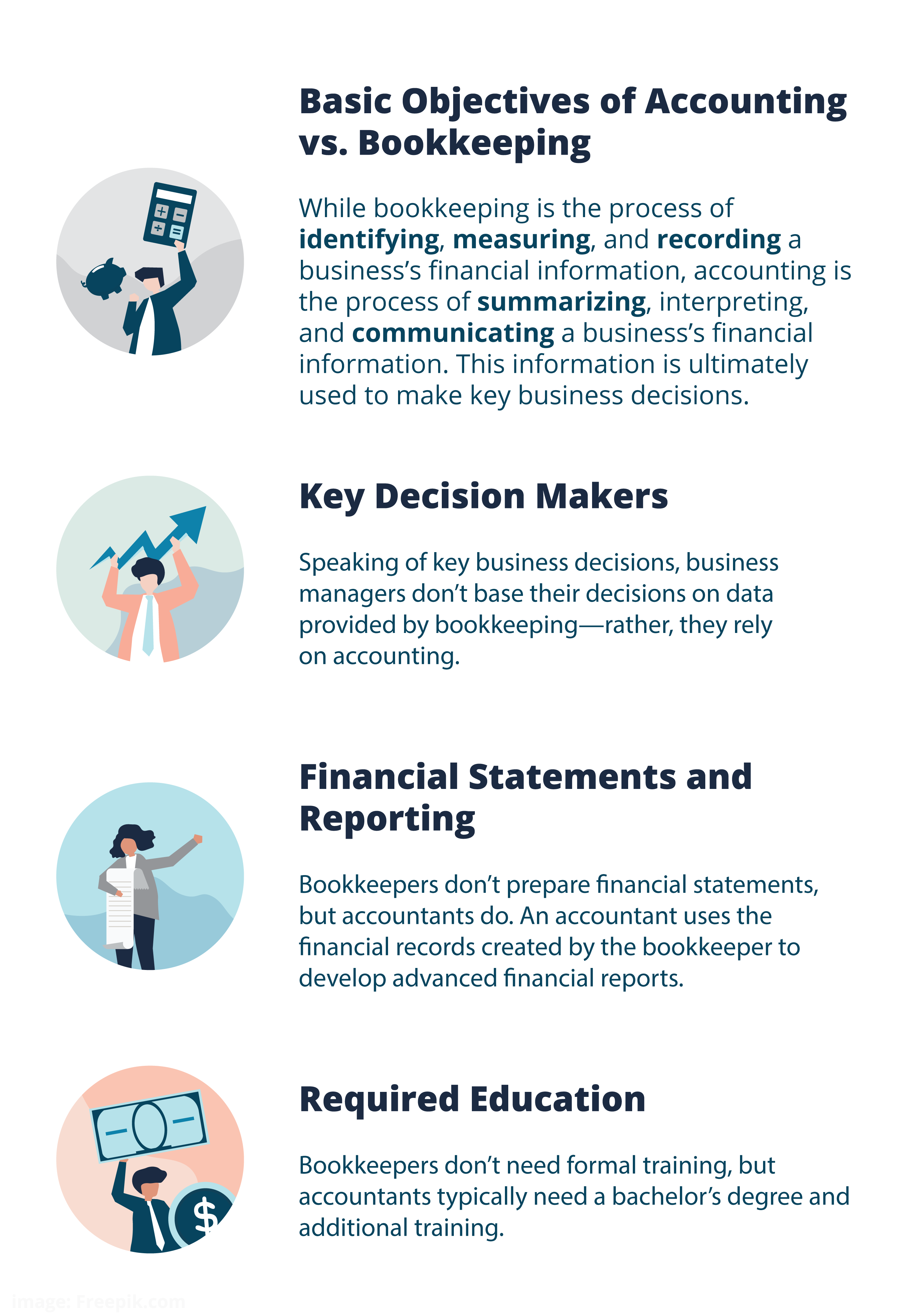 How Artificial Intelligence Is Shifting the Bookkeeping and Accounting Landscape
When looking at the difference between bookkeeping and accounting, it's important to see where the industry has been and where it's going. Bookkeeping and accounting don't look like they did 50 years ago. In the last decade alone, the roles have undergone a massive transformation with the advent of automated software powered by artificial intelligence (AI).
AI has been a buzzword in technology circles for the last few years and rightly so. A backbone of innovation in accounting software, AI itself has undergone vast improvements too. As a result, it's helped automate almost all bookkeeping and accounting tasks, with enhanced speed and accuracy.
With AI accounting, bookkeepers are no longer required to manually enter financial transactions anymore as software has completely taken over that responsibility. Better yet, the capabilities of self-learning machines have substantially improved the classification of transactions.
What Modern Bookkeeping and Accounting Looks Like Today
So, what roles do bookkeepers and accountants play now if tasks are automated? Since modern software can take over most bookkeeping tasks (such as creating financial records and generating reports), this has freed time for bookkeepers to focus on other equally important tasks like collaborating with colleagues and clients. Bookkeepers today can devote more time to coordinating with members from different departments for input and to ensure that documents are complete and accurate.
With the changing role of bookkeepers, their skill requirements have changed, too. Today, the best bookkeepers have great people skills and can forge better customer relationships. In addition, modern bookkeepers are required to be technologically savvy to work with accounting software.
Similarly, the role of accountants has undergone a shift. Software has taken over certain accounting tasks like ensuring compliance and placing internal controls for accuracy. Today, accountants have more time to provide value-added services to clients.
To some extent, the intricate accounting software available today has even merged the roles of accountants and bookkeepers. Today, with the help of software, an accountant can manage the recording of a business's financial transactions, taking over the primary responsibility of a bookkeeper in the process. Similarly, bookkeepers in some organizations have taken over summarizing data in financial reports.
Automation has not only transformed the roles of bookkeepers and accountants, but also minimized errors, improving accuracy in the overall accounting process. If your business hasn't already adopted automated bookkeeping, you're missing out on incredible benefits like lowered employee costs, higher accuracy, and enhanced speed.
The Differences Between Bookkeeping and Accounting Are Always Evolving
The industry is constantly changing, which is why Botkeeper's bookkeeping software uses human-assisted AI (what we like to call 'augmented intelligence') to perform bookkeeping tasks in a faster, cost-efficient, and more accurate way. As a result, our clients receive 24/7 accounting and support, plus incredible insight into their financials with beautiful dashboards and unlimited reporting.
We've helped tons of business owners stop stressing about bookkeeping. Browse our industry pages to find the right bookkeeping and accounting software for you and click below to reach out to a Botkeeper rep to see how you can save time and money by Botkeeping℠!