IT'S EASY TO CONNECT TO FINANCIAL STATEMENTS...
Botkeeper's Smart Connect uses a highly secure connection service. It creates a direct link to your client's bank and credit card accounts, delivering bank statements for 4600+ financial institutions. Simultaneously, it handles multi-factor authentication, security questions, and one-time passcodes via text or phone call.
...and to client data
Pull in your clients' account data from over 16,000 financial institutions across the US and Canada in just a few simple steps — no technical skills required.

Smart Connect seamlessly handles multi-factor authentication security questions and one-time passcodes via text or phone calls — so you can get back to business.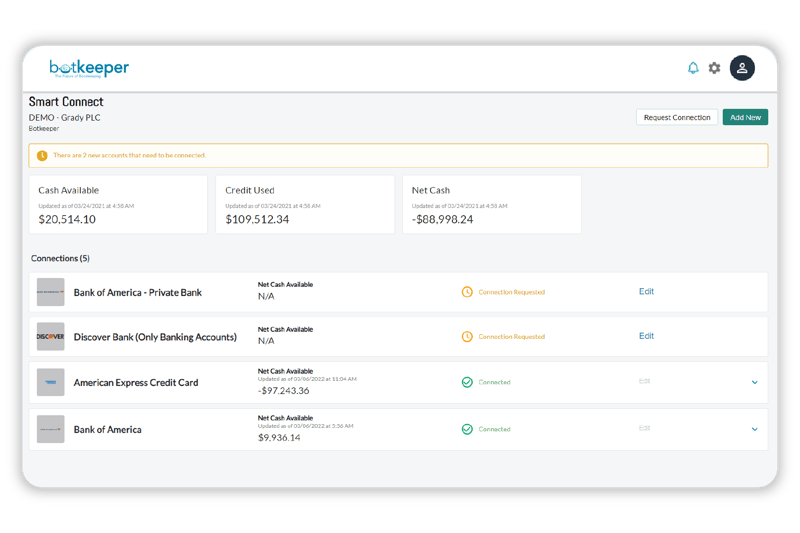 Your view of various client accounts is efficient...
Supercharge your efficiency with a consolidated view of your client accounts, real-time connection status, balance information, aggregated cash available, credit used, and net cash.

Keep your finger on the pulse with automated tasks and email notification capabilities for when client account credentials change or get disconnected.
AND ALL IN ONE GLORIOUSLY BEAUTIFUL SPOT.
Manage your client's financial data in one secure location. Effortlessly access a consolidated view and transaction-level details with a few simple clicks.

Don't leave your clients' login info lying around. Safeguard it and your platform with industry-standard security using Two-Factor Authentication (2FA), and 256-bit encryption within the BOS platform.
FREQUENTLY ASKED QUESTIONS
Aside from "what's for dinner," we hear these a lot:
BOOKKEEPING IS FOR BOTS.
DRIVING CLIENT VALUE IS FOR HUMANS.
Bring your accounting or bookkeeping firm into the future with the Botkeeper Operating System, an all-in-one financial platform to manage all bookkeeping, communicate with clients, and innovate your practice. Provide a seamless experience for your clients while keeping costs low and accuracy high. Botkeeper makes your firm more productive while reducing stress and providing you with time for more important (and more valuable!) tasks.