Documents
Ditch the filing cabinet
Sick of a clunky filing cabinet taking up valuable real estate? Work securely and efficiently from anywhere with our Documents tool. Benefit from the flexibility of unlimited document storage. Easily search for the documents you want and need within a standardized folder structure for each client. Organize your work with a sub-folder structure and the ability to create custom folders that support your firm's needs.

Stop being your own version tracker!
Create continuity at your firm by staying on top of document changes with clear version history, easy version upload, and a full audit log to see who's made changes to the document. Comment and tag your clients, staff, and the Botkeeper accounting team as questions arise!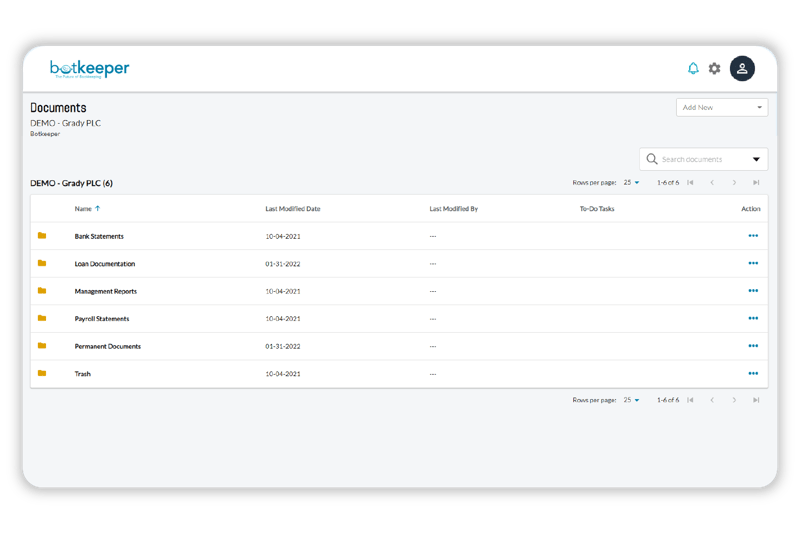 Never miss a deadline
Clear notification indicators allow you to quickly and efficiently see which documents are missing and still outstanding from clients. Get a nice shortcut to completing the task by clicking on the notification at the top of the screen.
Save time with on-screen viewing
Cut down on those time-consuming clicks by using the on-screen document reader for easy viewing, commenting, and @mentioning functionality.
FREQUENTLY ASKED QUESTIONS
No one ever asks us about particle physics, but we get these quite a bit.
NATIONWIDE, FIRMS TRUST BOTKEEPER WITH THEIR BOOKKEEPING SO THEY CAN FOCUS ON PROVIDING VALUE.
Bring your accounting or bookkeeping firm into the future with the Botkeeper Operating System, an all-in-one financial platform to manage all bookkeeping, communicate with clients, and innovate your practice. Provide a seamless experience for your clients while keeping costs low and accuracy high. Botkeeper makes your firm more productive while reducing stress and providing you with time for higher-value tasks.