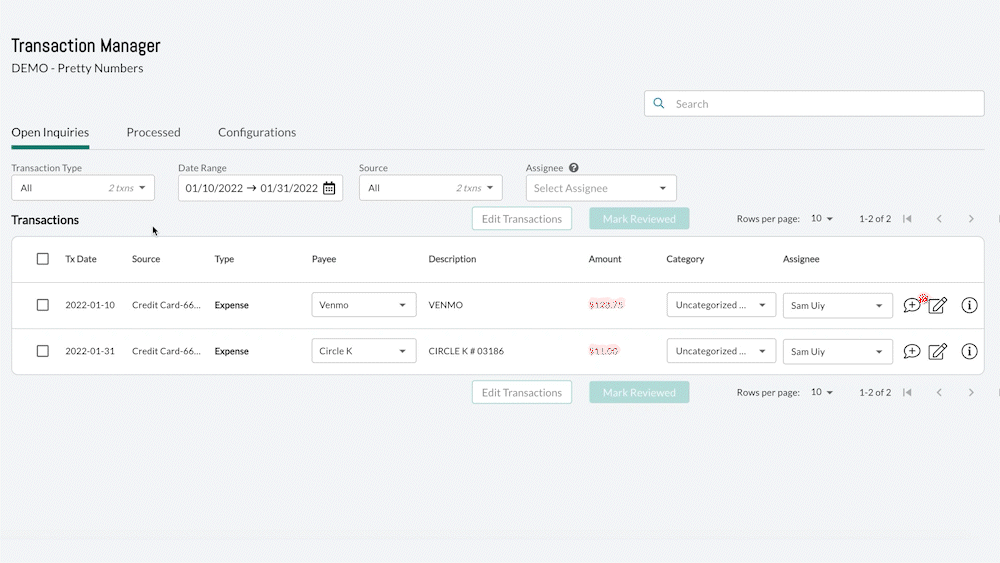 AUTOMATE YOUR TRANSACTION CATEGORIZATION
Turn your focus to bigger things.
Outdated tools, misplaced resources, tedious data entry, and accuracy issues all present major barriers to efficiency, diversification, and growth. But not when you use Botkeeper. Using best-in-class machine learning and an experienced verification team, Botkeeper's Transaction Manager takes the bulk of the work off of your plate by eliminating the traditional challenges with categorizations, opening the door for firms to achieve their goals.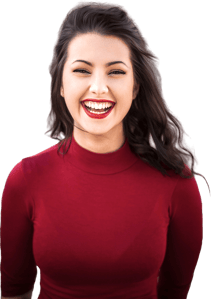 SOMETIMES EVEN A BOT
NEEDS HELP
Occasionally, the Bot runs across a transaction that defies easy and accurate categorization. That's where Botkeeper's amazing team of expert accountants steps in. The platform informs them of transactions it's unable to categorize with 98% confidence. The team then categorizes the transaction and trains the machine so it can be done automatically next time. Pretty cool, huh?
A NEW ERA FOR ACCOUNTING AUTOMATION
Botkeeper's machine learning modules use a combination of historical data and macro data to intuitively auto-categorize your clients' transactions. Once the categorization is complete, the transactions will be automatically pushed to the General Ledger. If our machine is less than 98% confident in the categorization, a skilled Botkeeper Accountant jumps in to assist, and trains the machine, ensuring outreach to you is only leveraged as needed. The result is rapidly processed categorizations, always up-to-date financials, maximum efficiency, beyond-human accuracy, and fewer interruptions for you and your clients!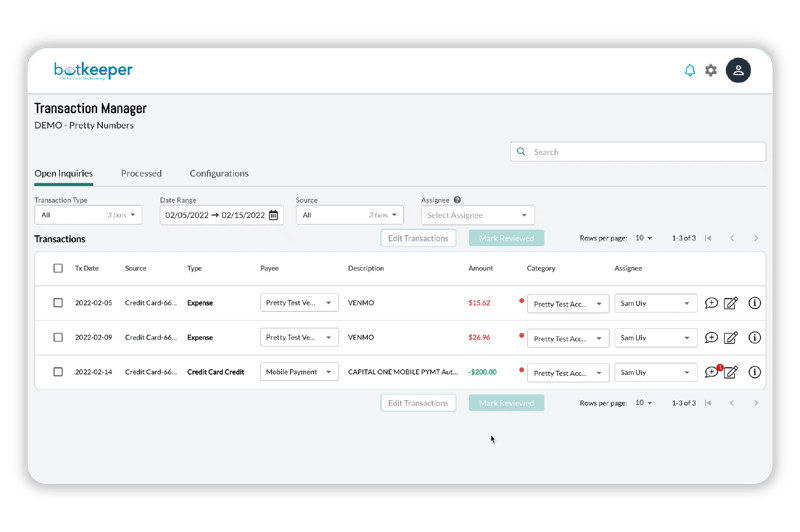 EFFICIENT. ACCURATE.
Enhancing your firm with practical automation.
Ditch the endless back-and-forth email communication, stop chasing your clients for answers, and grab your valuable time back.
Watch as the machine's level of accuracy improves with each and every transaction, remembering every detailed nuance forever.
Open up your firm's capacity overnight.
Focus your efforts on higher-impact services that drive your success.
BOOKKEEPING DONE RIGHT, AUTOMATICALLY AND SECURELY
Quickly access all of your client transactions in one secure location.
Easily find all of your client's categorization activities in one centralized place.
Quickly jump into the areas that need your specialized input.
Safeguard your client data with bank-grade security: Two-Factor Authentication (2FA), and 256-bit encryption within the BOS platform.
FREQUENTLY ASKED QUESTIONS
We're not sure where Waldo is, but we can answer these.
NATIONWIDE, FIRMS TRUST BOTKEEPER WITH THEIR BOOKKEEPING SO THEY CAN FOCUS ON PROVIDING VALUE.
Bring your accounting or bookkeeping firm into the future with the Botkeeper Operating System, an all-in-one financial platform to manage all bookkeeping, communicate with clients, and innovate your practice. Provide a seamless experience for your clients while keeping costs low and accuracy high. Botkeeper makes your firm more productive while reducing stress and providing you with time for more important tasks.