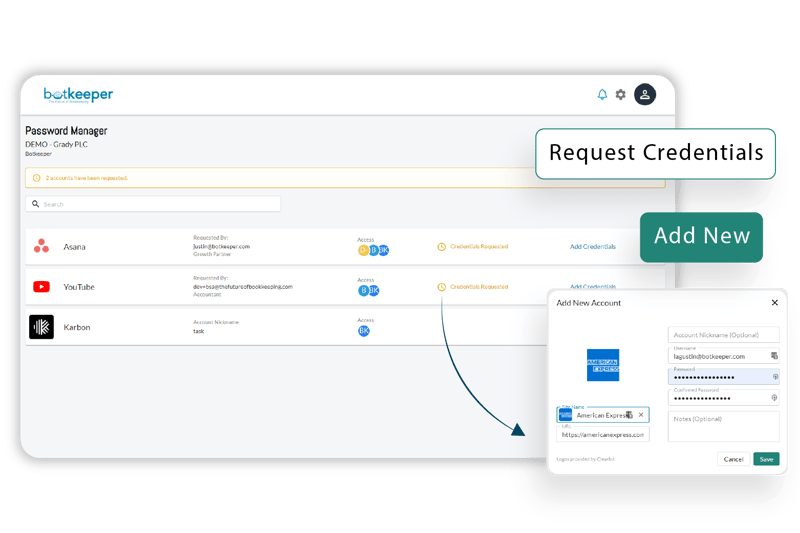 Password Manager
PASSWORD, PASSWORD... WHO'S GOT THE PASSWORD?
Stop looking. Password Manager brings your firm to the next level in credential management. Now, your firm can centrally store, organize, share, and manage your passwords with one simple login, so you never have to worry about security or searching for a password again.

GO AHEAD, FORGET YOUR CLIENT'S CREDENTIALS
Password Manager will remember them for you!
Reduce sign-in friction with a single secure login: add credentials once, be notified of connection issues, manage all client credentials and who you share them with—all in one view. Stop bouncing from system to system to get what you need and get back to focusing on more important priorities.
BECAUSE TAPING A LIST OF PASSWORDS UNDER YOUR DESK PROBABLY ISN'T SECURE
Welcome to the future, with the easiest way to organize and implement proper credential storing habits across your firm.
Botkeeper's Password Manager uses best-in-industry tech to create a powerful credential management process that maximizes firm efficiency from right within the platform where your client's information is most needed!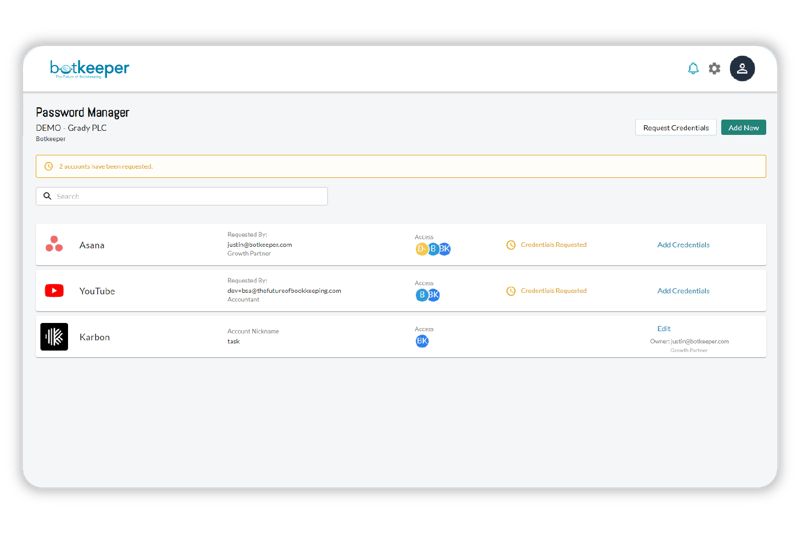 ENJOY HUNTING FOR PASSWORDS?
WE DIDN'T THINK SO.
On average, a client has 4-10 accounts. That means your firm could be spending 20-50 minutes per client logging into their accounts alone! Improve employee productivity and avoid wasting time searching for client credentials with one central location for all login information—Password Manager.
DO REAL WORK, NOT LIST MANAGEMENT.
Having to manage an ever-changing, increasingly complex set of passwords, usernames, and privileges across multiple platforms and in various locations can be a challenge, especially as your client base grows. Using security best practices, Botkeeper's Password Manager allows you to easily manage the entire credentialing and sharing process in one central location, empowering your firm to recover wasted time and apply it to your priorities.
FREQUENTLY ASKED QUESTIONS
We have all the answers. Except what the meaning of life is. We'll have to get back to you on that.
NATIONWIDE, FIRMS TRUST BOTKEEPER WITH THEIR BOOKKEEPING SO THEY CAN FOCUS ON PROVIDING VALUE.
Bring your accounting or bookkeeping firm into the future with the Botkeeper Operating System, an all-in-one financial platform to manage all bookkeeping, communicate with clients, and innovate your practice. Provide a seamless experience for your clients while keeping costs low and accuracy high. Botkeeper makes your firm more productive while reducing stress and providing you with time for more important tasks.