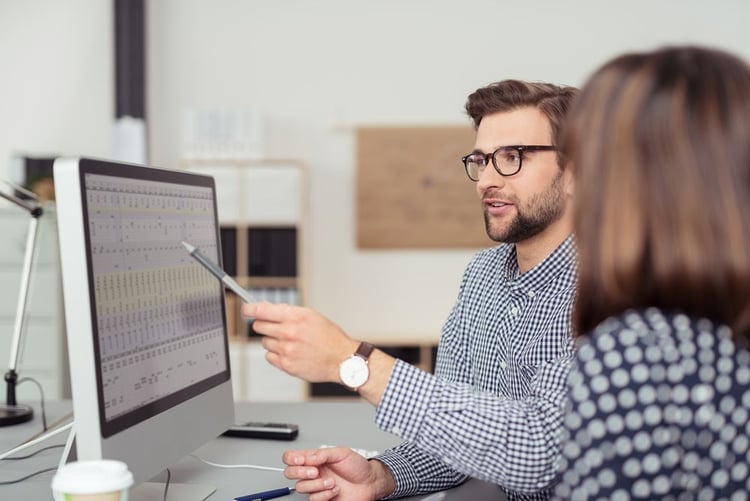 With all that's gone on—with all that's still going on—most accounting professionals are busier than ever. On one hand, your business clients need financial clarity and trusted advice more than ever, representing unprecedented growth opportunities with new client acquisition and increased advisory revenue.
However, firm success depends on breaking bottlenecks of productivity, and most accounting professionals would agree: bookkeeping is the single-biggest bottleneck to scale and growth. This means having to tackle capacity overload, talent shortages, misplaced resources, accuracy, and speed issues—probably not the way you'd envisioned spending your time.
But not anymore!
Now live is the all new Transaction Manager tool, revolutionizing the way accounting professionals will run their firms. With our new interactive experience, you'll get to see firsthand how our machine learning handles the labor-intensive work required to categorize your client transactions, deliver confidence scores for your review, and rapidly learn from your expert modifications. By automating one of the biggest challenges in the modern-day firm, accounting professionals can now resume evolving their roles, applying their expertise, and achieving their dreams.
What is the Transaction Manager tool?
The Transaction Manager tool uses our unique machine learning models to analyze and categorize your client transaction data, looping in our skilled human team for review on anything below a 97% confidence rating. The results are then sent to our Accounting Partner for review, where any corrections or nuanced changes can be made, teaching our machines, and dramatically increasing our accuracy as time goes on.
Our machine learning functionality has long been used behind the scenes within the Botkeeper framework, delivering automatically categorized transactions to our team, who would then loop in the client when additional context was needed. The categorizations needing clarification were sent over to the client on a spreadsheet, and that often led to a bit of back-and-forth.
But with this release, we've built a much-improved client-facing experience that allows us to offer an interactive, fast-moving, and more efficient way to categorize transactions—goodbye spreadsheets!
Why does it matter?
Historically, categorizing hundreds of thousands of transactions was a manual, labor-intensive, and error-prone process. The Transaction Manager tool was built to solve the problem of having to manually categorize transactions, a process at the root of many bookkeeping headaches. The result is faster categorizations, up-to-date financials, maximum efficiency, beyond-human accuracy, and fewer interruptions for our clients.
The Transaction Manager tool now maximizes efficiency by removing the back-and-forth email communication, spreadsheets, and manual editing—see ya later! Our Accounting Partners can now find all of their client transactions, in one centralized location within their platform, quickly and easily making adjustments in just a few clicks.
---
How does it work?
Our system pulls in uncategorized transactions in real-time and runs them through an individualized machine learning model to try to find the best match based on patterns and prior categorizations. Our machines submit their results along with a confidence level (how confident we are in the level of accuracy the machines have produced).
If the confidence level of the machines falls below our standard, a Botkeeper Accountant will review, apply critical thinking, and attempt to categorize the transaction, thereby training the machines so they know what to do with similar information in the future. When our team is unsure of how to categorize, you'll be asked to step in and assist with the task. We then teach our machines the selected category for the transaction in question, helping it get more and more efficient over time.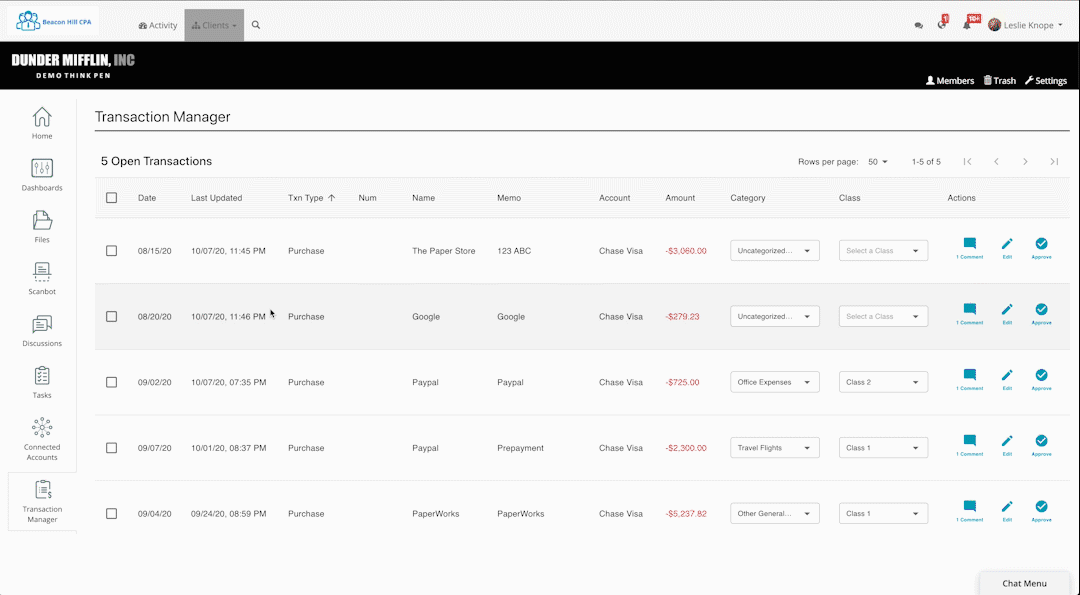 As a Botkeeper Accounting Partner, the Transaction Manager tool will keep you updated as to the status of your client categorizations and notify you when your input is needed. You can select or edit categories and classes, if applicable, that the transaction falls under (i.e., meals and entertainment). You can also split transactions and add products or services.
The changes made in the platform sync right back into the client's QuickBooks Online account, while Botkeeper is updated with this new transaction category information, teaching the machines and enhancing the learning model. The machines never forget, take time off, or call in sick—so we never have to bother you or your client about this type of transaction ever again. Tada!
---
How Can I Learn More About the Transaction Manager tool?

Ultimately, our goal with your books is 100% accuracy, and the Transaction Manager tool is a solid step toward achieving that goal. In addition to machine learning that actually follows through on your direction, the Transaction Manager tool will also give you better insight into how your clients' books are being managed, giving them cleaner books and you, greater peace of mind.