MORE THAN JUST A PRETTY FACE
Never again question if you or your clients have the most current report — experience data syncing that's as close as it gets to real-time reporting.
Botkeeper's customizable business insights provide you and your clients with helpful insights into both financial and non-financial data on a centralized platform available 24/7.

DASHBOARDS TAILORED LIKE A FINE SUIT
You've never seen reporting as flexible or adaptable as Botkeeper's Business Insights. Your interface is customizable and accessible on any device, bringing your most important metrics to you whenever you need them.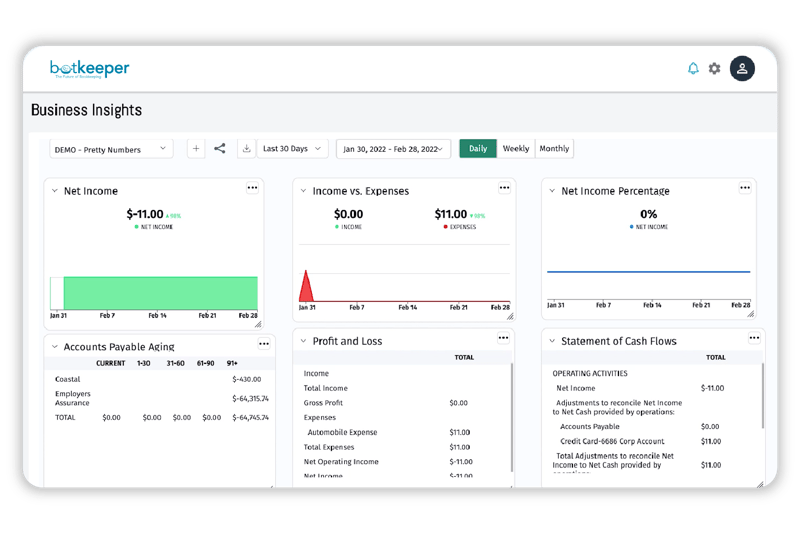 MEANINGFUL INSIGHTS
Take a new approach to strategy with data insights that actually mean something to you and your clients.

Reporting doesn't have to mean tables full of numbers. Make your data more meaningful and digestible with beautiful graphs and charts.

Easily track progress on KPIs and identify opportunities for growth.

Let machine learning do the work (and the math) more accurately than humans do, speeding up data consolidation and compilation.

Overlay financial and non-financial datasets, trending analytics, data visualization, KPI tracking, and more to create a data visual tailored to your clients' needs... and yours.

Monitor analytics and take full advantage of emerging trends.
SIMPLIFY THE COMPLEX
Combine data from multiple sources and advise your clients with one single source of truth.

Get your clients up and running instantly while providing them access to insights from all of their team's data sources.

Save time and resources to better concentrate on analyzing the data.

Get your data-driven strategy started with a platform that's quick to deploy and easy for your clients to leverage.

Easily generate and customize key financial reports right in the BOS.

Personalize the dashboards by adding new widgets, editing the existing configuration, setting alerts, and goals.
FREQUENTLY ASKED QUESTIONS
After "Are we there yet?" these are pretty common.
NATIONWIDE, FIRMS TRUST BOTKEEPER WITH THEIR BOOKKEEPING SO THEY CAN FOCUS ON PROVIDING VALUE.
Bring your accounting or bookkeeping firm into the future with the Botkeeper Operating System, an all-in-one financial platform to manage all bookkeeping, communicate with clients, and innovate your practice. Provide a seamless experience for your clients while keeping costs low and accuracy high. Botkeeper makes your firm more productive while reducing stress and providing you with time for higher-value tasks.