- Case Study -
J A Rodriguez CPA
J A Rodriguez CPA knows the power of Botkeeper — 840 hours of write-up work saved, and a 20% increase in profit margins in a single year.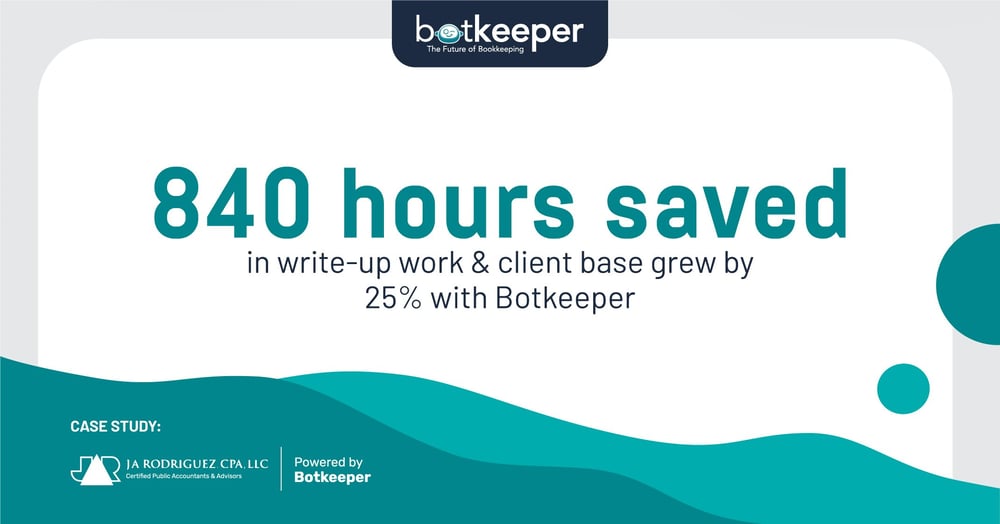 As a progressive tech-focused firm with a large, growing international client base, J A Rodriguez CPA was faced with a challenging tax season due to Covid-19 and staff turnover. They needed to find a solution to fulfill their vision of offering more hands-on services for their progressive, small business clients while still maintaining a healthy 40-hour workweek for their staff. After careful consideration of potential solutions, the firm decided to partner with Botkeeper.

By implementing the Botkeeper solution, J A Rodriguez CPA has grown their client base by 25%, saved $90k in salaries by not having to hire additional bookkeepers, and saved an additional 840 hours per year on write-up work using Botkeeper. With Botkeeper as well as their partnerships with Rootworks and ADP, the firm has successfully increased productivity, collaborated more effectively, and scaled its business. As a result, they're now able to focus on strategic work, provide higher-value services and ensure time for employees' personal pursuits.
J A RODRIGUEZ CPA SAVES 840 HOURS IN WRITE-UP WORK AND GROWS CLIENT BASE BY 25% WITH BOTKEEPER
J A Rodriguez CPA, LLC is a tech-focused CPA firm founded in 1985 in Miami, Florida. The firm strives to provide high-value advisory support to its small business clients in real estate, dentistry, professional services, and delivery contractors that need traditional tax preparation and consulting services. The J A Rodriguez CPA team handles all of the day-to-day accounting tasks so clients can focus on what's important — running their business.
As a tech-focused leader, Founder and Managing Partner Jorge Rodriguez, CPA identified early on that accounting technology could make his job significantly easier and enhance his ability to interpret data more efficiently. He saw technology as a gateway to create capacity for his firm and be able to maintain a healthy work-life balance even during tax season.
"I've always strived to have my firm be on the cutting edge of technology," Jorge said. "I've never been afraid to dive into these new things. When I became a family man, as a sole practitioner I thought It would be cool to be able to be on a trip somewhere, but still be able to log in to accounting platforms. I wanted my firm to be able to leverage technology to enhance my work-life balance."
%
Bookkeeping client growth attributed to Botkeeper
$
Salary savings with Botkeeper
Hours saved per year using Botkeeper's Rapid Write-Up Solution
%
Increase in profit margin attributed to Botkeeper's simplified fee structure
Big challenges forecasted amid tax season
After a year of growth and prosperity, like many other firms, J A Rodriguez CPA was greeted with the onset of new challenges in 2020. The COVID-19 pandemic and a flood of PPP loans would soon interfere with tax season.
"We had a lot on our plates," Jorge said. "Coordinating the accounting needs of PPP loans and dealing with the tax season all at once, this became a challenging task. We knew we had to keep up with the pace or else our bookkeeping would significantly suffer."
With an already unprecedented heavy workload, J A Rodriguez CPA was suddenly faced with another challenge: employee turnover. To keep from falling behind, they had to turn to technology.
"We had more bookkeeping clients than ever," Javier said. "We were still getting more clients while down a member of our team. As a small firm, capacity is always an issue. Hiring is always an issue. Hiring the right people is an issue. I'm consciously looking for different ways to meet those challenges."
Botkeeper wins over all the other options because of its people
J A Rodriguez CPA knew they wanted to explore bringing on an automated solution over hiring another bookkeeper. With high standards and a laundry list of requirements, they wanted to find a solution that would automate their manual processes and provide capacity to shift their focus to advisory services. However, they soon realized the role of the team would be just as important as the technology they entrusted to manage their bookkeeping tasks.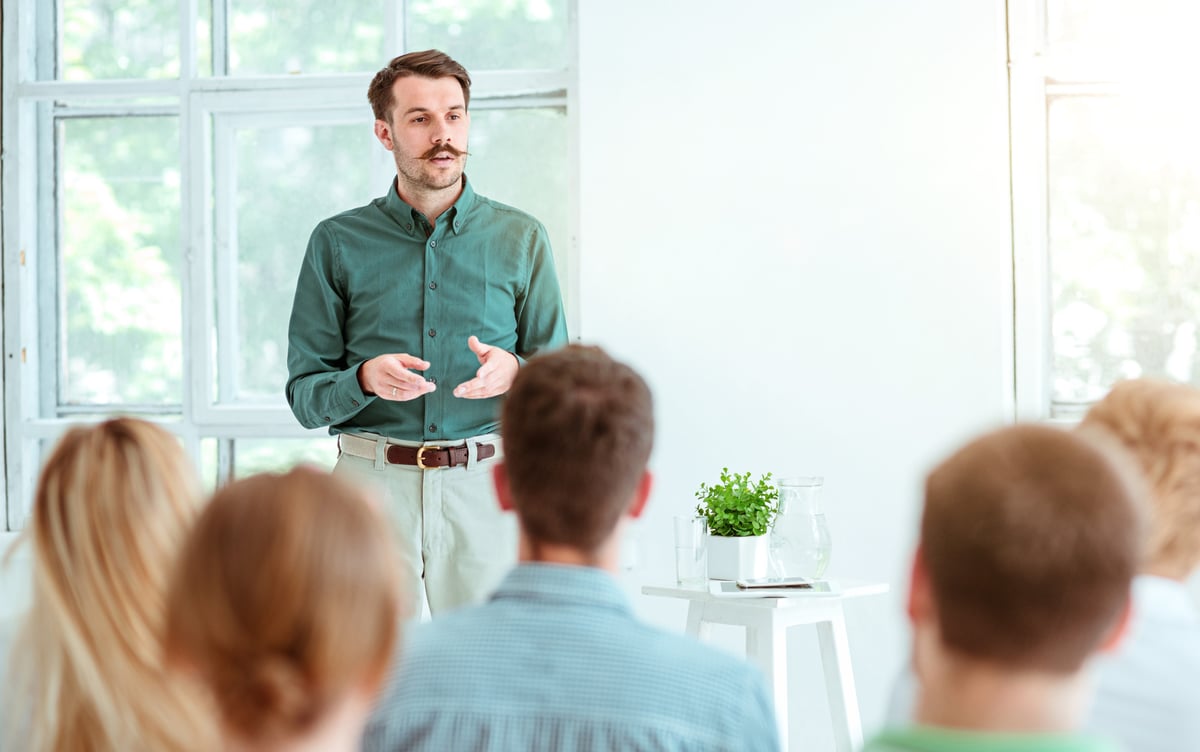 Having previously explored Botkeeper and deciding the business model wasn't fit for their vision at the time, the firm vetted the solution for a second time.
"When we re-evaluated Botkeeper, what really sold me was the team," Jorge said. "Botkeeper was not just an automated solution, you also gave the ability to work hand in hand with a team of trained professionals. We would get a dedicated point person; a Growth Partner who was a licensed CPA! This blew me away and was really something I hadn't seen from any other solution but Botkeeper."
"When we were comparing Botkeeper to other platforms, the biggest thing that stood out was the human-assistance piece," Javier said. "It wasn't just about the technology and AI abilities, but also about having support from a CPA and the people reviewing the AI-empowered information before it even gets to us. Also, compared to other vendors, Botkeeper wasn't going after our clients and competing with us. The Botkeeper team was really there to support us. That's huge!"
J A Rodriguez CPA knew they had found the perfect solution with Botkeeper.
Automation allows J A Rodriquez CPA to support 2X the capacity with no new staff
The firm began using Botkeeper to help manage just 5 of their bookkeeping clients. It soon became apparent that because of the limited time required to spend on accounting and bookkeeping work because of Botkeepeer, the firm could add clients and scale even further. To date, the firm has 75% of its 100 bookkeeping clients transitioned to the Botkeeper platform and plans to get to 100%.
J A Rodriguez CPA has seen some amazing results. The firm was able to double its capacity while hiring zero bookkeepers, saving them $90,000 per year in bookkeeping salary.
"As for freeing up that capacity: today, we're not questioning whether we can take on another client," Javier said. "We don't have to ask if we need to hire another bookkeeper if we bring on more clients. Our bookkeeping is just taken care of because we have Botkeeper, which is huge for us."
With their newfound capacity, Jorge has been able to focus his attention back on the firm and its staff.
"The additional capacity provided by bringing on Botkeeper has freed me up to focus on business development, growing the firm, and my staff's professional goals," Jorge said. "Most importantly, Botkeeper has provided my firm peace of mind. Our bookkeeping will not fall behind during another tax season when our focus shifts to tax preparation."
Since their capacity for handling clients doubled, J A Rodriguez CPA has seen over a 25% increase in their client base. In one year, the company went from 80 to 100 bookkeeping clients with the help of Botkeeper. The firm is now confident that it can continue to meet the demands of its growing client base thanks to Botkeeper!
Managing price, gaining higher profit margins
Using Botkeeper's pricing model for clients as both inspiration and guidance, J A Rodriguez CPA was able to change its pricing strategy from hourly to flat-fee. As a result, the firm has been able to distinguish their services from their competitors and are seeing higher profit margins.
"Since we've been able to revamp and simplify our monthly fee structure because we know our exact client costs with the Botkeeper packages, we've seen amazing results," Javier said. "There has been a margin increase of over 20%! That's because we decided to increase our fees as a whole, not only to support the cost included but also thought about what would take us to the next, bigger floor."
Finding time for more meaningful advisory discussions with clients
With Botkeeper as a strategic partner, the firm has reaped the benefits of less time spent on each client's books, faster month-end close for clients, and a shift in their staff's focus to higher-level advisory work.
"Because we dramatically reduced workload with Botkeeper, this upcoming year we're able to move one of our bookkeepers to prep tax returns," Javier said. "This is in comparison to the previous year when we had one other preparer and me. Botkeeper taking care of the groundwork is amazing."
Botkeeper's Rapid Write-Up Solution supports J A Rodriguez CPA's goal for saving time
In addition to Botkeeper's AI and ML technology, Botkeeper's Rapid Write-Up Solution unburdened J A Rodriguez CPA from time-consuming financial data practices. J A Rodriguez CPA is now leveraging the Rapid Write-Up Solution from Botkeeper for 50 of their clients. That's resulted in a total of 840 hours of write-up work being saved per year.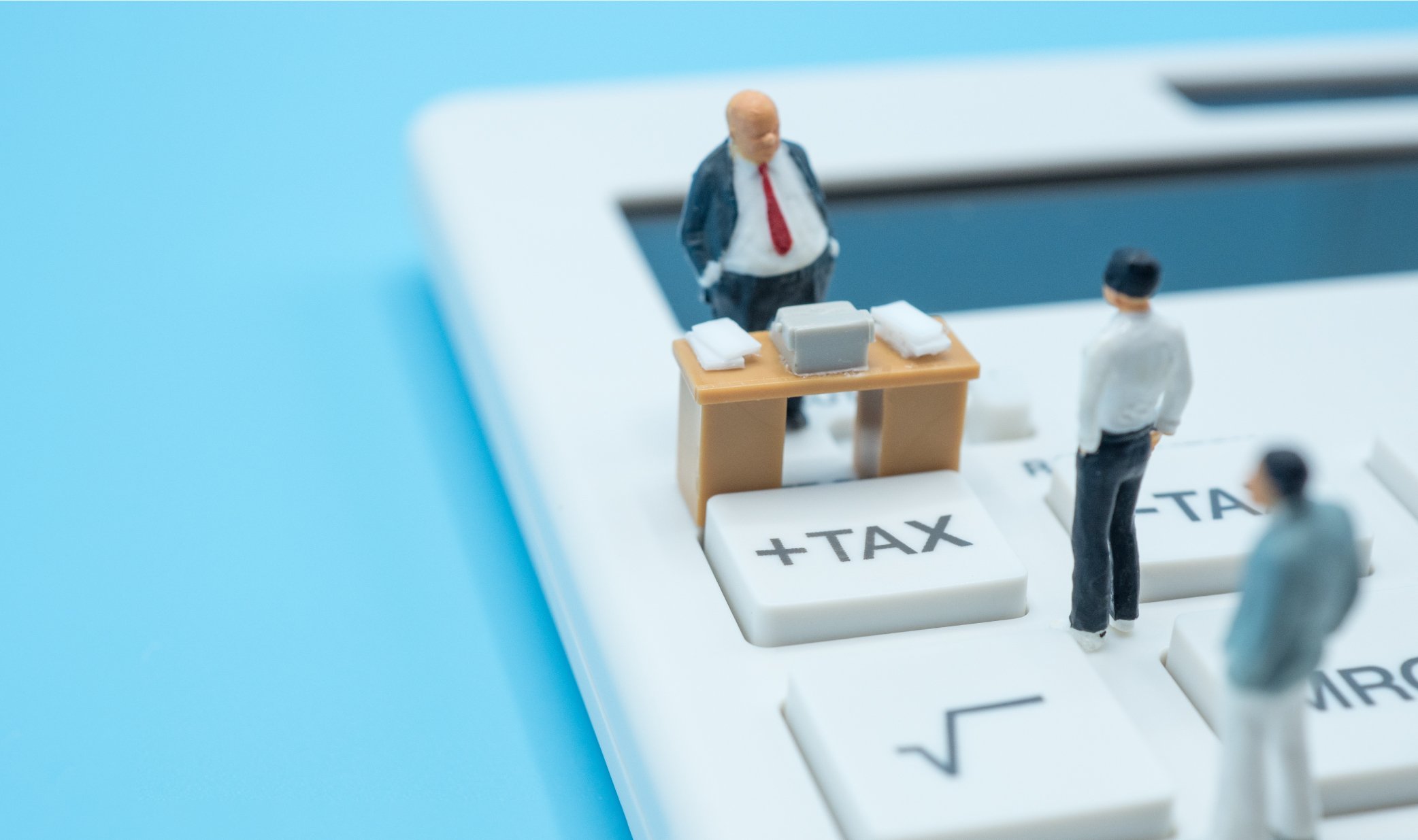 "We have a lot of 'one-man shop' bookkeeping clients that do work in professional services, specialty contractors, etc.," Javier said. "They're not staying on top of their business with tools like QuickBooks Online, most of it is in-house. The Botkeeper Rapid Write-Up Solution gives us the ability to have automation where normally we wouldn't be able to have it. Because of that, we've been able to put 75% of our bookkeeping clients on the monthly or quarterly rapid write-ups. The impact has been over 840 hours per year in time savings."
Botkeeper's Rapid Write-Up Solution allowed J A Rodriguez to work faster, more accurately, reduce the amount of work on their small team, and improve cash flow.
A 40-hour workweek for the entire firm is possible with Botkeeper
J A Rodriguez CPA is a people-first firm. Botkeeper has aided in their mission to keep their employees to a 40-hour workweek, even during tax season.
"It's obviously not only about the KPIs Botkeeper has achieved, but we're also able to be more human and have better work-life balance because of Botkeeper," Jorge said. "We're only having to work 40 hours a week. We're doing fantastic against our revenue goals. We are getting to work throughout the year and the tax season as we want to and not go over 40 hours per week. It's exactly the culture I had hoped for my staff."
By standardizing work hours, J A Rodriguez CPA has been able to build a talented team while keeping morale high, stress low, and — most importantly — making work-life balance a reality.
J A Rodriguez CPA spreads the impact of Botkeeper to Rootworks
J A Rodriguez CPA has been a Rootworks firm since 2015, where they are amongst the top 700 of the most progressive, technologically advanced practitioners in the tax and accounting profession from across the country. Their membership with Rootworks gives the firm access to sales enablement resources, considerations on technology, and strategy advice plus so much more.
"As a small firm, Rootworks is usually vetting solutions for us and training our staff," Jorge said. "Because of their expertise, we always try to include them in our strategy and solutions. Rootworks makes us better because they're our trusted advisors."
After seeing the impact of Botkeeper, they knew the Rootworks community could immensely benefit from Botkeeper. They had to spread the word.
"It's awesome to have a team like Botkeeper that opens our capacity and gives us the tools and the weapons to go against those bigger firms," Jorge said. "Immediately we knew that we had to tell Rootworks that they needed Botkeeper. As a part of the Rootworks community, we all want to help each other. There is an importance for reciprocity and knowledge sharing in this community. It is all about firms helping firms. We knew we could help other firms if we brought Botkeeper to Rootworks."
With the introductions made, Botkeeper soon became a trusted solution partner for the entire Rootworks community in October 2021. Botkeeper and Rootworks work together with accounting firms to encompass some of the most important aspects of Botkeeper's mission: efficiency, innovation, and scalability. Together, these organizations can define and streamline a solution for firm success.
J A Rodriguez CPA adds payroll software provider ADP® and see's a 50% increase in margins
J A Rodriguez CPA brought Botkeeper to Rootworks, Rootworks then brought ADP to J A Rodriguez CPA.
"We were using a very clunky old school kind of payroll process that was hard for us to expand our firm on," Javier said. "Jorge always called it 'the pain in his side'. Rootworks then introduced us to ADP. Once we made the switch on to ADP it really was a game-changer. It made everything more automated and gave us a bigger firm feeling. This wowed our clients because our association with ADP made them feel like we really knew what we were doing with payroll."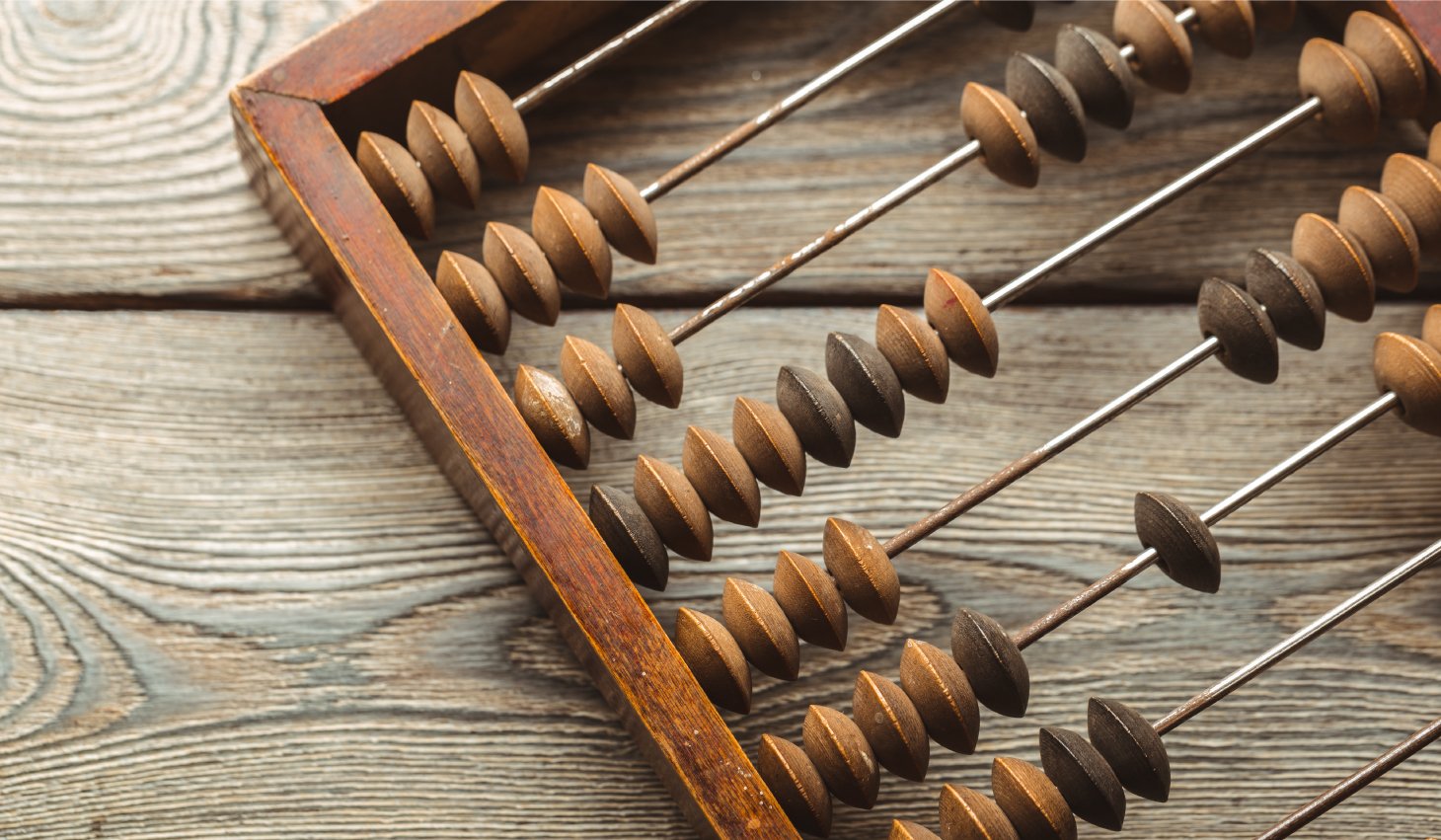 Much like the clean and clear pricing structure brought on with the Botkeeper partnership, J A Rodriguez CPA also experienced this same clarity around pricing with their ADP relationship.
"Just like with Botkeeper providing clear fixed bookkeeping fees for our clients, ADP allowed us the same thing," Javier said. "We knew exactly what payroll was going to cost us as a firm. This then allows us to have a clear understanding of what we should be charging clients for both bookkeeping and payroll."
J A Rodriguez was no longer worried about payroll and they were in automation bliss.
"The thorn has been taken out of my side," Jorge said. "I would often worry January 31st about payroll and ask if we need to extend our deadline. Javier would remind me to 'Not even think about payroll. It is done. Don't even worry about it.' That really has been because of working with ADP on live payroll. It works seamlessly with all the bookkeeping and accounting reporting we are doing with Botkeeper. With payroll, we are seeing a 50% increase in margins. We have two great automated solutions working in harmony for our firm and for our clients and both parties are benefiting."
The path to a million-dollar firm is on the horizon for J A Rodriguez CPA
The future is looking bright for J A Rodriguez CPA now that they have the right technology partners in place to reach their goals.
"We're on track to become a million-dollar firm," Javier said. "We're one or two clients away from that threshold and we'll be ecstatic to reach it! As we approach this amazing milestone, we have our relationship with our tech providers to thank. For our existing clients, we now have the right tools for efficiency, the right pricing for billing, and the bandwidth to offer analysis and advisory. As we bring on more clients, we can offer the same, and yet still be able to maintain a work environment that lets us live the kind of lives we want, with a standard 40 hour week. Automation is key for firm balance and we are so glad we have leaned in."
Ready to learn how to reduce your bookkeeping spend by 50% or more?
What are you waiting for? Let's do this!