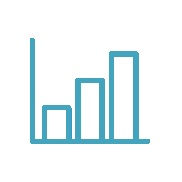 Botkeeper's custom-tailored onboarding and cleanup services get you and your clients organized, fast.
Botkeeper provides a white glove process deploying both you and your clients onto the Botkeeper Platform, connecting bank and credit card accounts, and launching financial dashboards.
+
0
Accounting Firms Onboarded
+
0
Businesses Onboarded Through Firms
ONBOARDING SERVICES TO GET YOU STARTED
First, Botkeeper runs a comprehensive health assessment of the books. From there, your firm is set up and empowered with connected, designated platforms for each of your clients, including tailored workflows and custom controls. We take care of any requested cleanup work and immediately take over the day-to-day bookkeeping operations.
Your Growth and Success Team
Once signed on as a Botkeeper Partner, our priority is to bring you optimum value asap. Our Partners are paired with an onboarding professional focused on deployment & adoption for both you, and your clients. Your Success team will: lead onboarding from initial review, perform platform training, assist in credentialing of financial accounts and more!
Cleanup and Catch Up
A custom evaluation from our internal team of experts will help revamp your clients' books and bring them up to date. We'll review transaction categorizations, accounts payable and receivable, liabilities, undeposited funds, bank balances, and more. Once your clients join you on the Botkeeper Platform, the bookkeeping can get started with a clean, solid foundation.
Ongoing Fanatical Support
Our mission to empower the growth of the Accounting Community doesn't stop with setup. Botkeeper continues to enable your growth by providing you with an in-house CPA who will drive economic impact, propel your growth, ensure partner satisfaction, align on your goals, educate you on new products, snd more!
WHY PARTNER WITH BOTKEEPER?
We'll have you back flippin around the room.
Bring your accounting or bookkeeping firm into the future with the Botkeeper Partner Platform. Provide a seamless experience for your clients while keeping costs low and accuracy high. Botkeeper makes your firm more productive while reducing stress and providing you with time for more important tasks. Join the movement today!
Good Reads
Check out these helpful resources for more info!