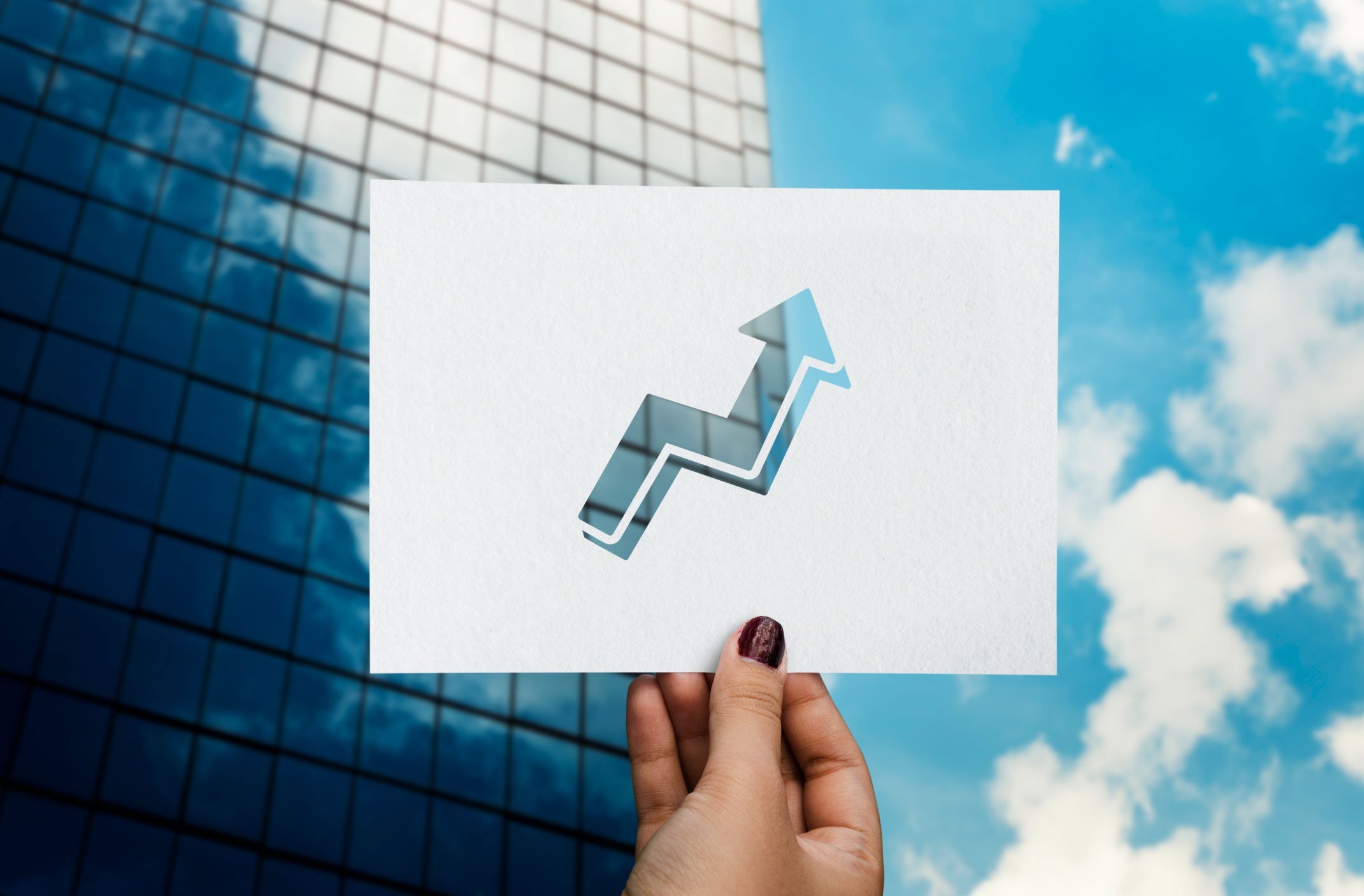 Back in early 2020 when the entire world began to shut down because of the pandemic, accounting firms were already in the swing of their busiest season. They were handling tax write-ups and helping clients prepare their filings when suddenly, other clients were coming out of the woodwork in a panic. They urgently needed help navigating an entirely different situation—one that would test how well they had planned and how strong their business really was.
These events highlighted a storyline that we've known for some time now: accountants are the unsung heroes of our economy.
Even nine months into a global pandemic with no end in sight, accounting firms continue to go beyond the expectations of their role, providing responsive attention and thoughtful guidance on top of their already top-quality accounting and advisory services.
But of course, not all accounting firms are alike, and some rise above the crowd with a sophisticated approach to digital outreach, a unique service offering, and a commitment to social engagement and community involvement that helps advance the industry as a whole.
In this post, we're recognizing five accounting firms who are not just meeting the needs of their clients and communities during the age of COVID—they're raising the bar.
5 Accounting Firms Who are Crushing It During COVID
If you're paying attention to who's who in the accounting sphere, you know the Armanino name. They're a top 25 firm located in the West and Midwest parts of the United States, and they've long been recognized as an industry leader in four main service areas: assurance/audit, tax, consulting, and business management.
But Armanino's size and industry-agnostic approach isn't why we're including them in this list. What stands out about Armanino throughout the ups and downs of 2020 is their commitment driving the industry—and their clients—forward in a modern way.
Since the beginning of March, the Armanino team has produced and published 69 YouTube videos focused on a range of content, including industry-specific tutorials (education, nonprofit, cannabis, legal, etc.) and COVID-related content like a "Return to Work" series, plus titles like "How to Re-engage Your Stakeholders During This Pandemic" and "Are You Prepared for PPP Loan Forgiveness?".
But what we find to be super relevant (and pretty stinking cool) is Armanino's focus on data science; they've created a handful of COVID Recovery Trackers intended to help drive better decision-making. These include a COVID Case Tracker that drills down to the county level and a Home Vs. Away Tracker that uses GPS data to provide trends on where people are the most mobile.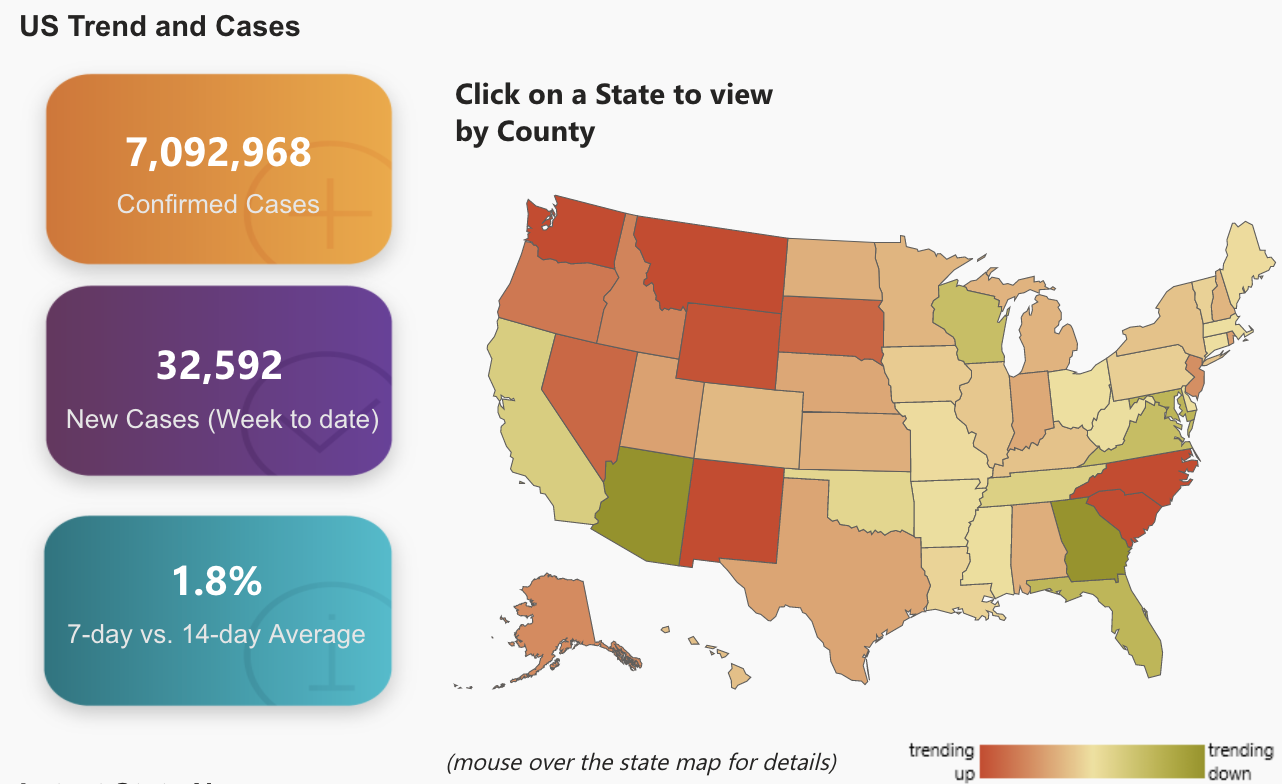 With moves like this during the uncertainty of 2020, we're sure Armanino will remain an industry leader long after COVID becomes a topic for history books.
A big part of being an accounting firm is being a helpful resource clients can listen to when they're facing uncertainty. DeJoy, Knauf & Blood (DKB) have been doing exactly that since 1990, but these days they're taking a more modern approach.
When COVID came to town, DKB created a dedicated Resources page and started churning out high-quality content for their clients and communities to reference when they most needed it. That included launching a podcast in April called "Tax in Ten" where firm leaders cover relevant topics like the employer payroll tax deferral, individual tax saving strategies during COVID, and CARES Act and PPP loan information.
Mike Tota, DKB's Director of Business Valuation Services, also hosts regular webcasts called "A Minute With Mike" where he takes 60 seconds to talk about relevant topics and news—from his own remote office. His latest episode reviewed Environmental, Social, and Governance investing, and there are plenty of short episodes available on other relevant topics like marketability discounts and the possibility of AirBnB's success with an IPO during the pandemic.
Whether or not you're a podcast kind of person, the fact that DKB is exploring new options for delivering high-quality content to their audience shows that they're invested in moving the industry forward.
During a time when so much attention is placed on creating positive change, it's good to see businesses that take a stance and commit to doing the work. Sensiba San Filippo (SSF) is one of those organizations, and they have a B Corp badge to prove it.
Becoming a Certified B Corporation is no small feat—members "meet the highest standards of verified social and environmental performance, public transparency, and legal accountability to balance profit and purpose." They're given a score based on five impact areas (governance, workers, community, environment, and customers), and the ordinary business has a score of 50.9; SSF has a score of 80.9!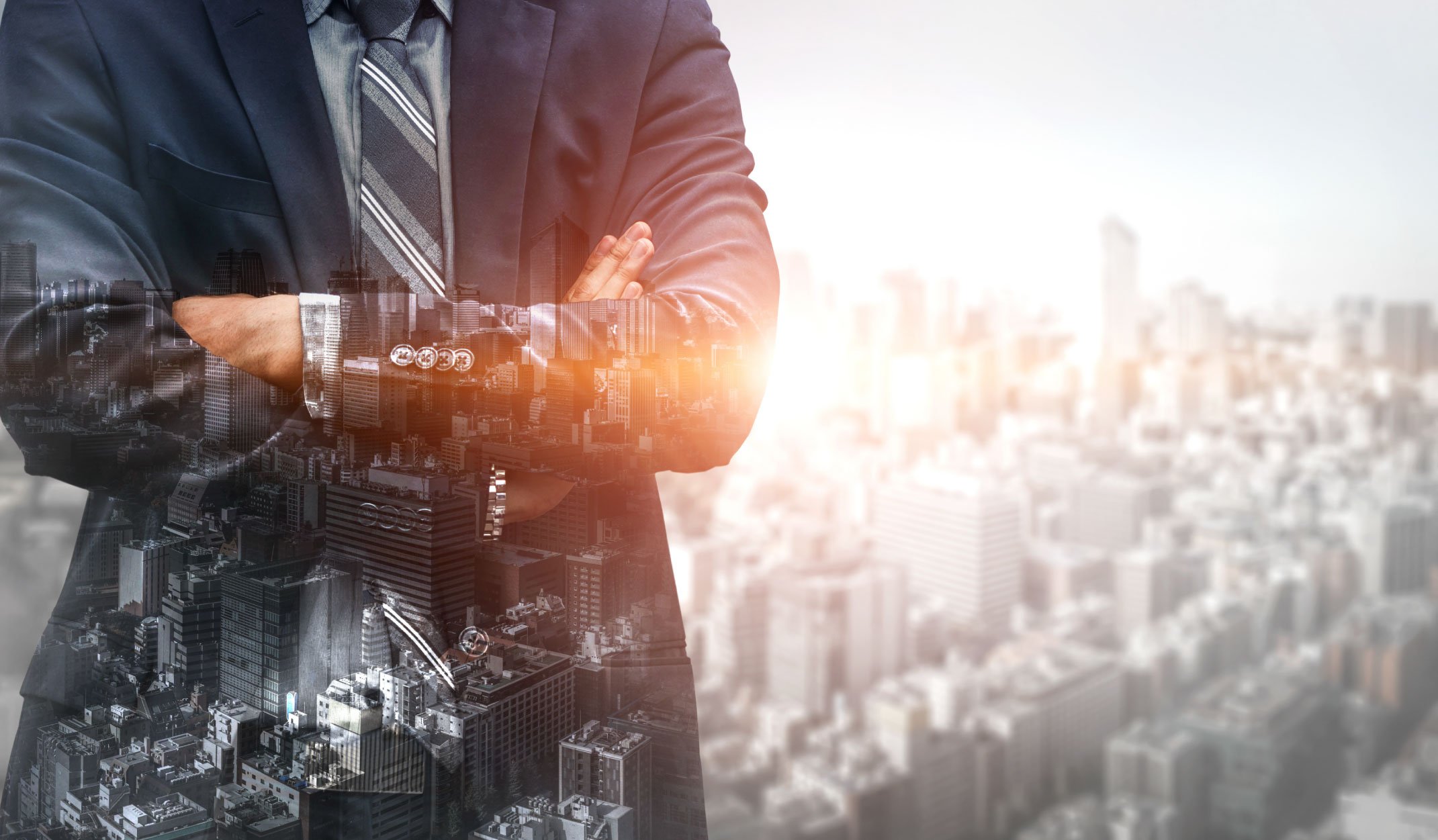 But perhaps what's more impressive than being a Certified B Corp is SSF's focus on creating helpful resources and spurring unique, engaging conversation. In addition to publishing a COVID-19 Information Center for promoting the spread of knowledge, SSF is quite active on social media and runs a podcast called "Rebooting Capitalism" that explores why traditional capitalism is broken and how people are trying to fix it.
Needless to say, it's no surprise that SSF is successful during COVID—they were already working toward a better world before it was all flipped upside down.
A 2019 study showed that 86% of small business owners agree that their accountant is a trusted advisor. While it's not surprising to accounting firms that have built their practices on such trust, it reinforces the idea that clients value being understood by their accountants (especially during a recession)—and that's a big part of how Schneider Downs operates.
Schneider Downs is committed to maintaining the trust clients place in them regardless of what's going on in the world. The firm has incorporated the "SD Standard" that promises proactive ideas, direct access to experts, delivery that fits with client needs, and overall client satisfaction.
On top of COVID Resources, Schneider Downs also offers free webinars for remote learning since, well, everyone's remote these days. Topics include revenue recognition for nonprofits, succession planning, cybersecurity, the PPP, and more.
Perhaps one of Schneider Downs' most interesting COVID-related efforts was surveying almost 200 companies throughout the U.S. about the pandemic and their related activities. The results showed that remote work is and will continue to be a priority, half of the surveyed companies reassigned staff to complete COVID-related tasks, and a majority (56%) are or have explored new strategies for their marketing, sales, or advertising efforts.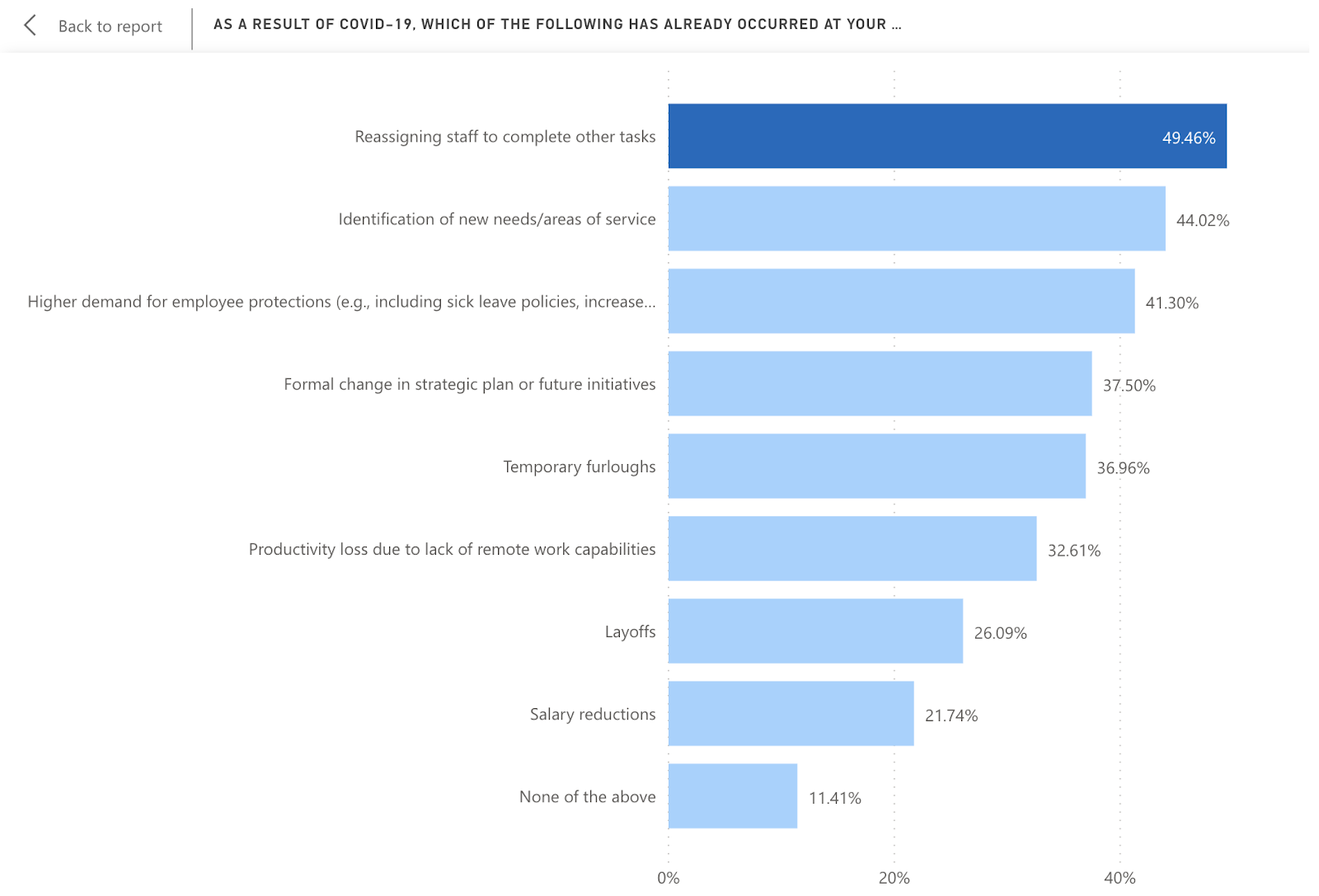 This survey is just one example of how Schneider Downs is committed to informing the accounting community—as well as their own clients across numerous industries—and helping us all move beyond this tumultuous time.
During a time when many businesses are only focused on staying open, some have been able to go a step farther and shift their focus to growth. The team at Alloy Silverstein knows that's not just coincidence, but it's the result of hard work and access to crucial resources.
Alloy Silverstein focuses on helping their clients grow, no matter what external forces might be at play. The New-Jersey firm relies on an effective digital strategy to help keep their clients and community updated. They're active on all social media platforms, spreading important information related to changing tax laws, COVID resources, and critical details for businesses trying to take advantage of every opportunity that comes their way.
In addition to a COVID Resource Center, Alloy Silverstein has curated an entire menu of articles, guides, and a Tax Reform Resource Center intended to help clients deal with changes to tax laws.
These kinds of resources and modern strategies for reaching their audiences have trickled down from firm leadership. In fact, we were able to chat with Associate Partner Ren Cicalese III about how firm leaders can feel confident during the decision-making process, and here's how he responded:
"It's difficult to feel confident with the decisions you're making as a leader. It's more important that you are comfortable with the decisions you're making, rather than looking at it from a right or wrong approach," Ren said, reinforcing the opportunity for continued improvement and growth with every decision.
"It's best to stick to your values and make decisions based on what you believe will be the best path forward for your organization," Ren said.
Accounting Firms Make the Difference
During periods of abundant growth when the economy is on the upswing, and during times of recession when the economy suffers from the likes of a global pandemic, there's at least one constant: accountants as catalysts for growth.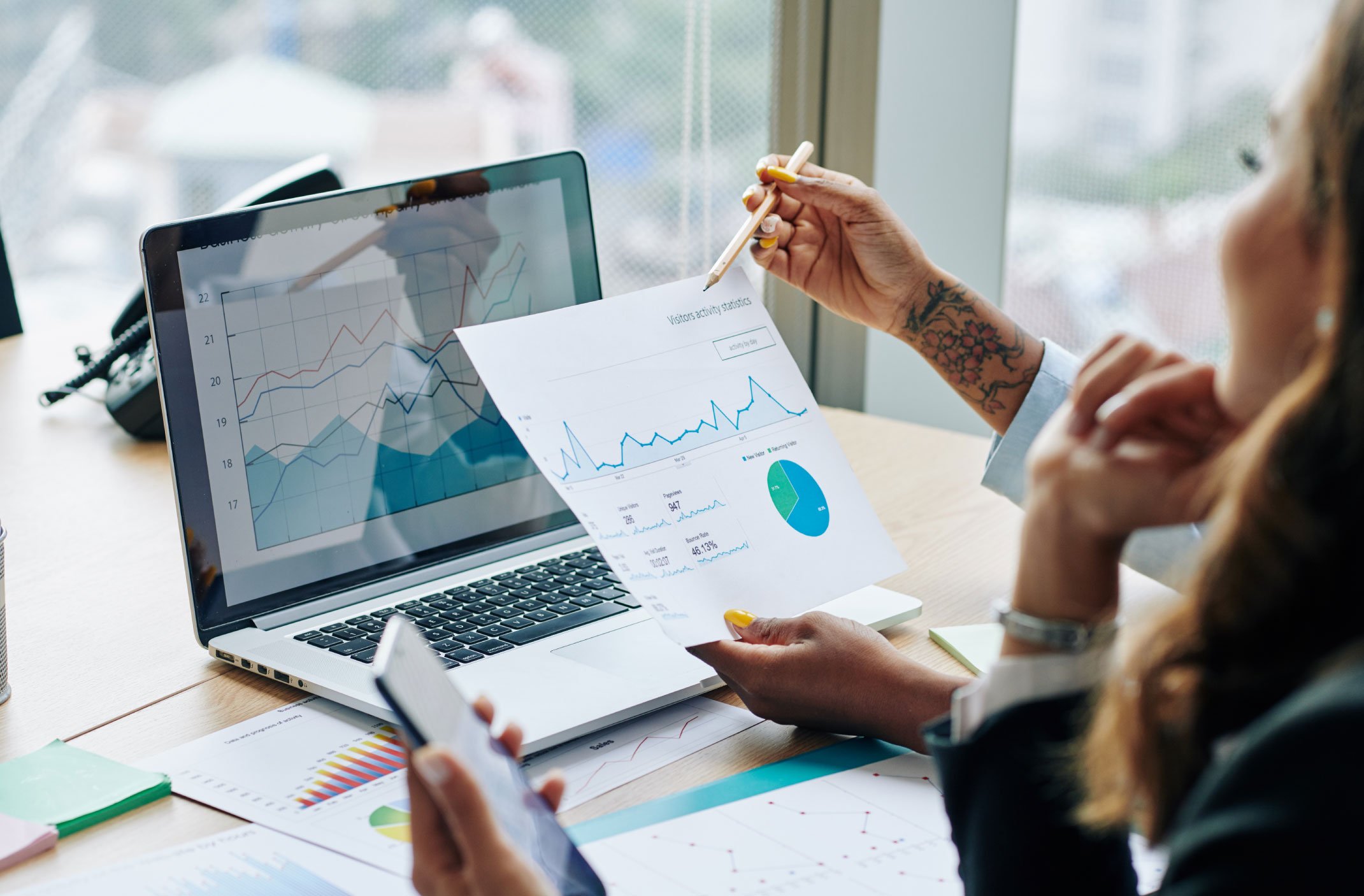 The funny thing is that accountants don't really do anything different, despite a fluctuating economic outlook. Sure, they adapt strategies and focus on priority topics and services whenever necessary, but accountants are trained to analyze data and use that information to create actionable guidance for their clients.
The five firms we've highlighted here are remarkable for their specific approaches to providing high-quality services: they do it in a modern way that helps engage and inform their clients and communities. But to them, it's basically business as usual. They have the right tools in place to make changes on the fly, and they've proven that they can respond to market needs and adjust their service offerings accordingly.
How do they do it? And how can other accounting firms follow suit?
The right technology is a big piece of the puzzle, and so is identifying the challenges standing in the way of becoming a powerhouse accounting firm.
On average, firms spend just under 80% of their time on low-margin bookkeeping work, which is clearly a huge timesuck. Leveraging technology to take on the mundane tasks associated with bookkeeping frees up bandwidth, increases quality of work, and lowers operational costs—creating an opportunity for any firm in any market to amp up its focus on advisory, marketing, research, data analytics, or any other area of interest. This is a strategy that makes a firm stand out from the competition, and it's what clients want.
The first step is looking into your options, and that's why we've created an on-demand presentation for accountants to learn how Botkeeping℠ can transform the way they service their clients and reach new levels of success. Click below to check it out!