- Case Study -
DSJCPA
When DSJCPA was looking for a new way to grow and modernize their accounting firm, they turned to Botkeeper.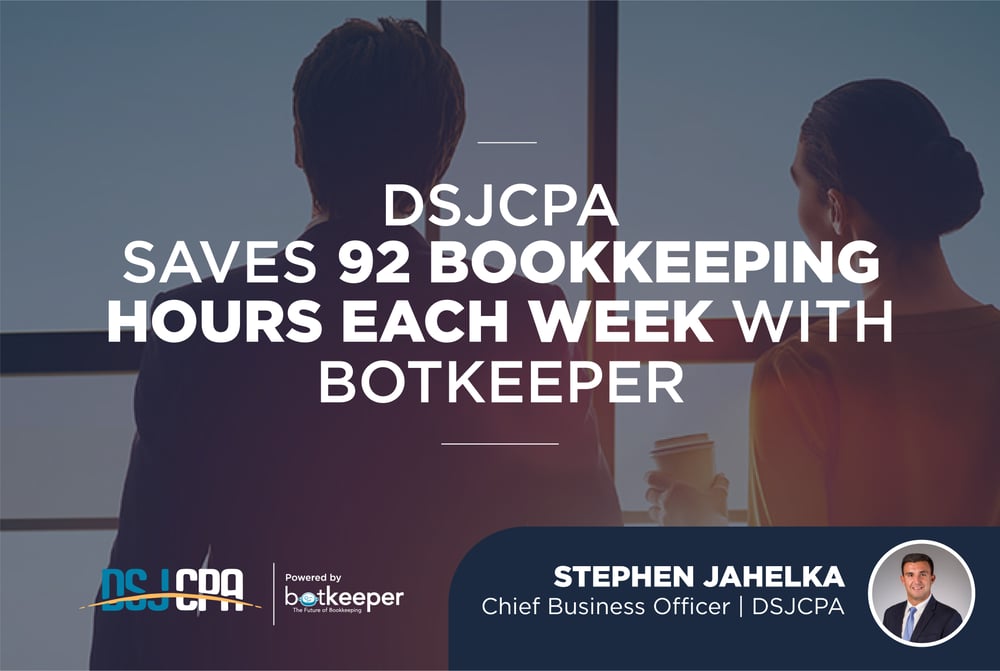 As their desire to modernize the firm grew, DSJCPA LLP (DSJCPA) needed to take advantage of a technical solution that they could easily integrate into their existing processes to eliminate timely workflows. By implementing Botkeeper's robust bookkeeping platform, DSJCPA has saved 92+ hours of bookkeepers' and senior accountants' time per week, enabling them to focus on higher-level advisory services for their clients and achieve greater margins on bookkeeping revenues.
DSJCPA SAVES 92 BOOKKEEPING HOURS EACH WEEK WITH BOTKEEPER
Bob Jahelka had built DSJCPA from the ground up — a labor of love for the last 30 years — when his son Stephen decided to leave his job at one of the Big 4 accounting firms to join him. As the firm's new Chief Business Officer, Stephen set his mission to organically grow DSJCPA's sales and purposefully disrupt the traditional time-consuming accounting method the firm was using by implementing an automated bookkeeping solution.
Since incorporating Botkeeper's platform and services into the DSJCPA business model, the company has saved more than 92 hours of weekly work, allowing staff to shift their focus to higher-level advisory work and drive higher financial margins for the firm. Botkeeper's strategic partnership has provided DSJCPA the capacity to successfully grow and scale their accounting firm; they now have the tools to provide a higher level of service, accuracy, and financial insights to their existing client base.
0
senior-level accountant hours saved each month
0
Total bookkeeping and senior accountant hours saved each week
Botkeeper Became the Modern-Day Solution to Expand DSJCPA
DSJCPA is a full-service accounting firm with a staff of highly trained and dedicated accounting and bookkeeping professionals. They provide a wide range of accounting and tax expertise to individuals, businesses, nonprofit organizations, schools, and other agencies. The firm, established in 1972, has been built on the highest standards of knowledge in the fields of business management, financial planning, and taxes pertaining to estates, trusts, and businesses, as well as individuals. Their offices are located in Westbury, NY, where they service clients primarily within the tri-state area and throughout the country.
In 2019, it became clear that DSJCPA needed to modernize the way they were doing bookkeeping if they wanted to stay competitive. Looking to not only grow their company but find better ways to more efficiently serve their existing clientele, they knew they had to modify their practices. They also needed to figure out a way to maximize productivity and time management.
"We could see the writing on the wall," Bob said. "We wanted to grow, but we were keenly aware that in order to do so, we needed to start automating our processes."
"Technology was going to be the future of accounting, and we wanted to make sure DSJCPA was on the forefront of that regarding both our firm's efficiency and its ability to win business over competitors. There was so much potential to implement technology solutions in our practice in instances where we were currently manually handling them. These manual processes were becoming a thing of the past; we had to do something."
Bob wanted to find a technology solution that would not only help DSJCPA elevate their services and solve their more challenging points but also modernize the firm from antiquated practices. After being introduced to Botkeeper at a conference, Stephen and his father knew they had found exactly what they needed.
"We hadn't seen any good tech-focused options that provided the services we needed," Bob said. "When we found out about Botkeeper, that all changed. We realized that they were bringing a leading-edge solution to the accounting profession, and DSJCPA needed it. As we learned more, we realized that Botkeeper would be a more efficient, cost-effective way to better service our clients and increase our margins. They could help us create workflows and eliminate our key-punching accounting practices. Their robust solution could help us differentiate and give us the tools we needed to attract more business to help reach our sales goals and let Stephen focus on mergers and acquisitions."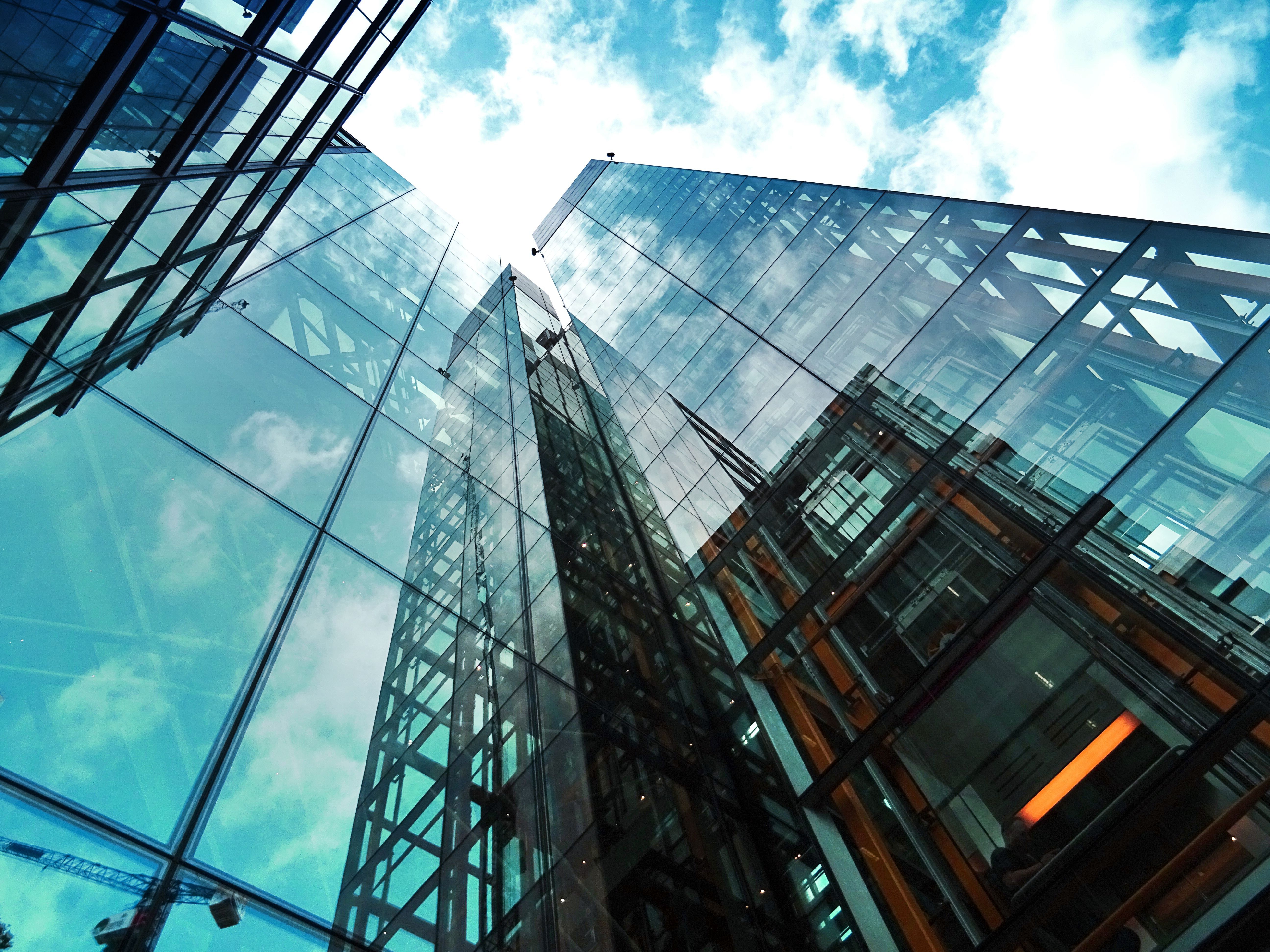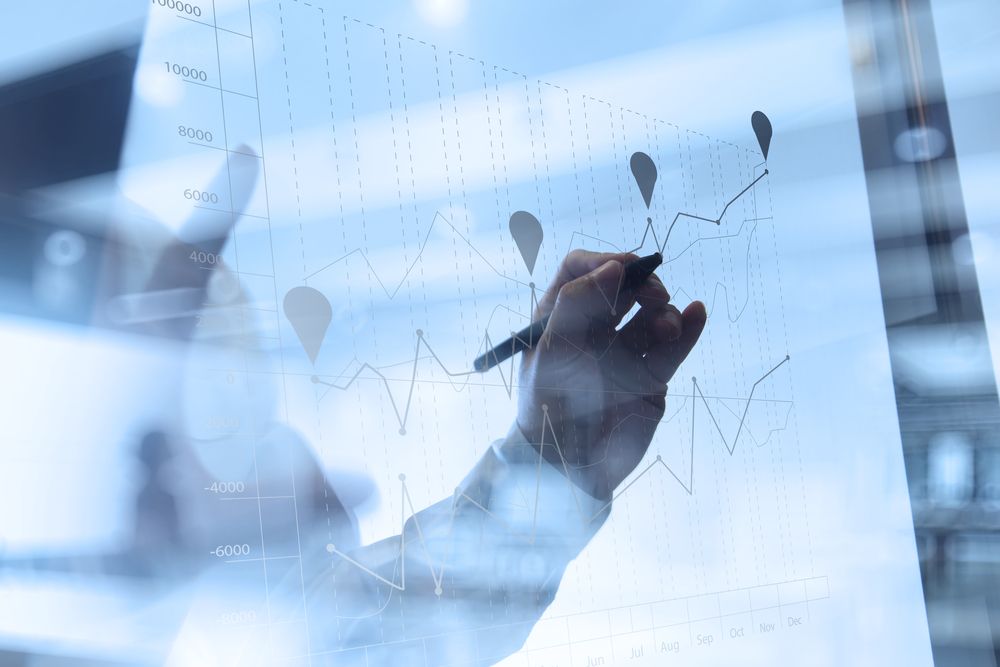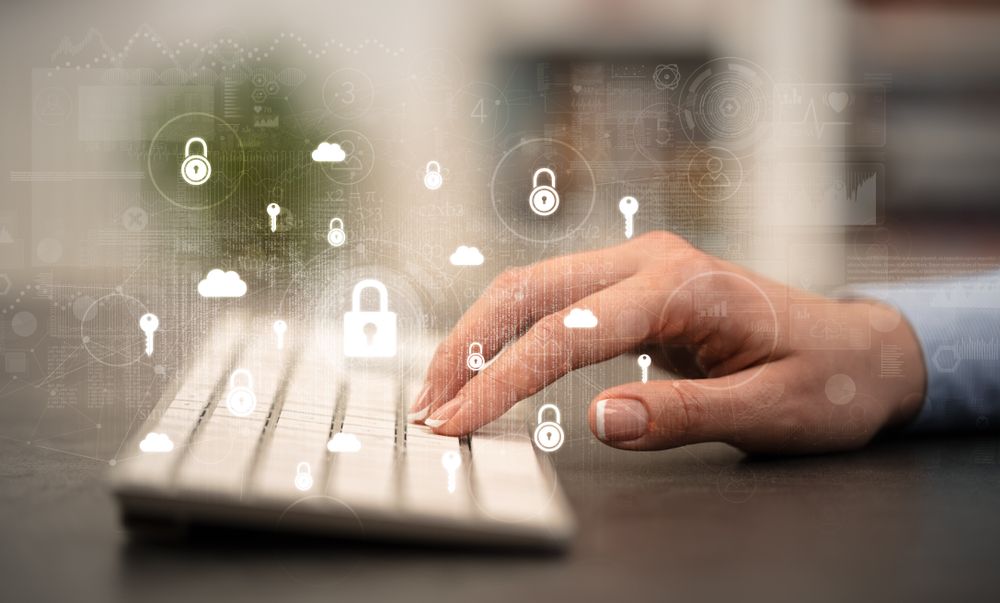 A Growth Partner Leads the Way
The long-term vision for DSJCPA was quickly coming to fruition when they partnered with Botkeeper.
"From day one, we have been working hand-in-hand with our Growth Partner, Tom," Stephen said. "Tom has been our main contact for our Botkeeper rollout strategy and an integral part of our success on the Botkeeper platform. He met with us multiple times to help us figure out our long-term success plan before rollout and how we could utilize Botkeeper as an ultimate tool for better forecasting, dashboards, and strategic planning for our clients."
Once the plan was in place, Stephen started onboarding DSJCPA's clients to the Botkeeper platform.
"It was a bit of a learning curve for both Botkeeper and DSJCPA as we started to bring on our clients. Each client got a dedicated playbook, which helped to make sure all their process nuances were documented by Botkeeper. We started with a small group, and to date, we have brought on 35 clients successfully. The entire Botkeeper team has been highly responsive to our needs, helping to create a smooth onboarding process for DSJCPA," said Stephen.
Botkeeper Provides DSJCPA with Elevated Capacity
Now with Botkeeper, DSJCPA sees a real impact as their bookkeepers shift to higher-level work and they experience almost perfectly accurate bookkeeping.
"With Botkeeper, we've been able to take our 'jack of all trades' staff members off the tedious and mundane write-up and bookkeeping work that took so much of their time — 92 billable hours each week of their time and our senior accountants' time, to be exact," said Stephen.
"They can now focus on higher-level advisory work like forecasting, business insights, and long-term planning and strategy with clients. Botkeeper has been a huge positive shift for DSJCPA, and it has opened up the option to elevate the service we can provide to our clients."
More importantly, Botkeeper has solved a resource constraint issue at DSJCPA, providing a new level of elevated capacity.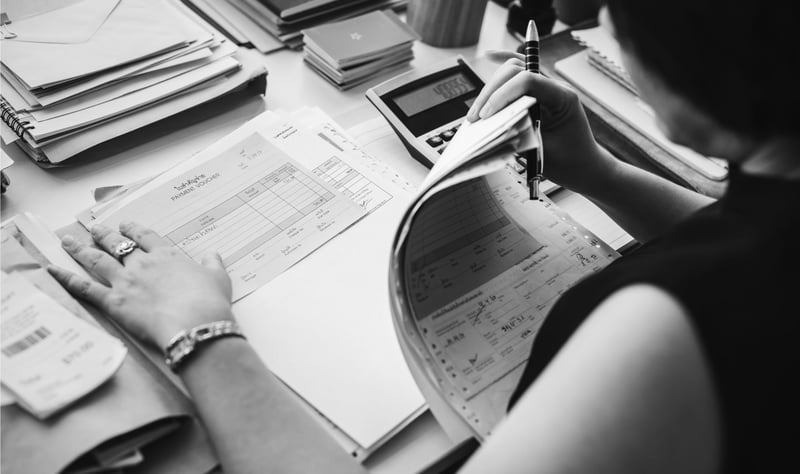 "Some clients had fallen a bit behind on bookkeeping," Stephen said. "They would provide us a full year of receipts, invoices, and bank statements all at one time so we could get their books up-to-date. While it was manageable, we knew there had to be a better way to avoid such instances. Botkeeper's tools have set these clients up for long-term success with their direct bank feeds feature, auto-categorization, and instant receipt scanning. This, in turn, provided the DSJCPA team with elevated capacity. The team can now focus on higher-level services like planning and strategy with these clients."
Botkeeper provided DSJCPA with a new standard — nearly perfect bookkeeping accuracy with their consistent process and balance of automation and human oversight.
"Accuracy is incredibly crucial for any accounting firm," Stephen said. "We have talented humans working at DSJCPA, but there is always some level of uncertainty and error when bookkeeping tasks are left to humans. At some points, we have had three bookkeepers working on one client's books, each categorizing transactions differently. I knew Botkeeper could help us achieve a better consistency."
"With our Botkeeper dedicated accountant, I know the bookkeeping is always accurate and consistent. Then, adding in the fact that we can lean into automation with Botkeeper, we instantly were able to eliminate the costly human error here at DSJCPA."
Botkeeper, An Integral Part of DSJCPA's Future
DSJCPA is working with their Growth Partner on their larger client rollout.
"Our goal is to get 200 of our clients onto the Botkeeper platform because we can already see the immense potential the Botkeeper platform and service are providing to DSJCPA with our first 35 clients," Stephen said. "Botkeeper has helped us to form our plan for execution, and we are excited to ramp up. We know that Botkeeper will become the building base for all DSJCPA clients. It will become the backbone to our company's new structure."
In the long-term, DSJCPA sees Botkeeper as an essential part of their future.
"When I look 3 years from now at the DSJCPA business model, I see Botkeeper as an integral piece of the plan," Stephen said. "I already see the quantitative value the DSJCPA staff can now bring to the table."
DSJCPA is on the path to efficiency and scale with Botkeeper as part of the plan.
"We recognized that DSJCPA needed to modernize the firm from both an efficiency and scale perspective. We could not do this on our own. We needed a partner to get us there, and Botkeeper's tools and service have done it. They have elevated DSJCPA to another level. We are ready for the future, and Botkeeper helped us prepare for that," Stephen said.
Automated Accounting Brings Traditional Accounting Firms Into the Future
As Bob and Stephen mentioned, Botkeeper has helped DSJCPA create a new model for day-to-day accounting operations. The firm has also factored Botkeeper's powerful automation into their future planning, generating impressive time and financial savings that will ultimately benefit their client base.
DSJCPA isn't the only pioneer to take hold of their back-office practices and create new pathways to growth and success. Myriad accounting firms are looking to technology to help streamline processes and create more time in the day to support their clients. Your firm could be next!
Click below to learn more about how you can take advantage of automation to elevate your firm to new heights.
Ready to learn how to reduce your bookkeeping spend by 50% or more?
What are you waiting for? Let's do this!