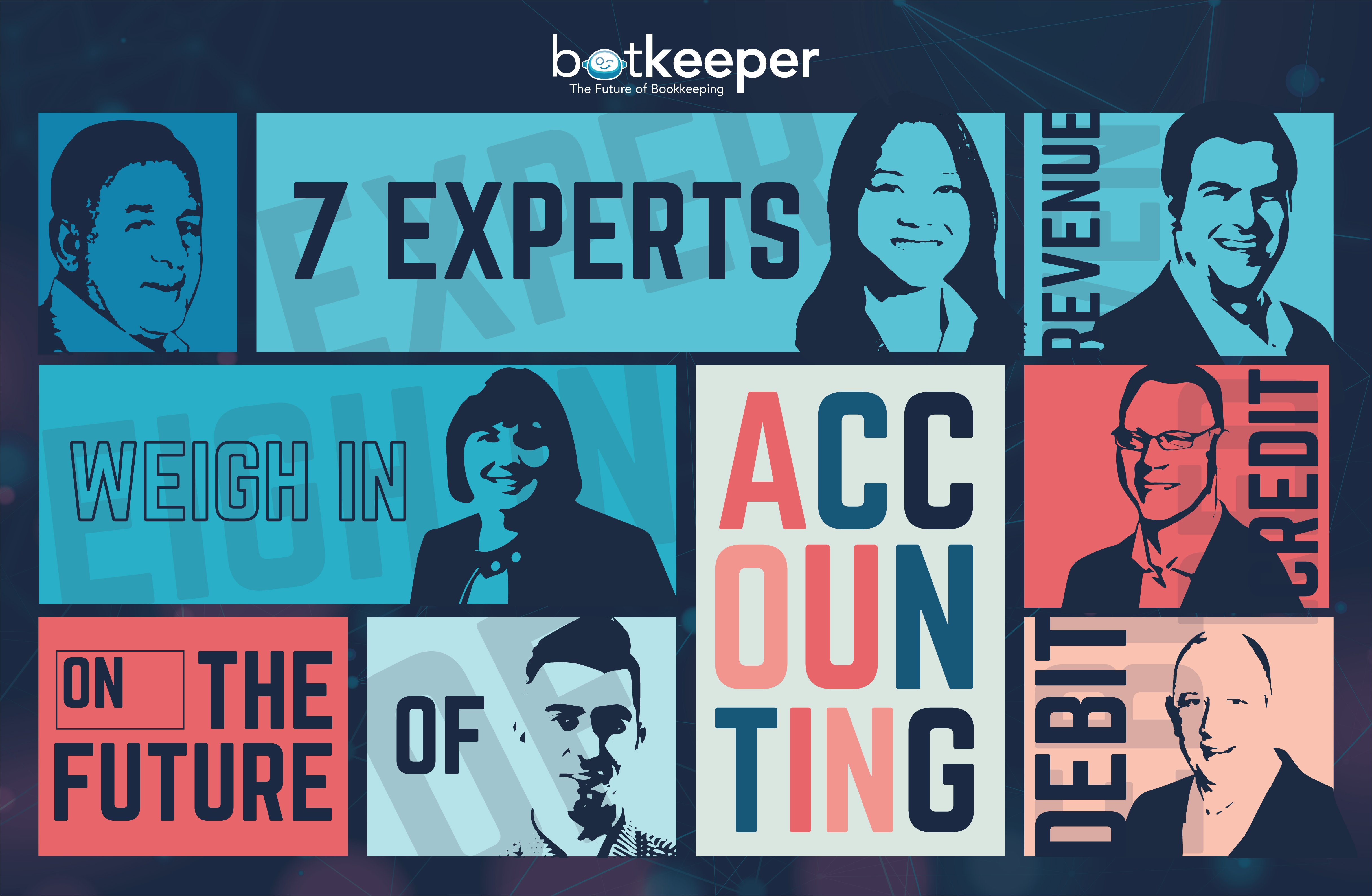 Every industry is impacted by the rise of technology and automation, and for many, that can be an overwhelming—possibly even scary—thought. So we set out to get to the bottom of how real accounting experts view this ongoing change to the industry. Our friend Jody Padar, The Radical CPA, conducted a series of interviews with accounting industry thought leaders and influencers, and we pulled together this collection of highlights as they relate to select questions.Many of these 7 accounting experts offered advice on how to navigate the changing climate for other accountants, and all demonstrated an enthusiasm for the tech-driven changes. Obviously, we at Botkeeper are a bit biased when it comes to artificial intelligence, automation, and machine learning, so we'll let you read on to draw your own conclusions!
HOW WILL TECHNOLOGY IMPACT CPA FIRMS IN THE FUTURE?

Some of the new apps that are really baking in AI to the core of what they do from the very beginning are what's going to be revolutionary for what we do because they're going to allow us so much more analytical and consulting built off of it. They're looking at so much more than what we've ever looked at historically. I mean, on the reporting side, on fraud detection side, and all these things, I think that's really what's going to revolutionize what we're doing.

It's more than just QuickBooks. QuickBooks is a tool. Businesses went out and bought it because they wanted to keep their accounting simple to use. Now it's more about accounting and teaching them how to use the tools. So, any small business really doesn't have to know accounting.
They have to know automation. And then you got the bots working in the background. So if I get an advisory gig as a CPA, it's not about me saying, "Hey, let me do your work." It's, "Let me help you be more profitable, liquid, and solvent, and let me show you the tools. You don't have to worry about this. Just worry about your business." It's more than just the accounting.

I think the issue is more analysis-paralysis. "What's the best option? What's the best course for me? How do I implement this? I know there's lots of great technology out there, but what do I choose, and how do I implement it, and how to go about doing it?" So we're past the education phase right now. I think the biggest challenge is moving from the education phase to the actual implementation phase.
---
---
WHAT ADVICE WOULD YOU GIVE TO FIRM OWNERS AND EXECUTIVES WHO HAVEN'T FULLY COMMITTED TO THEIR GROWTH POTENTIAL?

When I started [Xen Accounting], nobody was really doing online accounting, and nobody was meeting with the professional on Skype and doing the subscription model and that kind of thing. I felt that that was the best course of action, but I didn't know; it wasn't a tried, tested, and true model. I think that's something that's contributed to my success—I kind of just took a bit of a leap.

It's like they're afraid to just start because they're afraid to make a mistake. And you know what? You're going to make a mistake. And that's OK because you're just going to have to readjust and keep moving.

I think that CPAs are very similar to professionals in other businesses, but they tend to be fairly risk-averse. So if you have an idea that's unconventional, they may not be the first to jump in. But after they do their research and find out a little bit more about it and you get some buy-in, then they will support you.
---
---
HOW DO YOU RECOMMEND OBTAINING CLIENT BUY-IN WHEN YOUR FIRM INTRODUCES CHANGES TO VARIOUS PROCESSES AND SYSTEMS?

When you think about financial planning, it's deeply personal. The client has connections to goals that they have in the short-term and long-term future and also for their family. So start the conversation not with how much money they have, but what are their financial goals?

If you can figure out a way to operate so it benefits [clients] and makes things easier for you, then everybody wins. Starting with sitting down with your clients and looking at the relationship and looking at what services you offer and having a conversation with them about what value are we really delivering and what is that worth to you? I think that's the first step.
---
---
WHERE DO ACCOUNTANTS NEED TO FOCUS THEIR ATTENTION IN ORDER TO BEST SERVE CLIENTS AND BE SUCCESSFUL?

I think, honestly, CPAs have always been advisors. They just haven't had the time to give it the effort that they should have. And so we have all this next gen—who a lot are very tech savvy, but they may not have the experience of the older, more seasoned professional. And then you have maybe some of the older professionals who are really good at advisory but don't have the tech skills.

I don't think we have to know how to make an algorithm and how to facilitate that. It's more about using the systems. We send wires and ACHs [automated clearing house] all the time. How many accountants understand the banking system and how the money moves and how everything goes through? You'll have a few that do, but the majority don't. And we trust them.
We accept that it works. I think that a lot of these technologies are going to be the same thing, that that's going to be the underlying engine of what we use. But do we really need to know how to do it? No. But I think it's going to ultimately revolutionize how those systems perform those functions and then ultimately the efficiencies to be gained from those.
---

That's the challenge facing accountants today. And that's really why people come to you. It's not for the compliance work and the tax return. They want to know: How can they save money next year? How can they accumulate wealth?
So that's more of what I'm seeing amongst the younger generation. They're out there saying, "Hey, we can help you, you know, doing the accounting and doing the tax work. We can automate that for you, but you are paying us for our knowledge." It's true that there is going to be artificial intelligence helping you to do that. But the mindset and the soft skills that you need as an accountant are changing.
You need more and more soft skills, the ability to do analytical work and explain that to your clients.
---
WHAT ADVICE DO YOU HAVE FOR COLLEGE STUDENTS WHO MAY BE INTERESTED IN ACCOUNTING?

I teach accounting at the college level and you know, you always ask the first year students what they want to be. Nobody really wants to be an accountant. But by the end of the first semester, the smart ones realize they have to know accounting to be able to be successful in marketing, sales—whatever the case may be.

I met someone yesterday—she's a senior. And she referred to herself as, "I'm only a senior." And I said, "Time out. You're never only a senior. By definition, you are the most popular accountant on the planet right now. Everybody wants you. So don't refer to yourself as only a senior; you're a senior. Own that, and as you progress through your career, have more self-confidence in your role, your level, and what you contribute.
---
---
The recurring theme from each quote is a reinforcement of adaptability—change is happening, and it takes leaders to recognize it, adapt to it, and motivate others to do the same. One way to jump on the automated bandwagon, so to speak, is to introduce new technology at your firm or office and see how it works. As Bernie Lietz of Topel Forman said,
"If you can figure out a way to operate so it benefits [clients] and makes things easier for you, then everybody wins."
That's exactly what
Botkeeper
was built to do—create a victory for business owners, executives, staff, and especially clients. Click below to get a free assessment and learn how Botkeeper is leading the way to a new future of accounting. Create a win for yourself!