Update: As of June 23, 2020, ScaleFactor announced that it would be closing.
Whether you run a startup company or manage a billion-dollar enterprise, bookkeeping is one of the most important tasks for any business. Business owners want (and need) to focus on their products and services as well as growing their company. But they also need to stay on top of bookkeeping tasks, which are tedious and time-consuming. Fortunately, there are lots of bookkeeping services available today that can help business owners streamline their bookkeeping tasks so they can focus on what matters.
Want to listen on the go? Click below to listen to an audio recording of this blog!
Today, four of the most popular bookkeeping solutions for businesses are Botkeeper, ScaleFactor, Pilot, and Bench. But how do you know which one to choose?
In this post we're detailing things you should consider when selecting a bookkeeping software. We're also putting Botkeeper, ScaleFactor, Pilot, and Bench head-to-head and comparing their services to help you make the right choice.
As a note: we tried our best to make sure each company is represented honestly and fairly here because we want you to have all the facts.
With that said, let's dive in!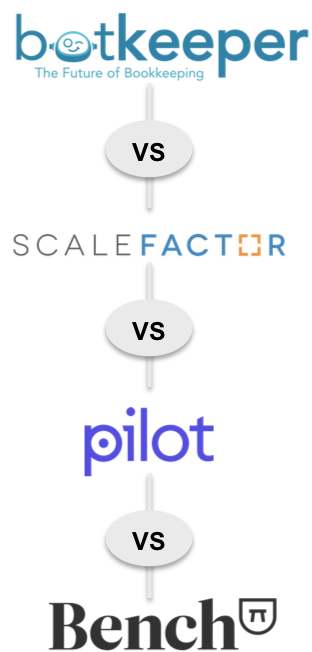 What Do I Need in a Bookkeeping Software?
No two bookkeeping software solutions are exactly alike, which is a good thing since no businesses are exactly alike, either. Investing in the right bookkeeping solution depends on factors specific to your business and industry. After all, your business is unique, and some features may be necessary, while others—not so much (and you certainly don't want to be forced to pay for unusable features).
Before you choose a bookkeeping software solution, here are some questions to consider during your evaluation:
1. Bookkeeping Software Features to Consider
When it comes to bookkeeping, Botkeeper, ScaleFactor, Pilot, and Bench are all capable choices worthy of your consideration. Each can tackle most of your bookkeeping tasks and help you focus on more important things (like, you know, growing your business).

Botkeeper, ScaleFactor, Pilot, and Bench each offer monthly bookkeeping services which include producing financial statements, categorizing transactions, and reconciling accounts. While there are a handful of similarities between the four, there are a few major differences to keep in mind, too. Check out the feature comparison chart below for a snapshot view of how the solutions line up.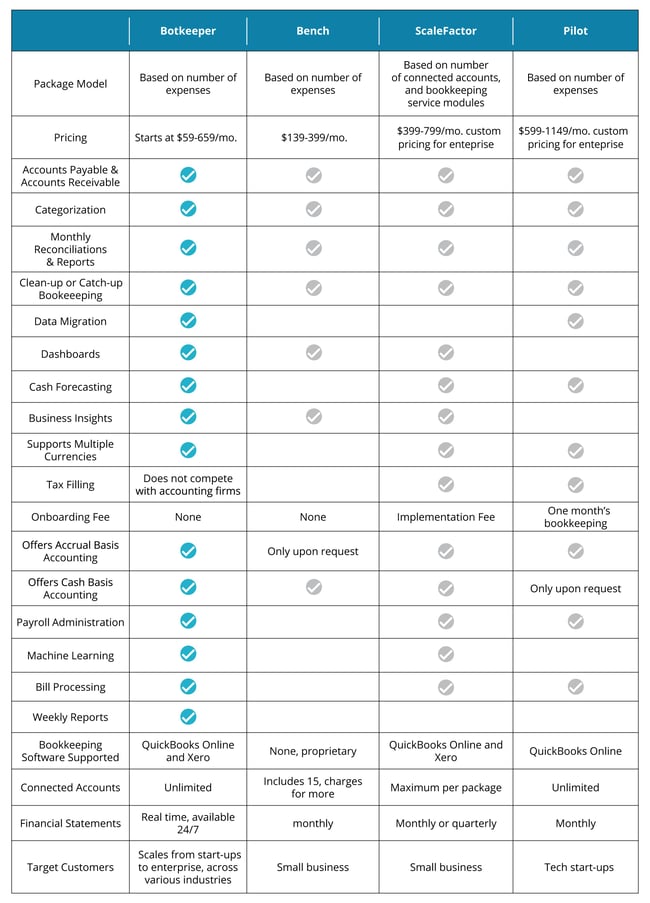 2. Bookkeeping Method: Accrual Basis and Cash Basis
Depending on your business, you may prefer accrual basis bookkeeping or cash basis bookkeeping, and all four services offer both methods to some degree. But while Botkeeper and ScaleFactor let you choose which type of bookkeeping method you need, Pilot defaults to accrual basis bookkeeping, and Bench defaults to cash basis.
This is important to keep in mind as your business grows. In cash accounting, a company recognizes revenue when payment is received while expenses are recognized when payments are made. Accounting entries are made when cash enters or leaves the business.
In accrual accounting, the business normally recognizes revenue when invoices are sent (like when product is shipped or a project is finished). Expenses that are directly associated with delivering a product or service are recognized at the same time that the revenue for that product or service is recognized. This way, the company can match revenue and its associated expenses—regardless of the timing of the movement of cash.
These are totally different approaches that have their unique advantages and disadvantages, depending on the growth stage of your business.
Cash basis bookkeeping is often used by companies that have less than $5 million of gross sales per year. The cash basis method makes it much easier to account for transactions, since complex accounting transactions like accruals and deferrals are not needed. Most small business owners are able to comfortably implement the cash basis method. The biggest convenience of cash accounting is that it's simple; the business recognizes revenue once it receives the cash, and it recognizes expenses when payment is sent.
Accrual basis bookkeeping is often used by larger companies that exceed $5 million. This method is required for business owners that need to account for inventory, accounts receivable (AR), and accounts payable (AP). The big benefit of an accrual system is that it provides better information for meaningful decision-making. Accrual basis bookkeeping gives business owners a realistic picture of cash flow, as revenue is earned and all expenses are incurred. For that reason, it's preferred by investors and venture capitalists.

Which one is right for my business?
At Botkeeper, we believe flexibility is important and strive to work with your accounting preferences, which is why we support bookkeeping on both an accrual basis and cash basis. Botkeeper offers both accrual basis and cash basis bookkeeping. Our lower-priced packages are set to cash basis bookkeeping since this is typically ideal for smaller businesses. As you grow, we grow with you. But what if you need both to accommodate your growing business? That's a great question!
And we address it in our section about scalability.
3. Accounting and Tax Features
Botkeeper, ScaleFactor, Pilot, and Bench each offer the basic bookkeeping features most businesses need—but what if you need additional, more complex accounting, like inventory management, payroll, bill pay, tax prep, and cash forecasting?
All of the options offer cash forecasting (a plan that shows how much money a business expects to receive in and pay out over a given period of time), which is considered a bookkeeping must-have. ScaleFactor offers bill pay and payroll administration, while Bench and Pilot do not. Additionally Bench and ScaleFactor packages do not include inventory tracking.
So what about tax prep and tax filing?
Each of the four bookkeeping solutions offer some level of prep work for tax time, but one major differentiator is the actual process of filing end-of-year taxes.
Bench does not offer tax filing directly, and a Bench client's CPA would be expected to work with the proprietary Bench general ledger as opposed to the more widely known accounting software platforms (like QuickBooks and Xero).
Alternatively, in offering a "bundled" solution to their clients by including tax filing in their offerings, Pilot and Scalefactor have started to compete with most CPA firms. As most successful and credible business owners would attest to, working closely with a specialized Accountant or Accounting firm is an absolute must—which is a big reason Botkeeper works alongside your trusted CPA.
Botkeeper can provide payroll, inventory management, invoicing, and bill pay. Our goal is to provide a top-to-bottom solution for our clients, and we can work with any business (regardless of size or industry) on their unique accounting needs. To bring the best possible experience to our clients, Botkeeper can also work alongside your existing CPA, or we can help pair you with a CPA in our trusted network when it comes time for tax filing.
Botkeeper also offers a formalized Accounting Partner Program, augmenting the need for a bookkeeping department. With Botkeeper, accounting firms can offload the day-to-day blocking and tackling of bookkeeping (data entry, reconciliations, classifications), allowing accountants to focus on higher level client advisory services. Come tax time, Botkeeper has a comprehensive year-end package ready for your trusted CPA, making filing a breeze.
Which one is right for my business?
We at Botkeeper believe in providing robust bookkeeping software solutions for businesses, which is why we offer payroll, inventory management, invoicing, and bill pay. We know how impactful the relationship between a specialized CPA and their business client can be. And while we won't file your taxes with the IRS, we will make sure you're set up perfectly for tax time. If you're looking for the best and most comprehensive bookkeeping support and the flexibility to work with the CPA of your choosing (or need help finding one), Botkeeper is standing by!
4. Financial Reports
Accurate and timely financial statements are some of the most important components needed to make meaningful business decisions. Some of the most important financial statements that are needed for a business of any scale are the Income Statement, Balance Sheet, Cash Flow Statement, etc...probably all terms you've heard before. The numbers revealed through these financial statements are key when planning strategy, gauging success, and avoiding failures.

While all four solutions provide financial statements, Bench, Pilot, and ScaleFactor provide these on a standard monthly cadence. Botkeeper, in particular, utilizes human-assisted automated accounting within its reporting to save you time and money (more on this later!), allowing you to get real-time financial statements, available 24/7.
Which one is right for my business?
Startups and small businesses are typically good with quarterly versus monthly financial reports since they can analyze trends without the need to review a ledger of transactions that occurred in a span of three months. However, financials are often vulnerable to poor availability, delays, and inaccuracies.
At Botkeeper, you have access to your meaningful financials whenever you want. Why did we choose to offer this to our clients? It's simple: The decisions you make in your business should be based on the most up-to-date numbers. Instead of waiting weeks or even months to get accurate reports (or waiting for your bookkeeper to get you the right information), we give you incredible insight into your financials with unlimited reporting, as well as a customizable, beautiful dashboard that you can access 24/7, (on desktop or mobile) so you'll be able to see all your sensitive financial and business data in one place.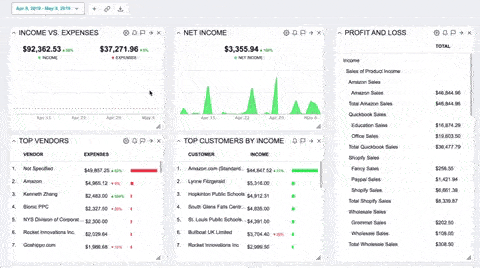 5. Scalability
Speaking of meaningful business decisions…You need a bookkeeping solution to help your business as it is now, but also as it will be in the future, which is why scalability is an important factor to consider. Bench and ScaleFactor have molded their solutions primarily to support small businesses, while Pilot has focused their bookkeeping service almost exclusively to the tech startup community.
But there are a lot of different kinds of businesses out there—amiright?!
Thousands of industries, for-profit, non-profit, big, small, and everything in between.
This is why Botkeeper was designed as an industry agnostic solution, meant to scale from startup to Fortune 5000 company.
Got a SaaS business? We eat revenue recognition for breakfast. Running a restaurant? We bet you'd like some 4-4-5 reporting. Oh, you're a non-profit? Let's get you ready for that audit.
Seriously, Botkeeper can handle it all!
Which one is right for my business?
Each business has a unique set of challenges and goals, and if you're a business owner or if you head up a finance department, you know this better than most. The big question to ask when choosing a bookkeeping solution, is whether or not it can truly grow with you. Find yourself the right partner who knows your space and can cater to your organization today—as well as when you're 10x the size you are now.
6. Catch-Up Bookkeeping
So- bookkeeping isn't really very sexy. Well- at least, most folks would say so.
And given the often manual, tedious nature of bookkeeping, staying current and accurate with your company's bookkeeping can be a daunting task—especially if you're a business owner or exec trying to do it yourself. If you've neglected the books a bit, you may have found that as more time has passed, more and more work has piled up, and you're feeling that sense of dread...

You're not alone! This is one of the biggest issues we see in the bookkeeping space.
Business owners, mostly just want to run the business—generate leads, close sales, build product, etc.... They don't want to be tied down by the tedious and monotonous bookkeeping piece. If you've been trying to manage your own Business Bookkeeping but you are unsure if everything has been captured and coded correctly (or maybe things have fallen behind as your business has grown), you need some catch-up or clean-up bookkeeping. Most bookkeeping solutions offer some version of clean-up so you can be ready for tax time, including the four solutions above.
Which one is right for my business?
The big considerations with bookkeeping clean-up are time and money.
Getting cleaned up quickly and accurately can make or break a funding round, an acquisition, audit, or even an exit. The last thing any business owner wants to hear is that major events have been stalled or tabled until the finances get cleaned up. Then of course, there's the cost associated with the clean-up. The bigger the mess, the longer it takes, and the more it hits your bottom line.
At Botkeeper, you can add any amount of catch-up bookkeeping to a standard plan. No matter how far behind you are (even years behind!), we can get you caught up quickly. We leverage automation and technology to get years worth of messy books cleaned up in days instead of months. Your team will work tirelessly to get your books in order, regardless of their current state, for a price that makes sense. Our bots live for this stuff!
7. Industry-Leading Features (We're Looking at You, AI)
Let's be real.
Bookkeeping and Accounting have been largely untouched by AI and other technological advancements compared to many other aspects of a modern day business. As shiny new tools have continued to rise and improve for sales, marketing, product, and design, the back office process hasn't really changed much in the last few decades.
However, the last few years have brought some new innovation to the space, namely, human-augmented or artificial intelligence, and machine learning. While Botkeeper, ScaleFactor, Bench, and Pilot all use elements of technology or automation, they each do it differently and in different capacities.
Bench's software component is largely the general ledger itself—an alternative to some of the more widely adopted solutions such as QuickBooks or Xero. The actual bookkeeping (i.e., categorizations, posting of transactions, data entry, etc...) is primarily conducted by bookkeepers working out of their Vancouver office in Canada.
Pilot leverages a combination of elements of automation and integrations with human bookkeepers, and all of the work as well as reports occurs in QuickBooks Online. Scalefactor has also begun to adopt aspects of AI to process and categorize bookkeeping transactions
Botkeeper is on a mission to change the bookkeeping space entirely by combining the best of both worlds: automation and senior accountants. Botkeeper's automated solution combines your various data sources while applying rules, processes, and calculations to give you the most insightful custom reporting and dashboards, while also eliminating costly and error-prone manual accounting.
But how exactly? Leveraging machine learning, Botkeeper is able to handle most of the labor-intensive (albeit important) bookkeeping tasks by processing and categorizing transactions at an incredibly high accuracy level (waaaay higher than the average level of human accuracy). As time goes by, our technology learns more about your business, and accuracy continues to improve.
These features, (along with some other awesome tech) don't just get you the information you need faster, but they also make the Botkeeper team super efficient...meanwhile most bookkeepers are often stuck trying to keep up. With these efficiencies, our accounting team is able to oversee the automation, learn your business, and focus on complex accounting, data integrity, and interpretation.
We'll be hard at work extracting data from receipts, processing payroll, paying bills, sending invoices, reconciling accounts, and generating beautiful reports—so you have more time for what matters most to your business. Even better? Botkeeper can be your first bookkeeper, work hand-in-hand with your current team, or even replace the need for an entire accounting department.
Which one is right for my business?
This question poses another more important one: do you feel innovation will help you achieve success?
The philosophy we practice at Botkeeper when evaluating solutions for our business internally is to start by finding partners who share our values and encompass a similar vision in business. This helps guide our process, and we have found it to be very successful, not to mention some of the best advice we can pass on.
Here's our spin on things: the Botkeeper solution was built not only to innovate the bookkeeping space, but to redefine it completely. Driving our solution to be better, faster, more accurate, and more secure every day is what gets us up in the morning.
8. Integration
When it comes to bookkeeping software, integration with other systems is an important subject to consider.
Finding a solution that will seamlessly integrate with your payroll, CRM, and accounting systems will definitely consolidate the time spent jumping between platforms. Having a unified solution is not only a time saver, but also a great way to avoid having data slip between the cracks. Botkeeper, ScaleFactor, and Pilot all aim to provide various integrations with most of the leading software and web applications, although Bench takes a more proprietary approach on the accounting platform side (replacing your accounting software as opposed to integrating with it).
Which option is right for my business?
9. Accuracy
For any growing business, accurate financials are crucial to operations. This is where automating the back end and data-entry functions of bookkeeping comes in handy. A big pain point in the bookkeeping space is the accuracy of the financial data. When performing repetitive and labor intensive tasks, it becomes fairly easy to make a mistake and put the bottom line in jeopardy. Pilot and Bench rely primarily on a small team of human bookkeepers, while ScaleFactor leans more heavily into its AI.
Botkeeper takes a more balanced approach. By automating the accuracy-prone functions, Botkeeper can significantly reduce the error-prone parts of bookkeeping. Bots are simply better at repetitive and mundane tasks, plus they don't forget, take time off, or get tired.
Which one is right for my business?
While all of the mentioned bookkeeping solutions claim to provide accurate and error-free reporting, Botkeeper relies on the combination of AI and Senior Accountants to consistently make it happen. On average, the Botkeeper solution performs at a consistent 99.97% accuracy rate across our 1,000+ company client base. While the tech does what it does best, our skilled accountants get to do what they do best: make our solution precise and reliable. The best part? Botkeeper continues to become more accurate as it performs bookkeeping for your organization.
10. Security
As with any financial software, security is one of the most important factors to consider. If getting your books done means climbing out from under a pile of papers—your checkbook out in the open on your desk, and your bank logins living exclusively in someone's memory—it's time for an upgrade
Any credible software-based bookkeeping solution will have taken the appropriate security measures. Bench offers bank-grade security and encryption, while ScaleFactor uses 128-bit SSL encryption. Pilot doesn't have a ton on their website regarding security, but we'll keep our eyes open!
Which one is right for my business?
At Botkeeper, the security of our client's data is our number one priority. We protect your information with 256-bit encryption within the Botkeeper hub—that's the same level of encryption you'll find with online banking and shopping. For even more security, our databases and systems are located in Amazon Web Services (AWS) data centers within the US. We leverage AWS security products so we can ensure our systems and infrastructure are configured in accordance with security and compliance best practices, plus we own our own IP.
Lastly, as a global operation, we bring on the best and brightest team members from around the world, and each undergoes thorough background checks and attends ongoing regular security trainings each year. This means you can rest easy knowing all your data is safe with Botkeeper.
11. Support
No matter which bookkeeping software you choose, having support is essential. At ScaleFactor, various people from an in-house team are assigned to help you with your bookkeeping and financial needs. At Pilot, you have a dedicated account manager who acts as your main point of contact, while the bookkeeping team operates behind the scenes. At Bench, you're assigned a dedicated bookkeeper.
Botkeeper provides multiple layers of support, so you always have the right resource available to you. Included with every package, Botkeeper clients get 24/7 support from their dedicated Botkeeper, Senior Accounting team, and Technical Support teams.
Which one is right for my business?
A couple of things to consider are the pros and cons of that good ol' human-machine balance. A big challenge we see in the industry pertains to turnover, or losing a bookkeeper. Often, the bookkeeper holds the keys to the castle—they know all of the processes, logins, nuances, and complexities in the business' financials and books. But of course, life happens! Sometimes employees move on or are unexpectedly unavailable.
So what happens to the business when accounting comes to a grinding halt?
This is where we at Botkeeper value the machine-human balance. During deployment and setup, we carefully document the specifics of your company's bookkeeping details, and then we put together a playbook to refer back to. While the tech performs most of the day-to-day, our team ensures that we are continuing to update and track any adjustments in your business bookkeeping processes to ensure that you'll never experience any bumps in the road due to employee turnover. Our team will always know who you are, who we should reach out to with questions, as well as all of the other nitty gritty details.
Pricing: Botkeeper vs. ScaleFactor vs. Pilot vs. Bench
Botkeeper, ScaleFactor, Bench and Pilot each use different pricing models, so it's not a simple apples-to-apples comparison.
Botkeeper's Pricing Packages
Unlike most bookkeeping options, Botkeeper's bookkeeping pricing packages are customizable and flexible, and your package can adjust as your business grows. We start off by offering a free plan to those business owners who have early-stage bookkeeping needs, want cash-basis bookkeeping, have around 20 bookkeeping transactions or less per month, and scale to higher-tiered options depending on their bookkeeping needs. Additionally, Botkeeper offers not only the most in terms of bookkeeping services, but also real-time reporting, a comprehensive financial hub, and mobile friendliness.

ScaleFactor's Pricing Packages
ScaleFactor's pricing changes based on various factors like the number of connected financial accounts you need and your required level of support.
They have three plans available: Get Started (starting at $399 per month), Growing Business (starting at $699 per month), and Scaling Business (starting at $999 per month). If your business has more than four connected financial accounts (e.g., two bank accounts, a credit card, and a payroll account), then you'll already be at max on their highest plan.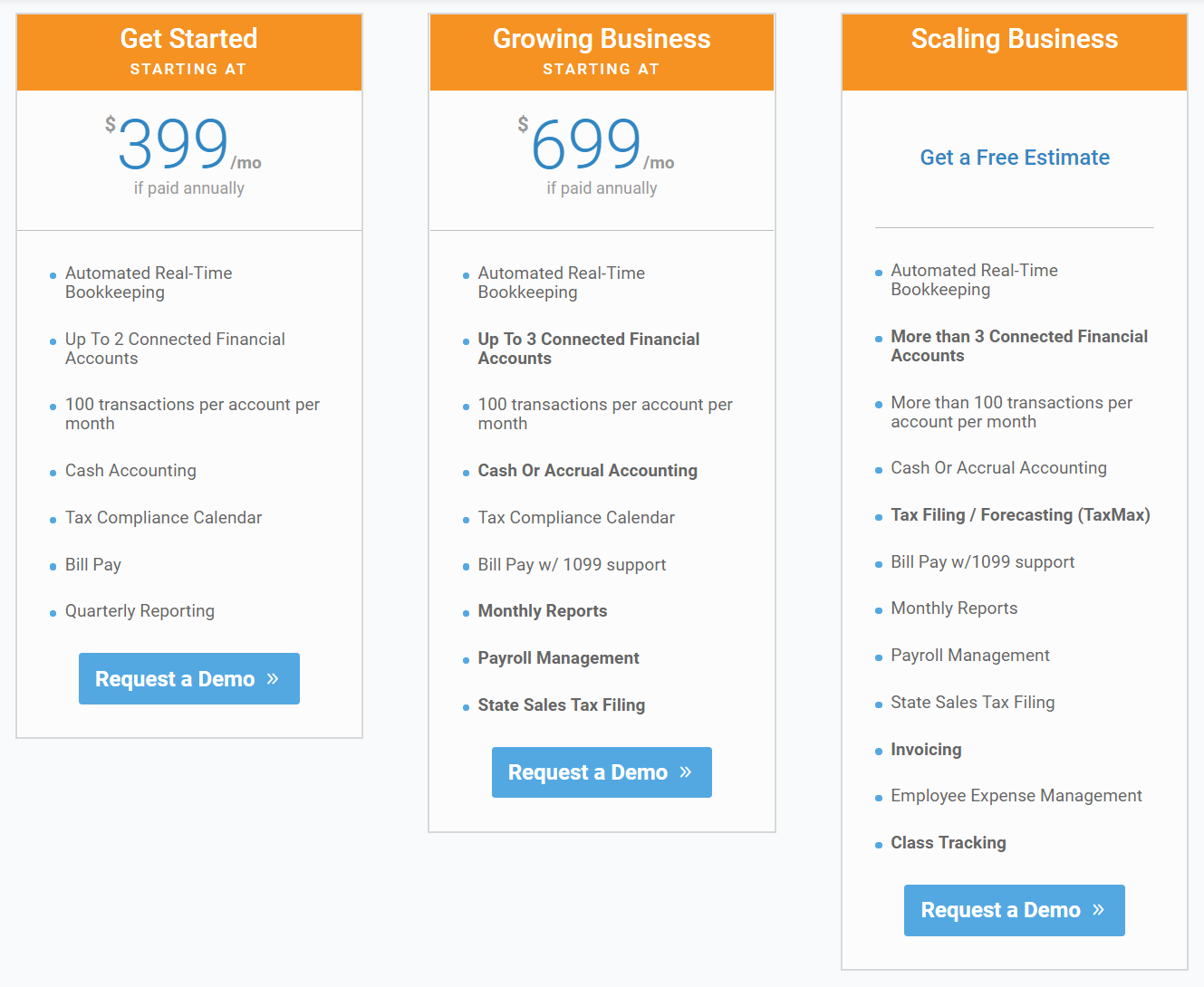 Source: ScaleFactor
Pilot's Pricing Packages
Pilot's pricing model is based on the monthly expenses incurred. When the dollar value of expenses increases month to month, so does their pricing. They offer two plans: Pilot Core and Pilot Plus.
Pilot Core ranges from $195 to $795 per month (based on your monthly expenses). Pilot Plus starts at $1,000 per month (also based on your monthly expenses) and includes everything in Pilot Core, plus support for multiple entities and locations, AR and AP, inventory bookkeeping, and special revenue recognition.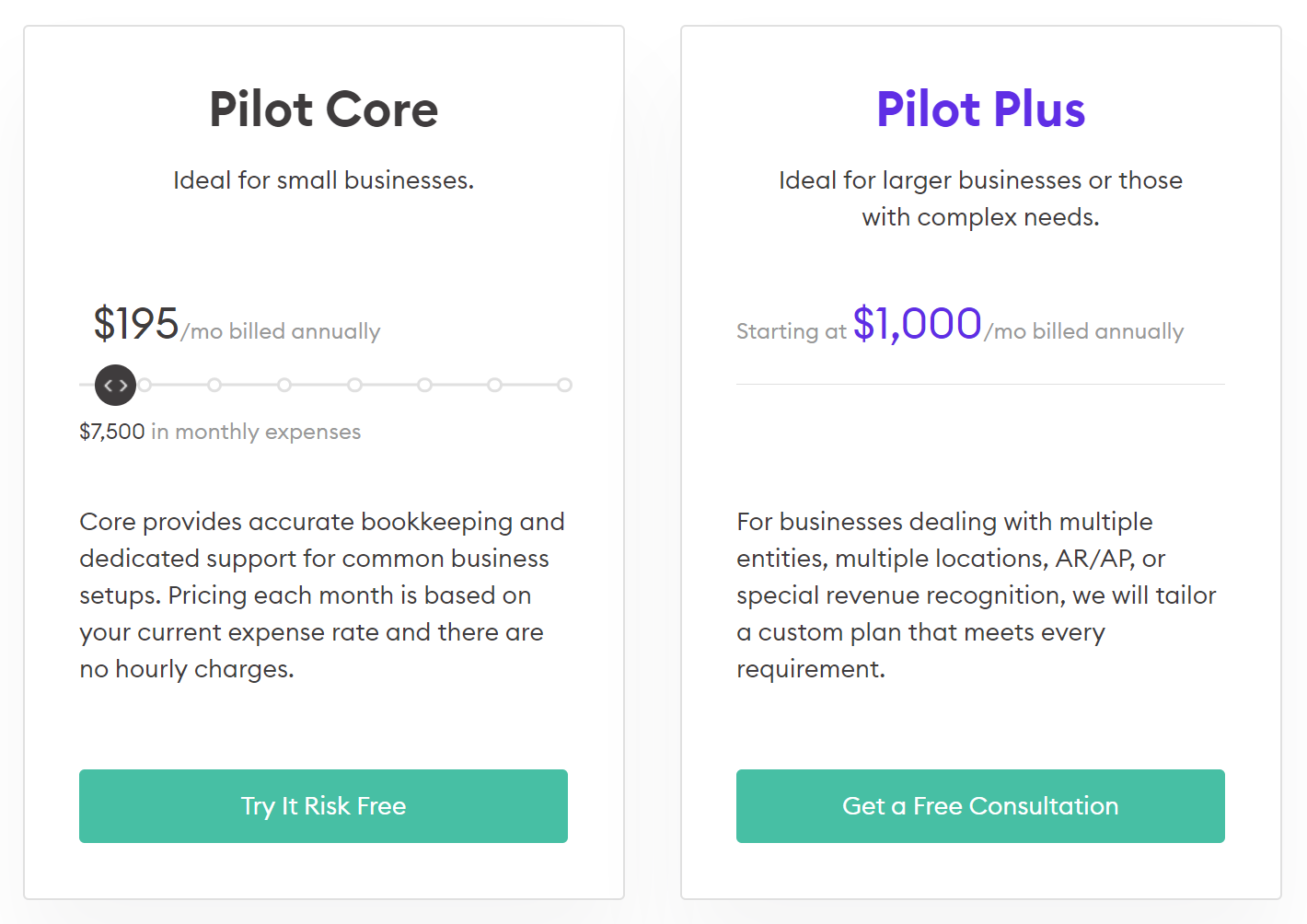 Source: Pilot
Bench's Pricing Packages
Bench's pricing model is also based on the monthly expenses; the price increases with the expense value. They offer 5 plans: Starter, Micro, Boutique, Venture, and Corporate that all maintain the same level of service and operate on a cash basis. The Bench plans include monthly bookkeeping for up to 15 financial accounts (e.g., bank accounts, credit cards, loans, merchant processors, etc.), above which, you may be custom priced.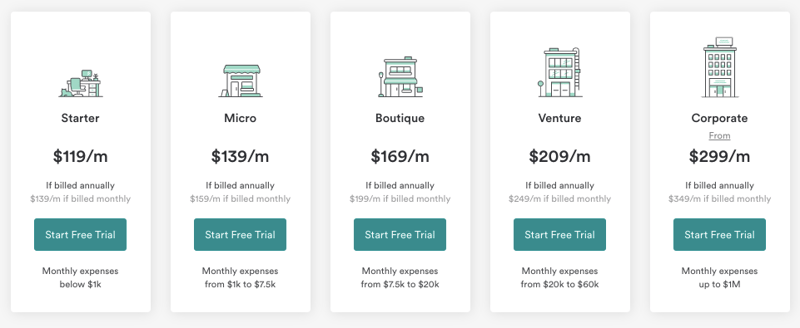 Source: Bench
Key Differences: Botkeeper vs. ScaleFactor vs. Pilot vs. Bench
Botkeeper, Pilot, and ScaleFactor all have great features to help business owners save time and money by automating their bookkeeping needs, but to sum things up:
ScaleFactor

is a good option for businesses who only have a small number of financial accounts and would like to use bookkeeping software to access and better understand their books.

Pilot

is a good option for Tech Startups

with between 1 and 300 employees.

Bench is a good solution for Startups or Solopreneurs who don't mind replacing their accounting software.

Botkeeper

is a

comprehensive solution for businesses of any size in any industry—from startup to Fortune 5000 companies—that utilizes industry-leading AI and senior accounts to provide automated, accurate, and secure bookkeeping.

Ultimately, whatever bookkeeping software you choose will come down to how each solution steps up to your unique challenges and goals.
We like to think that Botkeeper offers the best all-around package, especially at a manageable price point.
Why Botkeeper?
Botkeeper's human-assisted intelligence and round-the-clock support creates the perfect customized fit for businesses in any industry. And because Botkeeper was created to help businesses scale without wiping out your bank account, it's the accounting solution that will grow with you, regardless of how big your goals are.
The Botkeeper platform was built to make bookkeeping less painful for growth-minded entrepreneurs and accountants, so unlike ScaleFactor, Pilot, and Bench, you won't run into bottlenecks when you have a pressing question about your books. Botkeeper provides you with an accurate, updated dashboard that you can customize so you don't have to wait on an account manager to get back to you with an answer to your question. On top of that, you'll have access to an expert team of accountants for those extra complex questions that come up unexpectedly.
If you're not sure if Botkeeper is the right bookkeeping solution, get in touch with us by clicking below for a more customized analysis. Our reps are ready to answer your questions and show you how Botkeeping℠ will help your business grow!