Whether you're new to QuickBooks Online or a seasoned veteran using the software, you might not be getting the most value out of your subscription. Oftentimes, people overlook simple tips that could help them be more effective and efficient with their books, and that's why we've pulled together a short list of tips for handling your books with QuickBooks Online (QBO).
This list isn't exhaustive, and there may even be other tips that you might know that aren't shared here. If that's the case, please let us know by shooting us a note on Facebook. We'd love to hear about your methods!
1. Select the best plan for your business
This one seems pretty obvious, right? It's really important for you to go with the best plan for your business, especially so you don't end up paying for more than you need.
This includes going with QuickBooks Online over the desktop version, and it's largely for data security and accessibility purposes. The desktop version is much more limited in capability, including the inability to access your account on multiple devices (mobile, for instance), and you have to backup your data on a regular basis. Who wants to waste their time doing that?!
You can compare QBO plans here, and you can also reach out to the bookkeeping experts at Botkeeper for help selecting the appropriate plan—they'll make sure you get the most value for the best price.
After you've selected the right subscription, connected your accounts, and gone through the handy QBO helper steps (or skipped them because you have 34 other things to get done by 5), you'll be ready to get into the thick of it. Rather than manually enter individual transactions that occur over and over, you can automate this process by setting up recurring transactions. Bills, rent payments or income, purchase orders from suppliers, monthly fees for your customers, etc., are all perfect opportunities for recurring transactions.
You can even go a step further and set up recurring invoices prepared in advance—saving you loads of time! And of course, your Botkeeper can handle recurring transactions and invoices for you so that you don't even have to think about it each month.
Note that recurring transactions aren't available in the Simple Start subscription.
3. Use keyboard shortcuts (or hire a botkeeper and don't)
Do you remember life before CTRL+Z? Neither do we, because shortcuts literally make performing tasks take less time. As with any other application, you can leverage the built-in keyboard shortcuts for QuickBooks Online, including the following common commands: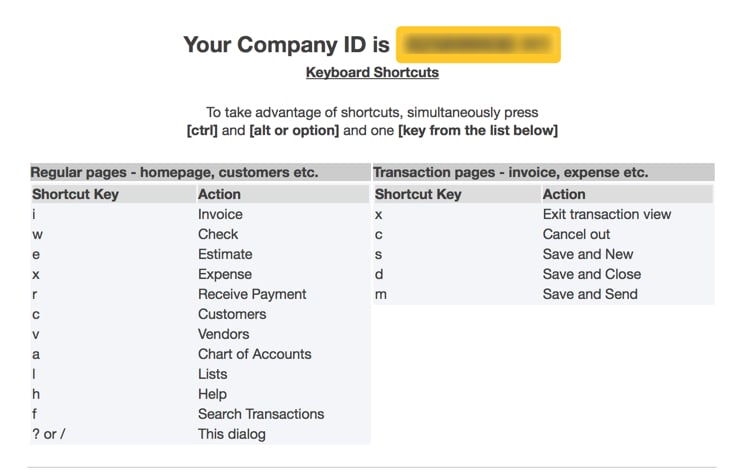 This menu should appear for you if you hit CTRL + ALT + ? for PC or CTRL + OPTION + ? for Mac. Once you get used to these shortcuts, you'll be whizzing around QBO like a financially responsible hummingbird.
Again, you won't need this list of shortcuts if you leverage Botkeeper to manage all of your bookkeeping tasks….
4. Use spell check (or don't)
Spelling correctly is very important in business and building brand credibility. But sometimes it actually messes things up, like when QuickBooks sees changes Xcel to Accel and miscategorizes your utility bill. You can easily turn spell check off by navigating to Edit > Preferences > Speller, and then it's as easy as unticking the "Always Check Spelling" box.
An alternative is to hire a bookkeeper you can trust to catch such errors, or you can do it yourself. Although, neither of those is the most effective or efficient approach. This is a task best left for automation.
5. Set up custom reporting
Like recurring transactions and invoices, you can create customized reports in QBO to make your life a whole lot easier. This can apply to the prebuilt Profit & Loss, A&R Aging, A&P Aging, etc., reports that QuickBooks offers. All it takes is navigating to your reports page, selecting the desired report, and customizing it. You can also set up automatic emails to be sent when your report is ready. You can learn more about setting up your own custom reporting here.
Reliable reporting is crucial to the health of any organization, but this tip only accounts for the financial side of your business. Learn how you can consolidate all your reporting—including reports from your CRM—in one dashboard without breaking the bank or pulling your hair out.
6. Create monthly reminders to reconcile your accounts
Closing your books at the end of the month doesn't have to be a dreaded task. In fact, if you follow these tips, along with general bookkeeping best practices, your books will be in good enough shape that reconciliation shouldn't be too painful. That is, if you remember to do it.
That's where your calendar comes into play. Create monthly calendar events so that you're not only reminded to reconcile your accounts, but also so that you make sure you have time allotted to the task. There's nothing worse than having to work late just because your calendar filled up before you could prioritize your tasks!
For more information, see our easy-to-follow guide on how to reconcile in QBO.
7. Automate your bookkeeping
This final task is surely no surprise by now. Every single one of these tips, as well as scores of other business-critical tasks, can be completed by a bookkeeper. But the problem with bookkeepers is that they make mistakes, especially when they're stressed and crunched for a deadline.
Enter botkeeper—your affordable, accurate, and ever-available automated bookkeeper. You'll never have to worry about paying your bills, categorizing expenses, or reconciling accounts at the close of the month when you have a botkeeper. Plus, Botkeeper links to most major software so you can find all your important financial and customer data in a single dashboard.
There are plenty of tips and tricks you can learn to manage your books on your own, but why waste the time and money you could be making? Focus on your business and let Botkeeper handle your bookkeeping.