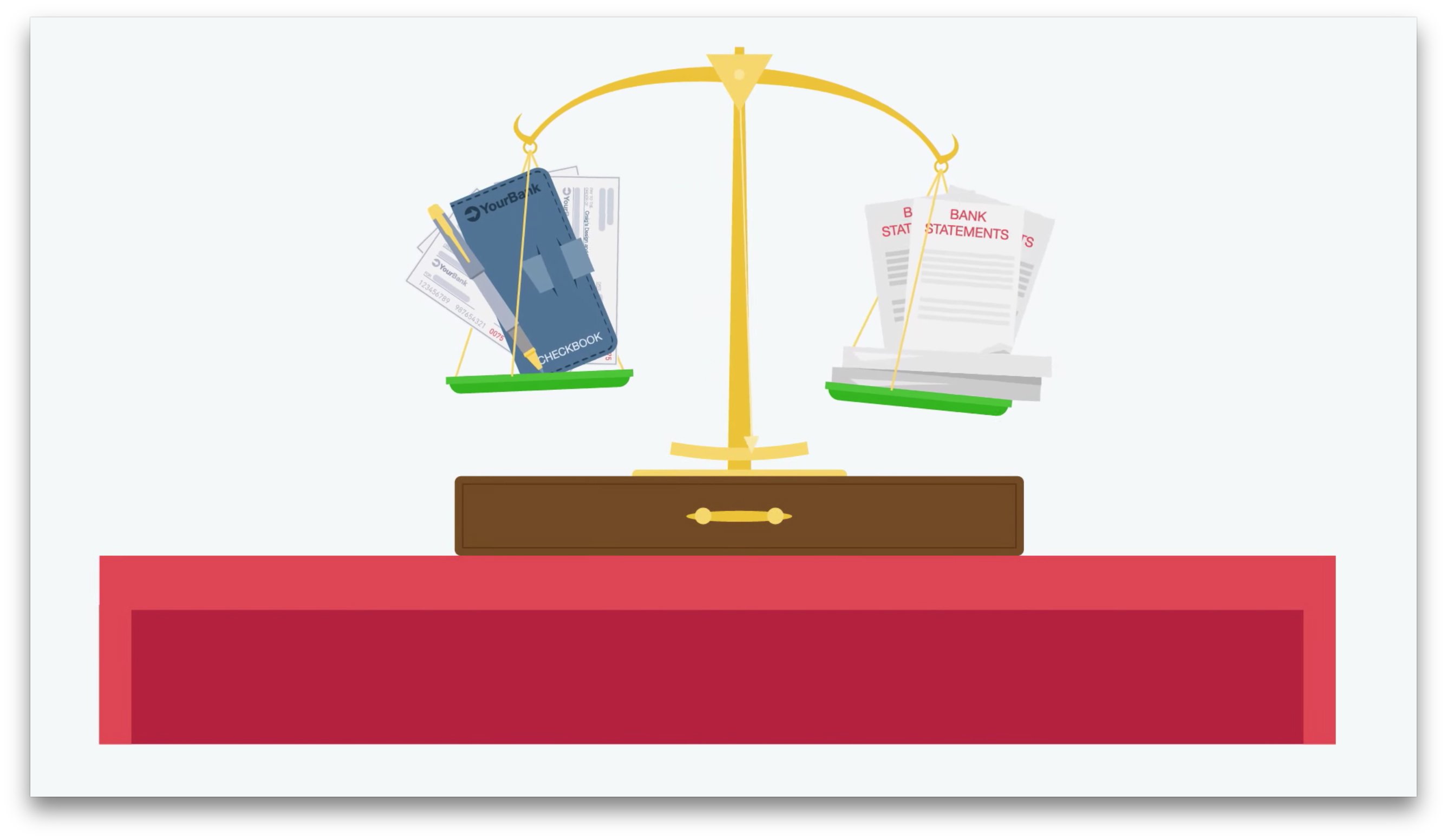 Trying to reconcile your accounts in QBO? Reconciling is the process of matching transactions into QBO against your bank or credit card statements. A fundamental piece of good bookkeeping is routine account reconciliation, the process in which you match up your transactions in QuickBooks Online (QBO) with your bank statement and credit card statements. In addition to being every amount of fun as it sounds, it's a really helpful process to make sure that your bank accounts match up with your accounting system, and you're not at risk of overspending based on what's actually in the bank. It's a similar process to balancing your checkbook. Before you attempt to reconcile on your own, check out our step by step guide below!

Why do I need to reconcile my bank accounts?
We've already acknowledged that it's important to make sure your bank and credit card accounts match up with what's in QBO for spending reasons, and it's not hard to imagine why. Say you go to make a big purchase—new laptops for your growing tech team—and your card is declined. The last report you reviewed showed enough credit available, but the data was incorrect.
Staying on top of your accounting by reconciling your accounts on a regular basis also helps protect you, as you'll quickly know whether or not any fraudulent charges have been made using your bank or credit card information.
You want to be able to make the most informed decisions for your business, and having accurate, updated data will help you do that. Moreover, filing your annual business taxes will be much easier if you get in the habit of reconciling your accounts on a regular basis. After all, expert accountants and successful business owners know that the best time to start preparing for tax season is year-round.


When should I reconcile my accounts in QuickBooks?
The best approach to reconciling your bank accounts is to make it a monthly habit as soon as you receive your bank statements. The advantage to that is if anything is off and you need to make a correction, you can do it quickly to prevent any other issues from arising.

Helpful terms for account reconciliation
You'll want to know exactly what we're talking about here, so it's helpful to familiarize yourself with a few key terms.
Beginning balance — the amount of funds (available in your bank account or owed for credit card accounts) at the opening of a new month or financial period
Beginning date — the date a new financial period/statement month begins
Ending balance — the amount of funds (available in your bank account or owed for credit card accounts) at the end of a month or financial period
Ending date — the last date of the previous financial period/statement month
How do I reconcile my accounts in QuickBooks?
It's pretty easy, and here's how to do it. Note: these steps are written out under the assumption that your bank and credit card accounts are already connected to QBO. If you need help connecting your accounts, here's a step-by-step guide.
You'll need important information that's found on your bank statement, so make sure you have it handy for the account you're reconciling.


Go to your navigation bar and select the Accounting tab. Then select one of your accounts to review before moving onto the others.


You'll be prompted to enter the ending balance and date in the boxes that appear. You can find these on your bank statements and you'll want to enter them as they appear.


Review each line of the account and make sure individual amounts and the aggregate totals match your bank statement.


If everything is correct and matches up, you should see a $0 difference reported by your QBO account.


Rinse and repeat for the rest of your connected accounts.
What do I do if my accounts don't match with what's in QBO?
If after you've completed your account reconciliation you still don't have a $0 balance, don't panic. Common causes for this are bank service charges, checks that haven't cleared your bank yet but are already entered in QBO, deposits you've entered but haven't cleared your bank yet, or transactions that posted to the bank but aren't recorded in QuickBooks. These are all okay!
Not to sound like a guilt trip from mom, but this sort of discrepancy can be avoided by regularly reconciling your accounts—especially since it's hard to recall transaction details if you're looking back more than a few months!
Go one-by-one and review the transactions again. If you see a major difference, you've likely missed something. And if you're still boggled by the discrepancy after doing your own research, reach out to your accountant for help.
Remember that transactions that have been reconciled in the past can be modified, deleted, or added, or your reconciliations can be adjusted depending on your financial situation. Either way, there's no need to panic, because Intuit offers helpful articles on how to fix incorrect/zero beginning balances and dealing with reconciliation discrepancies.
Again, the main point about reconciling your accounts is to do it regularly. It might be helpful to set up monthly calendar reminders and block off time on your schedule to deal with your books. Surely, as you get more comfortable with the process, you'll get faster at it and will eventually be able to complete the task in mere minutes, just like an accounting pro!


Need help reconciling your books?
While reconciling your accounts isn't rocket science, it can take some time to get it all under control. If your situation leaves little to no time for you to manage your books the right way, then consider outsourcing your bookkeeping. The human-assisted automated bookkeeping offered by Botkeeper is the perfect solution for any startup or small business that's strapped for cash and time. You can save up to 50% of the time and money it takes for a traditional bookkeeping solution, and with Botkeeper, your data is always accurate and available to you.