Let's have a quick chat with Joyce Lee (Founder of Nibble) for this week's Startup Spotlight. Nibble Snack Shop is a Boston-based retail startup that looks coast-to-coast to find the tastiest snacks and brings them all together in one place.


Tell us more about Nibble and how it started!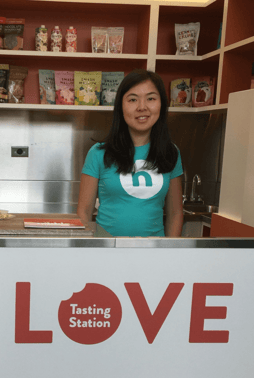 I'm a big snacker. I always have been. I used to work in Downtown Crossing and when I wanted a snack, most of the time that meant walking across the street to Walgreens and grabbing a bag of nuts. I've been a lover of snacks for as long as I can remember.
But recently, the options out there left me uninspired. It's the city of plenty, so how come there aren't plenty of options? With so many tasty snacks out there, why is it that, when the time came for a snack, it was so challenging to find a good one? How can we fill that void? How can we bring together exciting snacks that are convenient and accessible?
After spending years in the food industry, I knew there were plenty of amazing snack entrepreneurs out there. They just needed some shelf space so people could find, try, and love them. From this realization, Nibble was born. The concept was to provide people with a convenient place where they knew there would always be something new to try. Our mission is to curate the best snacks from smaller food brands and offer them in one place where people can explore and try snacks that are not available at larger retailers.
Unlike the traditional retail space, we use a high touch model, and engage with customers to introduce them to their favorite new snack. We also have strong relationships with the food entrepreneurs we partner with. We share the stories behind each snack and provide samples to curious snackers. We feature a new product everyday to talk about and educate others on that brand. We think this concept has been incredibly effective for people who are apprehensive to try something new.
We are staying in the Boston area because we love the passion for food and small businesses this city has. We launched with a brick-and-mortar storefront pop-up in Kendall Sq. for 8 weeks last winter. That was an amazing opportunity to connect with consumers and really get a sense of what snackers in Kendall Sq. are looking for in a snack. Simultaneously, we were giving a lot of these brands an opportunity to get in front of an audience that otherwise wouldn't be able to find them in the Boston area. We are now on the quest to find our next brick-and-mortar location.
In the meantime, we continue to build brand awareness by doing a number of different pop-ups at various office lobbies and residential buildings. We bring our mobile snack crate and set up shop, connecting with customers when they're in the mood for snacking but unsure of what they might want, just like I once was.
What are some snack businesses that you work with?
So many great ones! We've partnered with over 80 brands so far. Here are a few food entrepreneurs we partner with: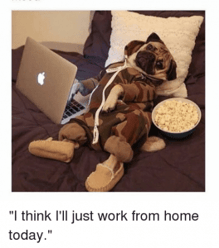 There's Kala Beautiful Beans. They're a roasted fava bean that's crispy and crunchy, full of flavor, plus incredibly high in protein and fiber.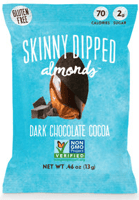 Skinny Dipped is a lightly coated chocolate-covered almond that uses a high quality dark chocolate. They put a bit of salt on it and they don't use artificial flavors or colors. It's definitely a fan favorite for a lot of folks.
One of our most popular local snacks is Kalahari Biltong. It's a South African style of meat snack that is air dried and sliced thinly. It's more like prosciutto than jerky. Biltong is a clean snack that's high in protein and has no added sugar.
These brands have a good intersection of the many different characteristics that we're looking for. Something salty, savory, and sweet. So, it's been good and we're always discovering new brands and vice versa. We have a lot of people introducing us to new brands. We love that people are starting to know that we're out there.
Do you have any specific events lined up in the future?
Our real focus right now is discovering more places to pop up and provide snack packs, as well as trying to figure out how we find that next brick-and-mortar location. Real estate is crazy in Boston. We have to find the right size in the right place. So we're being patient which allows a lot of flexibility to connect with different places and explore.
We just recently launched a curated snack pack program where the client tells us their likes and dislikes, as well as allergies, and we personally tailor our selection to the clients' wishes. It's a great way for us to understand our clientele and their different taste preferences, while giving customers a more personalized selection of snacks. There's no subscription or commitment required.
But we're exploring the business model behind curated snacking and how we would deliver the snacks to meet the needs of the customers. For the most part, people in Boston have been happy with the concept because they don't have to think about it. They get a good array of snacks and quantity is determined by how much they want to spend.
What are some of the pain points that you're experiencing?
Aside for the obvious of growing into a profitable business, the two biggest pain points for us are: finding real estate and growing brand awareness. We'd love a brick-and-mortar location, but we haven't found a more permanent space and real estate in Boston is expensive. In addition, we need to continue building our brand awareness. How do we continue getting out there and telling people about what we do?
How do you collect feedback about the brands from your guests?
We take a very personal approach to feedback. Given our high interaction level with our guests, listening is very important to understand which snacks resonate with them and why. We then take this feedback and share it with the brands we partner with.
Do you have any tips or pointers for similar entrepreneurs like you?
Keep an open mind to new ideas. Stay open to things that might come your way. Our mission is supporting small snack brands and being focused on connecting them to the right customer base. I really try to keep the big picture in mind of ultimately getting snacks to people who are looking for interesting snacks. Keep testing things. Testing and learning is incredibly important as you never know what you're going to learn.