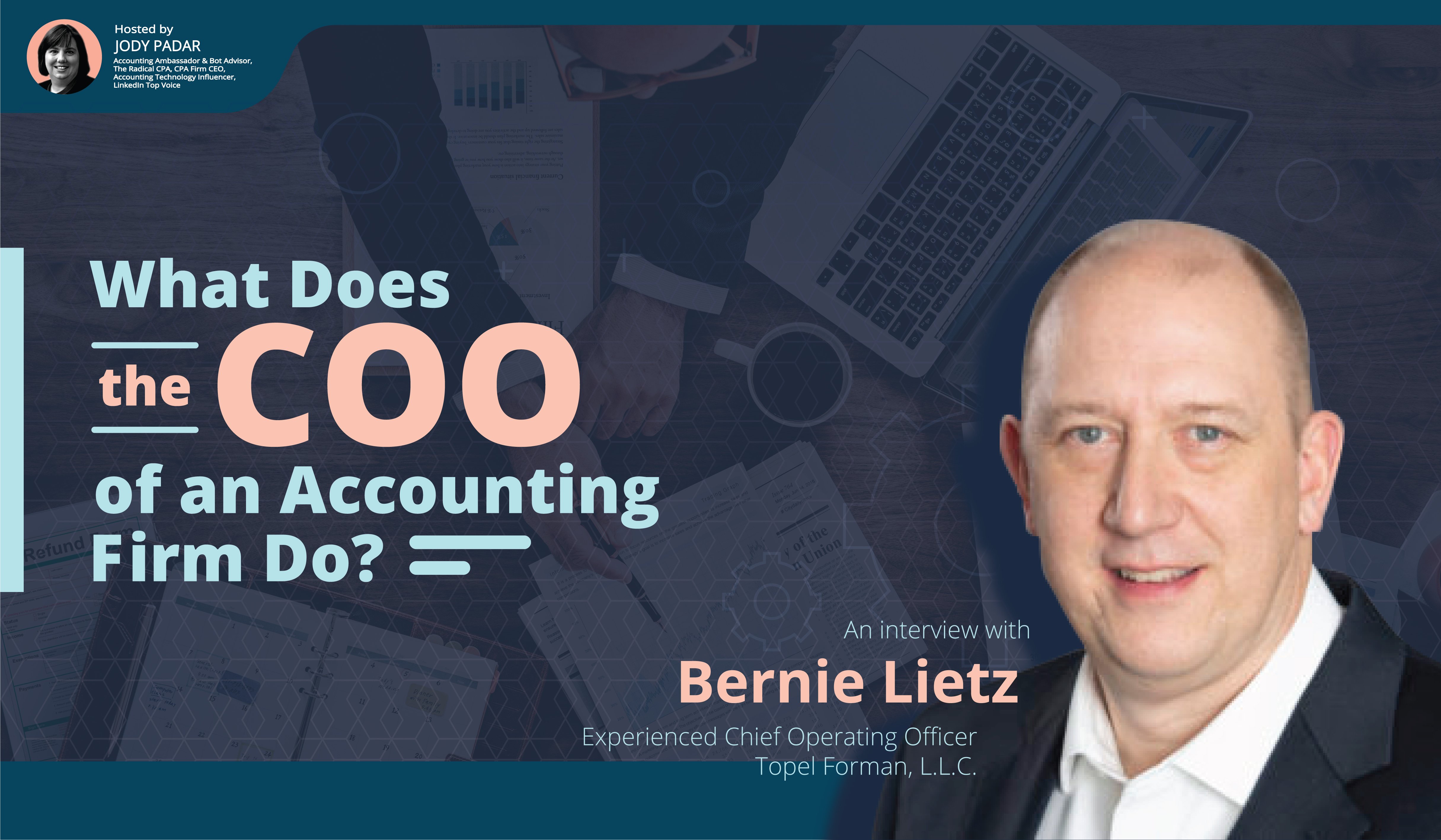 Another installment in our CPA Insights series, the Radical CPA Jody Padar sat down with Bernie Lietz, COO of Topel Forman in Chicago, at the AICPA ENGAGE event. Among the hot topics covered were what it's like to lead a firm while balancing lots of different voices and opinions, as well as this year's NBA Finals.
Lietz also described his interesting journey implementing value pricing at CPA firms. One of his previous CPA firms was one of the first in the industry to implement it about 8 years ago, so he knows what it takes to move in the direction of focusing on value for the client.
Despite nearly a decade of time passing, Lietz said the first step to starting value pricing in a firm is the same: it's about having that initial conversation with your clients.
Read the edited interview to learn more about that below, or click the video to listen to the audio recording.
Jody Padar: Welcome back. I'm Jody Padar, The Radical CPA and you're listening to Let's Get Radical live at the AICPA ENGAGE event at the MGM in Las Vegas. It's awesome here. Our next guest, Bernie, is actually part of a different type of employee at a firm.
He's actually not a CPA, but he is the COO of a firm. So, Bernie, why don't you go ahead and introduce yourself, and tell us a little bit about what your role is at a firm.
Bernie Lietz: Sure. Well, thanks for having me here. I'm Bernie Lietz. I'm the COO of Topel Forman, which is a CPA firm in the Chicago area and we also have offices in Denver, as well. We're just under 100 people. It's a new role for me; I joined the firm in January, and they decided at that point they needed and wanted to have somebody come in and really help the partners run the practice.
So my role is to help oversee all the key functional areas of the firm with the managing partner, including finance, administration, facilities, marketing, IT, and human resources. I do a little bit of everything in the firm, and my role is really to work day-to-day with the managing partner and the rest of the partners to run the firm.
Padar: That sounds like a big job.
Lietz: It can be, but it's a rewarding job, as well.
---
---
Padar: So is this a new role for a firm to have a COO? How has that evolved from firm administrators? Tell us about how this role works within a firm.
Lietz: There are different levels of people who are firm managers at different firms. A lot of it is dictated by the size of the firm and how progressive the leadership is. I think what you find is the firms that realize that for the partners, the best way for them to grow the firm is to bring in somebody to help them run the day-to-day operations.
We'll have somebody in that role. It could be a firm administrator, a firm manager. As firms get larger, that title looks like director of operations or chief operating officer or chief administrative officer. So, it really works differently. Each firm is unique. I think it's kind of up to them to define how they want it to work.
Padar: ENGAGE this year has combined with an organization I think you are part of or know of. Can you tell us a little bit about that organization and what kind of classes they offer for people like you?
Lietz: I've been a member of the CPAFMA (CPA Firm Management Association) since 2005, since I joined the industry. It's really a great resource for people that run accounting firms. There are people from different backgrounds. I came from advertising and marketing.
When I started in the industry, I really knew nothing about public accounting other than that the dynamics of running a professional services firm are pretty common in different industries. So this organization allowed me to connect with people locally and regionally in Illinois as well as on a national level. We collaborate and support each other and come up with ideas and figure out ways to work in our organizations.
Then there are local chapters that have meetings and then a national conference every year where people get together and share best practices. It's great when that organization and ENGAGE get together because we can really branch out and get the benefits of seeing the practitioners and seeing different areas that we are involved in on a day-to-day basis anyway.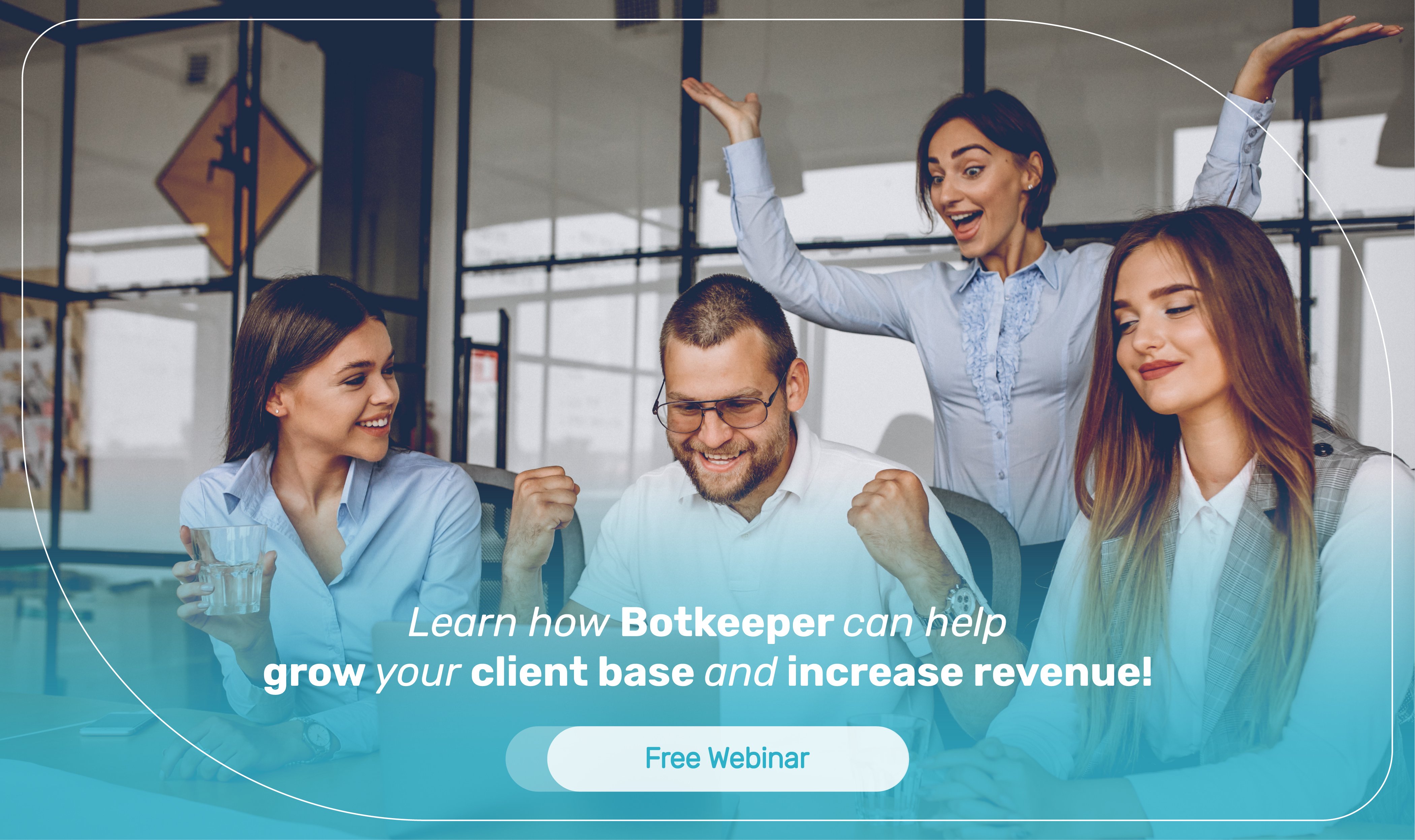 Padar: Yeah, I think that's one of the best parts about ENGAGE—it fits so many people at whatever level they are, whatever role they play in a firm. It brings everybody together in one spot, whether it be marketing, COOs, partners, tax, audit, everything. That's one of the cool things about ENGAGE.
You work in a large partner group, what's it like to manage difficult CPA firm partners?
Lietz: It can be very challenging. Certainly, as firms evolve, they go from a governance structure of partners doing everything to partners giving up more control, and it can be a challenge if people want to be involved in every decision, and certainly, not everybody agrees on ways to run the firm or things to do. It comes down to the leadership and having a strong leadership group, either a managing partner or an executive committee that says, "This is the direction for the firm.
This is what we're going to do." Then that empowers somebody like me to make the day-to-day operating decisions that support that structure. It certainly can be a challenge. Ultimately, you want people to be on the same page, and if you have that structure and empowerment from the leadership group, it makes that a lot easier.

Padar: I know you've had multiple similar roles at different firms. What are some lessons that you've learned along the way that you wish you would have known before?
Lietz: I think the dynamics of a lot of firms are pretty similar. This is the third firm that I've been with. I think a lot of the issues that I feel like we were dealing with as an industry in 2005–2006 as I was learning about the business and what we're dealing with today are very similar. We're trying to compete for the best talent. We're trying to develop people.
I think what's really changed and maybe what we didn't see coming was how much flexibility people really want and need. And as a profession, we're struggling to adapt to that, and I think that the more progressive people can be about thinking about what work needs to be done and the results that we need to manage, I think the more apt your firm will be to accommodate people and move forward and find a structure.
I also think that CPAs are very similar to professionals in other businesses, but they tend to be fairly risk-averse. So if you have an idea that's unconventional, they may not be the first to jump in. But after they do their research and find out a little bit more about it and you get some buy-in, then they will support you.
I don't think I realized how risk-averse people can be, and they're concerned about, "What are other firms doing and how do we fit in?" and, "are we going to be the same?" I think what you need to focus on is how can you really offer value to your people and to your customers that you're trying to serve.
---
---
Padar: There's some buzz in the profession about value pricing, and you're kind of an expert in it. Tell us about your journey, from when you used to use it at your old firm to maybe how you would implement it in a firm today.
Lietz: Back in 2011, I was with a firm in Chicago called CDH, and we implemented value pricing throughout the whole firm. They're still a value pricing firm today. The best thing about value pricing—and I alluded to this in my last comment—is what is best for your customer and ultimately, how do your people adapt to that?
Customers like to know in advance what services they're buying, how you're adding value, what it's going to cost them, how they're going to work with you. In a lot of cases, we structure projects like audits or other things with a fixed fee engagement and a scope. Then, we operate really with a price in mind, but we don't call that value pricing.
The mindset from, "This is how we work already," to really adopting a model where the most important thing is the value delivered to the customer and what their expectations are and how you might work with them. The operating model inside the firm is what people see as the problem.
I think we've been having some conversations in our firm about, "Is this something that we're ready for, and how do we take the next steps?" Again, understanding that having those conversations with your customers and really being an advisor is what they're looking for.
If you can figure out a way to operate so it benefits them and makes things easier for you, then everybody wins. Starting with sitting down with your clients and looking at the relationship and looking at what services you offer and having a conversation with them about what value are we really delivering and what is that worth to you? I think that's the first step.

The operating part of it tends to come along with that. You have agreements and some firms use timesheets. The firms that are really progressive bill without time and just operate based on projects and change orders and lots of communication with the client.
And ultimately, I think that's the goal because you're not focused on your internal inputs; your focused on what's important to the client. I think doing it today, you really start at the same place, which is having that conversation with your client.
Padar: I think that the culture of the profession is more ready. It seems more ready than it was when you took the lead with CDH.
Lietz: It's been eight years since we did that, and in many of the sessions I've been attending today, you hear people talking about alternative fee arrangements or fixed fee arrangements or other ways of operating. It's become more commonplace. I think more people are interested in it. I just think, again, that risk-averse personality leads some firms away from trying it out themselves.
Padar: Yeah. So I'm gonna ask you my favorite question. What did you do in Vegas last night?
Lietz: Well, I was out pretty late. I sent my wife a text this morning, about 6:30, and she asked if I was just getting back. And I told her that, yes, I had worked my way back and I was only down twenty-six thousand dollars. So it was a long night.
No, I actually was out with a partner from our firm watching the NBA finals last night, which was a pretty exciting game. So that's what I was out doing. I'm not much of a gambler, but I enjoyed meeting up with a few people that I know from the industry and connecting with them and then watching the game.
Padar: That's awesome. Thank you for being a guest on Let's Get Radical.
---
As a COO at a large accounting firm, Lietz is a bit of a pioneer in his field. But his role is becoming more common, as he described in this interview, and it's made possible through trusted operational processes and tech like automated bookkeeping by Botkeeper. Click below to learn how you can get the most out of your bookkeeping with a free assessment!