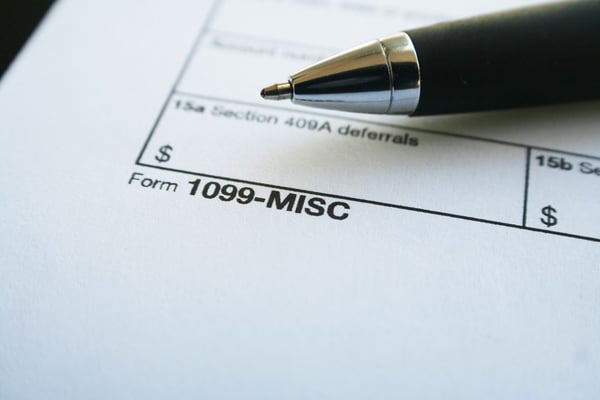 Of all the tax forms you might see gracing your mailbox, one of the most varied has to be the 1099. The form itself is simple enough to understand—the 1099 records income given to you by any person or entity that isn't your employer. You'll see them most often from these folks:
Businesses paying their independent contractors;

Banks that pay interest on savings;

Financial entities that manage stocks or mutual funds;

State entities that deliver tax returns.
And as a business owner, there's a good chance you'll receive a few of these. (And you'll probably be generating a few of your own!) Knowing why you received each one will give you the information you need to claim your maximum business income deductions come tax time.
After all, you have to pay your taxes—but you don't have to leave a tip.
1099-A, Acquisition or Abandonment of Secured Property
Form 1099-A involves money lent in connection with properties, most often seen in mortgage lending. In this case, if any part of your mortgage was canceled, the IRS will view this as taxable income and require it to be reported via 1099.
1099-B, Proceeds from Broker and Barter Exchange Transactions
Form 1099-B involves the exchange of securities, property, cash, stocks, commodities, and any other type of exchange made through a bartering system.
1099-C, Cancellation of Debt
Form 1099-C is given to debtors by financial entities that cancel debts of $600 or more. Consumers most often see this form if they negotiate debt forgiveness on their accounts (such as their credit cards). Like a cancelled mortgage, this forgiven income is taxable and must be reported.
1099-CAP, Changes in Corporate Control and Capital Structure
Form 1099-CAP is given to shareholders when their corporation undergoes a significant change in capital structure. If you're a shareholder and received cash or stock as a result of a restructuring like this, you may receive this form.
1099-DIV, Dividends and Distributions
Form 1099-DIV is used by financial entities that distribute dividends to investors. These are sent to investors who receive returns (such as capital gains from mutual funds or stocks) that need to be reported.
1099-G, Certain Government Payments
Form 1099-G is used for a variety of government payments, including unemployment compensation, income tax refunds, taxable grants, and more. The average person runs across 1099-G most frequently for tax refunds and during periods of unemployment—both of which should be reported on your taxes.
1099-INT, Interest Income
Form 1099-INT most commonly applies to those who receive interest payments of $10 or more from their banks or financial institutions. It may also be applicable for individuals whose income is withheld under certain reporting rules, as well as in situations of foreign tax withholding.
1099-LTC, Long Term Care and Accelerated Death Benefits
Form 1099-LTC is filed by insurers who make payouts for long-term care insurance or life insurance policies. If you received payouts from either of these types of policies, you will receive this form.
1099-MISC, Miscellaneous Income
Form 1099-MISC applies to any other income not covered in the other 1099 categories and most commonly include the following income sources:
Royalties or broker payments in lieu of dividends or tax-exempt interest (at least $10)

Prizes or awards (at least $600)

Rents (at least $600)

Any services performed by contractors not specified as employees.



1099-OID, Original Issue Discount
Form 1099-OID applies to the purchase of bonds or notes at rates discounted from their original face value. While there are some restrictions, the form will generally be sent when the OID discount is at least $10.
1099-PATR, Taxable Distributions Received From Cooperatives
Form 1099-PATR applies to members of co-ops who receive $10 or more in patronage dividends over the course of the year.
1099-Q, Payments From Qualified Education Programs (Sections 529 and 530)
Form 1099-Q applies to distribution from qualified tuition plans, such as the 529. You may receive this form from your child's school, or from the government itself.
1099-R, Distributions From Pensions, Retirements, Annuities, Etc.
Form 1099-R is for profits received from retirement plans, profit-sharing programs, IRAs, or annuities. You may not owe income taxes on all of these disbursements, so the 1099-R is often just for record-keeping purposes.
1099-S, Proceeds From Real Estate Transactions
Form 1099-S applies to any sale or exchange of real estate, usually provided to consumers from their real estate broker or agency.
1099-SA, Distributions From an HSA, Archer MSA, Medicare Advantage MSA
Form 1099-SA is sent to those who receive disbursements from their health savings accounts, Archer medical savings accounts, or Medicare Advantage plans.
Understanding the 1099
Clearly, the 1099 applies to plenty of individuals, regardless of their employment or sources of income. Remember, not all income included in a 1099 will be taxable, so if you receive one, make sure you understand why you have it and what steps to take moving forward.
Full details about the IRS 1099 can be found here.
Ready to worry less about 1099's?
Botkeeper can help. If you or someone you know is ready to offload their bookkeeping work, let's talk!