11 min read
Botkeeper vs. Veryfi — Which One Is Right for Your Business?

Kierstyn Kalman :
Mar 23, 2020 2:00:00 PM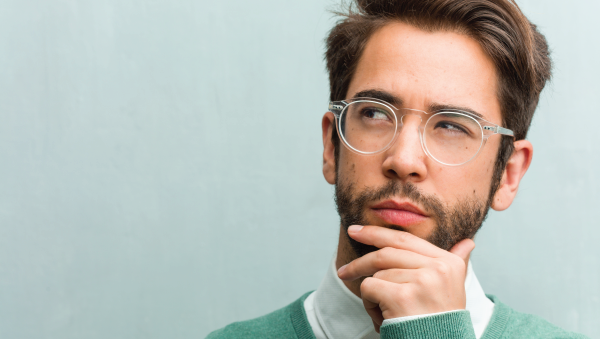 Watching the accounting space over the last 5 years has been quite a whirlwind for an industry that was like a dinosaur for more than a decade! Within those prehistoric times, many accounting firm and business owners associated doing their books with the words "time-consuming" and "tedious," and it makes sense — to this day, many accounting firms rely on spreadsheets to manage their clients' books. Can you believe that?!
But thanks to bookkeeping solutions like Botkeeper, this all has changed. Now, whether you're a startup accounting firm or billion-dollar enterprise, getting accurate books in a timely fashion with a higher accuracy rate than ever before is nothing more than a click away — rendering the old ways of doing your books extinct, much like those dinosaurs.
But before you make an investment in new software, you might have a few questions. How do I choose the best bookkeeping service for my accounting firm or business? How do I make sure the solution I pick can grow and adapt with my needs? Which solution is best for reaching my goals?
Good news: there are many options available to help you get your bookkeeping done accurately and without breaking the bank. However, we know this can be overwhelming when you're left comparing option to option by yourself.
Get a free custom analysis for your accounting firm or business by clicking here.
That's why we've pulled together helpful comparison documents to make the process easier. One such option is called Veryfi, a Silicon Valley-based accounting solution that promises speed, security, and accuracy. But how does it stack up against Botkeeper?
Let's dive in!
Before You Begin: Due Diligence
To keep with the question theme (life is more questions than answers, after all), and to help you think through what the best bookkeeping solution for your accounting firm or business is, you'll want to focus on your goals and needs.
As an accountant:
Do my clients need real-time financial reports to support growth goals?

Do I need a solution to scale with their businesses? And my own?

Am I behind on client books, and do they need a clean-up?

Will the bookkeeping service integrate with my clients' existing software such as QuickBooks Online, or will it be a hassle?
To further help you through this process, we've included a comprehensive list of questions to consider during your evaluation in another helpful bookkeeping solutions comparison blog.
By taking the time to think through your pertinent questions before doing your research, you'll know you're picking the right bookkeeping solution for you and your clients' businesses now and as they grow. Luckily, Botkeeper has already done some of the leg work for you by comparing four of the most popular solutions: Botkeeper vs. ScaleFactor vs. Pilot vs. Bench.
Now we'll take a look at Botkeeper vs. Veryfi.
As a note: we always try our best to make sure each company is represented honestly and fairly because we want you to have all the facts. Confidence is key!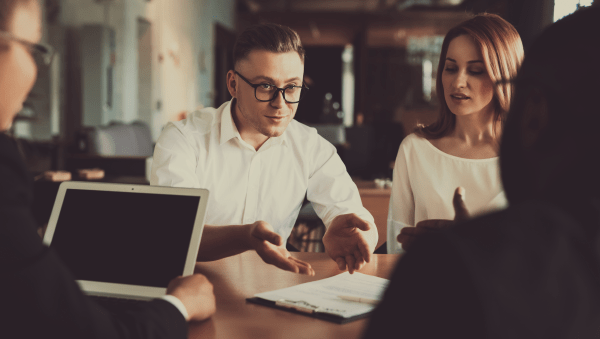 Do I need a point or full-service solution?
No two bookkeeping software solutions are exactly alike, so it's important to be able to recognize similarities and differences. While Botkeeper and Veryfi are both in similar bookkeeping spaces, they're completely different types of solutions. One is a point solution (Veryfi), and the other is a full-service solution (Botkeeper).
A point solution is pretty much what it sounds like: perfect for addressing a single point or problem. Point solutions are widely used to quickly fix a problem or implement a new service, and as such, they typically don't address related issues.
However, a full-service solution offers a full range of services and helps solve a multitude of problems as they arise — maybe even problems that you don't see on the horizon!
It's important to weigh the benefits of both types of solutions as your accounting firm or business grows. Whether you're an accounting professional or a business owner, will a point solution provide you everything you need now and in the future, or will you ultimately need a full-service solution down the road?
As mentioned, Veryfi offers a point solution focused on a simple way to get your bookkeeping done. They stay within the realm of money, timesheets, and logbooks to service their customers.
To compare, Botkeeper's robust, full-service solution offers customers cash- or accrual-based bookkeeping, profit and loss (P&L), balance sheet, cash flow statements, standard or custom chart of accounts, transaction categorization, bank & credit card reconciliations, custom dashboards, a financial hub, and unlimited connections and transactions...at a starting level with Botkeeper Basic.
As you upgrade to our Pro and Advanced packages, you also get payroll processing and journal entries, bill pay, comprehensive accounts payable (AP) and accounts receivable (AR) tracking, reporting, and invoicing — covering any bookkeeping requirement you might need now or in the future.
Botkeeper is a full-stack bookkeeping, pre-accounting, and business growth platform that includes multiple features. Botkeeper's technology-enabled service performs all of the traditionally manual bookkeeping functions while providing the user with interactive tools for reporting, document storage, bank authentication, combination dashboards — you name it. Our unique software was created to make life easier for business owners and accountants, no matter how intricate or complicated their finances are.
Finally, while Botkeeper's Basic package offers numerous services and solutions that others don't, we're still constantly iterating on our product. To sum up one of our core values, we're fully committed to being tech-driven. We take the time to listen to our customers and use their feedback to continuously add new features and functionality to our platform, creating the best and most robust solution for our customers.
---
You might also like: Case Study: How the Radical CPA Grew by 7x
---
What if my business grows?
Growth is usually the goal! That's why we started Botkeeper.
You probably think about your firm or business everyday (probably multiple times a day!). Finding a bookkeeping solution that works for you today is as important as finding a solution that continues to work for you in the future. This is scalability — will the solution you pick today be able to grow as you and your clients grow?
Veryfi has built its solution to focus on supporting small businesses. This works well if you're a small business now, but will you always be a small business? What will happen if you ever grow to be a medium or large business?
And what if you're a growing accounting firm that's trying to expand into more advisory services?
Botkeeper supports businesses and accounting firms of all sizes; small, medium, or large — we're talking to all of you! We remain industry agnostic, providing bookkeeping solutions from accounting firms and restaurants to churches and healthcare providers. Our solution was built to scale from startup to Fortune 5000 companies.
We can — and do — handle it all!
Get a free custom analysis for your accounting firm or business by clicking here.
Do both solutions integrate with my existing software?
It's great to find a solution that can scale with your growing accounting firm or business, but if the bookkeeping solution doesn't give you the full holistic view of your books (or your clients' books if you're an accounting professional), it might be challenging to run your day-to-day while still identifying opportunities that support your goals.
Picking a solution to integrate with your existing payroll, CRM, and accounting platform saves you time from having to go from one application to another to get what you need, and it ensures that no data falls between the cracks.
Both Botkeeper and Veryfi offer integrations to various software and apps.
Veryfi offers 15 connected app options including Gusto, Dropbox, and Saasu.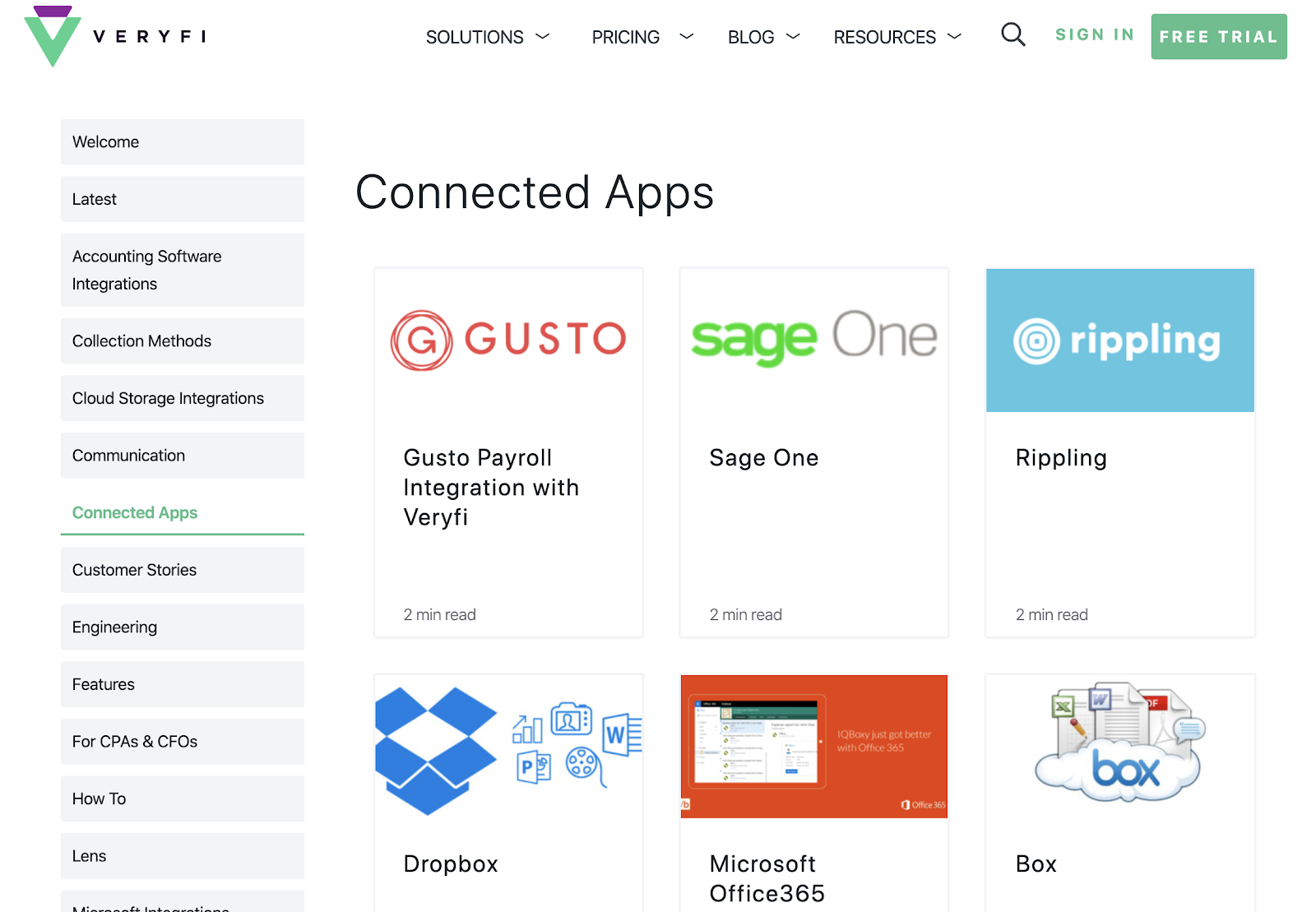 Veryfi also connects to Microsoft OneDrive, which is a common storage solution for small business receipts and expenses. OneDrive is actually the software solution that Veryfi uses to house and review receipts and expenses for their clients.
On the other hand, Botkeeper makes connecting to your existing financial and non-financial apps and programs as easy as possible by providing a seamless integration to the software you already use. The Botkeeper Connections Library includes 70+ connection options for your various bank, credit card, CRM, payroll, marketing, operations, and project management solutions.
We also know that as you continue to scale, you may need more connection points to get the full picture on your operations. We're here for you and are adding new integrations to our Connections Library on the regular. The sky's pretty much the limit here!
With so many connections and integration partners, you're able to connect ALL your essential sources, giving you an in-depth, holistic view of your organization, all with bank-grade security (more on that below). Moreover, our growing list of connection points provides an opportunity to identify potential areas of growth for your business or accounting firm.
The entire list of Botkeeper software partners can be found in our connections library. And as an FYI — there are no limits or price bumps for connecting or integrating your accounts to Botkeeper. How's that for scalability?!
Talk to me about security.
And now for the understatement of the millennium: security is important.
With such pertinent and confidential data across all your platforms, the security of your bookkeeping solution should be one of the most important factors you consider. If you're an accounting firm, especially, your clients will thank you for such attention to security!
All credible bookkeeping solutions should have powerful security measures in place to keep you and your business/firm protected.
Veryfi offers a "Veryfi Shield" promise on their website:
No human-in-the-loop (HITL) or offshore extraction teams. 100% machines end-to-end.

Industry Encryption Standards: TLS1.2 & 1.3, Salted Password Hashing, AES at Rest & In Transit.

GDPR, HIPAA, CCPA and ITAR compliance. Includes Audit Logs for all activity and Technical, Physical, and Administrative Safeguards.

Hosted at Amazon Web Services (AWS) in a VPC (Virtual Private Cloud) & GovCloud.

Founder has prior experience building HIPAA-secure solutions for US healthcare organizations.
At Botkeeper, providing security measures to protect our clients' data is top priority. As a result, we have extensive security measures in place to do exactly that. And it's explained here and on the Botkeeper website in terms you can understand:
User and system actions are logged and reviewed for anomalous behavior. (Machines + human intervention when needed = better security)


Data is protected with 256-bit encryption within the Botkeeper hub (that's the same level of encryption you'll find with online banking and shopping).

All systems and databases are located in Amazon Web Services (AWS) data centers within the US. We leverage AWS security products to ensure that our systems and infrastructure are configured in accordance with security and compliance best practices.

We own our IP.

All employees receive extensive background checks.

All employees attend annual information security training, and Botkeeper engineers are committed to adhering to the highest security standards so your data is never compromised.

Our VP of Engineering and Technical Cofounder came to Botkeeper from Bank of America where he was Assistant Vice President, Systems/Data Security Engineer. (He knows his stuff!)
Additionally, we know the accounting industry often lags when it comes to tech and security advancements. And that's why we don't just meet industry standards — we have 100% commitment to exceed them.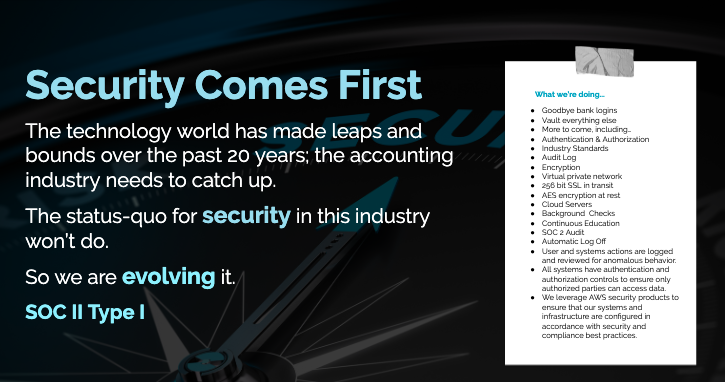 No matter what your industry vertical is, Botkeeper security goes beyond expectations and protects sensitive data for you and your clients. You don't need to worry about a data breach when you partner with Botkeeper!
What makes each one stand out?
Before we jump into differentiating factors, let's review automation basics.
A couple of the most exciting advancements in technology are human-augmented or artificial intelligence (AI) and machine learning (ML). AI and ML are not just out of a Will Smith sci-fi movie anymore...they actually make it possible for machines — not humans — to perform those boring, mundane and incredibly time-consuming tasks associated with bookkeeping.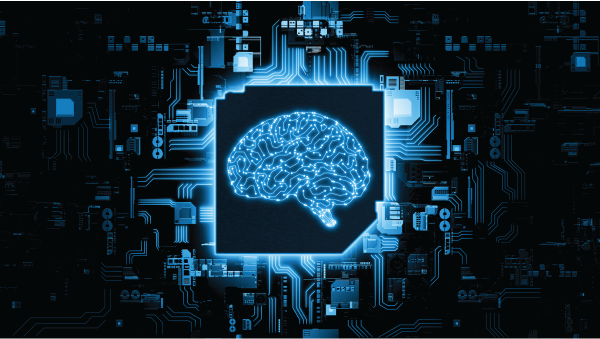 To put it in general and not entirely scientific terms, AI is the idea that a machine can kind of think like we do — visual perception, decision-making, voice recognition, translating language, etc.
ML, on the other hand, is a sort of subset of AI that instructs a machine on how to learn based on repetition and data processing — the more you feed it, the more it learns. But how does AI know what to teach the machines? Oh yes, that's right: HUMANS! Humans teach machines to automate tasks and processes.
But what happens if the machine is wrong? Humans step in to train the machine so it doesn't make the same mistake in the future.
The bottom line is that you can't have AI that's 99.97% accurate (more on that below) without human intervention. So wouldn't you want both machines and humans working together to achieve those perfect books we all strive for?
According to Veryfi's website, their software is 100% powered by machines end-to-end. This means no human extraction or verification teams are involved. There's no human augmentation or injection anywhere in their workflow. What happens if an error is identified?
Botkeeper, on the other hand, takes a different approach. Through a combination of machines and trained (human) accountants working together in perfect harmony, we allow the machines to do their thing. However, there's another layer involved: trained accounting staff dedicated to reviewing the machine's suggestions when/if it is unsure. This allows for fewer errors and higher accuracy.
Here's an example of why we like humans and machines working together.
When classifying transactions, new or unknown transactions sometimes can lead machines into unknown territory; they're left guessing where in the Chart of Accounts to place the transaction. This is where humans come in (picture them with a superhero cape and all). We teach the machines where to put the transaction, and then it continues to do its thing over and over again, increasing accuracy as it learns your books.
The bottom line is that business owners and accounting professionals alike are better off when humans and machines work together. Your clients and customers reap the benefits of smarter decision-making when you have reliable, accurate data to reference.
---
How accurate is each solution?
At its core, bookkeeping is defined as the process of maintaining an accurate record of a company's transactions. Financial accuracy is crucial to operating a growing business or helping owners succeed (in the case of accountants), but this can often be a pain point in the bookkeeping space.
When performing repetitive or labor-intensive tasks, humans are prone to making mistakes. Fortunately, this is where AI shines. Using AI to automate repetitive, mundane tasks — plus adding in the bonus that machines don't forget, take vacations, or get tired — really provides a huge win for an accounting firm or business, which is why both Botkeeper and Veryfi use AI.
Veryfi relies solely on AI to handle bookkeeping, but Botkeeper takes a different approach as mentioned above. Botkeeper uses a combination of AI and skilled accountants to maintain a consistent 99.97% accuracy rate across our 1,000+ company client base.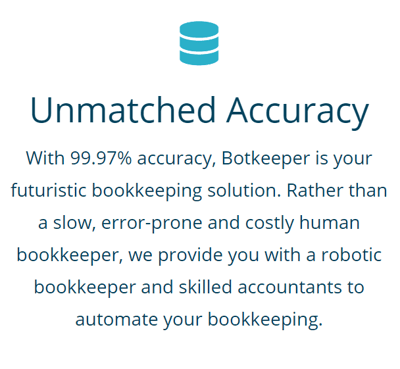 Our skilled accountants help our machines learn your books, becoming more accurate as the whole solution performs bookkeeping for your organization and clients. Our existing clients have reduced their bookkeeping costs by 30-50% while their accuracy has increased!
There's no mention of bookkeeping accuracy on the Veryfi website.
---
---
What kind of support can I expect?
The other upside to humans being involved in your books (beyond overseeing the bots and checking for accuracy) is that you now have a dedicated staff who knows your books intimately and can easily support you and your clients as questions arise. Rather than being completely removed from the day-to-day of your books, Botkeepeer's accountants are on top of it.
Botkeeper's group of talented, hardworking accountants are all around the world, meaning no restrictions on time zones, and customers receive 24/7 support. This also means that as all those complex questions come up, a member of our team is always available for you.
Both Botkeeper and Verify keep their support teams in-house, ensuring high product knowledge and a dedicated, secure email address for additional support.
But with Botkeeper, you can simply @mention from within your Botkeeper hub to keep all records of conversations between you and your Botkeeper accounting team in one centralized place. You won't have to search through your crowded inbox to find an answer; just log into your account and see the full transcript!
Likewise, if you're an accounting professional servicing a broad client base, your Botkeeper can interact directly with clients through your custom-branded Financial Hub to ask questions and obtain essential information. Such was the case for an existing Botkeeper client who was facing a mountain of transactions to categorize, only to have it done overnight.
How much does each option cost?
As with any business investment, price is often a huge factor in a yay or nay decision.
So we'll cut straight to the chase and not leave you on the hook or make you sit through multiple meetings before you get the details! Botkeeper and Veryfi use very different pricing models.
Veryfi's Pricing Packages:
Veryfi focuses on a per-user basis for their money, timesheet, and logbook features. They offer a free trial with limited functions (i.e., access to Veryfi Expenses, Timesheet, and Logbook apps, plus document storage for 6 months and 10 invoice/receipt scans per month) for businesses and accounting firms. From there, Veryfi pricing ranges from $13.75 per month to an undisclosed amount for enterprise organizations.
Botkeeper's Pricing Packages:
Botkeeper's pricing package remains customizable and flexible. We know that accounting firms and businesses change over time, and we want to make sure we provide pricing to reflect that. We have a tool that allows you to estimate your costs with Botkeeper, and we also have a Botkeeper specialist to walk through your needs with you and help determine the best-fit bookkeeping services.
Botkeeper doesn't bill by the user, and the pricing structure is built to grow with your business. That's why we've invested so much in our staff and technology: we know that in order for you to remain competitive with your business or accounting firm, you need the best technology and support out there. We're not cutting any corners over here. ;)
Side note: we didn't plan to make this post also about Rob Lowe. He's just so versatile!
Why Botkeeper?
In a head-to-head comparison, Botkeeper and Veryfi both offer helpful bookkeeping solutions for businesses. In particular, Veryfi is good for cash-strapped businesses that don't need full-service support and aren't anticipating substantial growth. There's no shame in that game, either — the future of your business is your business!
Botkeeper is a comprehensive solution for accounting firms and businesses of any size in any industry — from startup to Fortune 5000 — that utilizes industry-leading AI and senior accounts to provide automated, accurate, and secure bookkeeping.
Our goal is to assist you in reaching your goals, and that's just as true for small, medium, and large businesses as it is for accounting firms who bring us on to manage their clients' books.

Ultimately, when it comes to your business or accounting firm, you know what's best for your growth and goals. Botkeeper was built to ease the burden of scaling for businesses and accounting firms without creating inefficiencies that slow you down. With Botkeeper's unique combination of AI, ML, and professional accounting support, you won't face difficult bottlenecks or inaccuracies in your or your clients' books.
Instead, you'll get a customized solution that's built to last, including a helpful dashboard with beautiful reports, in-app messaging, trusted categorizations, and round-the-clock support.
If you're wondering what that could actually look like for your accounting firm or business, click below to get in touch with a Botkeeper representative — they'll give you more insight into what's possible when you start Botkeeping℠.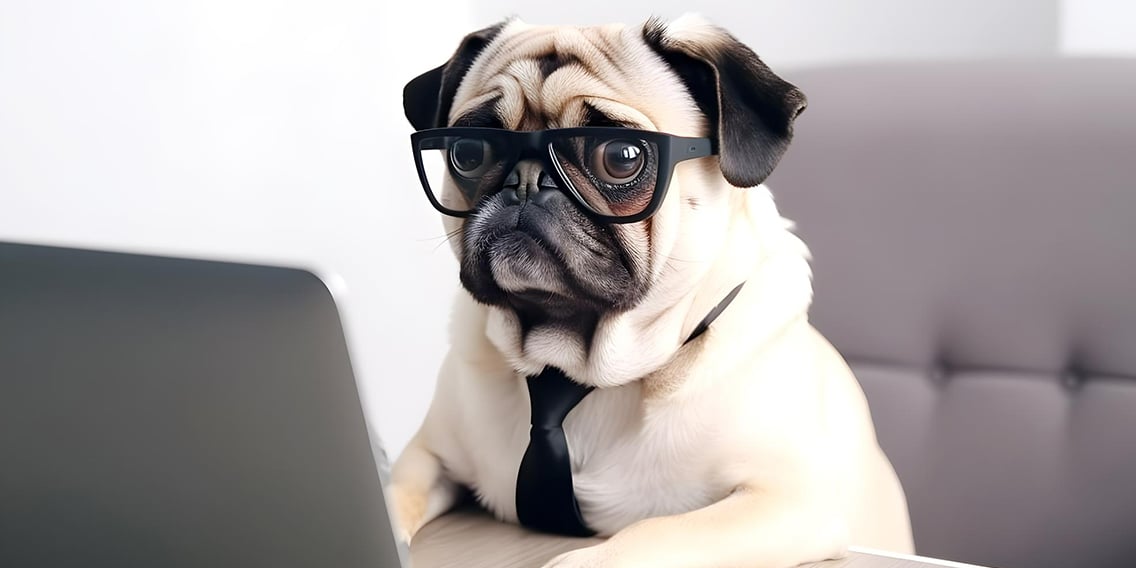 Botkeeper:

Aug 16, 2023 9:00:00 AM
Read More